TRENTON – Veteran Assembly Republican Whip Scott Rumana (R-40) will be the point person for the Republican caucus on the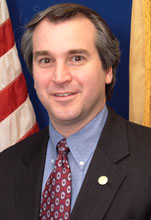 gaming question.
"I'm confident we're going to have sound consensus from the caucus members to come forth with our negotiating," Rumana told PolitickerNJ.
What does he think of the Meadowlands proposal by the Hard Rock?
"Being a North Jersey guy, I'm certainly interested in exploring that possibility but overall I want to spend the time dealing with everybody in the caucus because people from different regions have different interests. There are the horse folks. There are the people in Atlantic County. There can be a lot of ways to help a lot of different people. Next Thursday we will be all here for a voting session and that's when there will be an opportunity to have some discussion."
Rumana personally backs North Jersey gaming, and argued the revenue-enhancing effects of a North Jersey casino to help the state confront its Transportation Trust Fund and pension funding crisis.
"It's an economic development opportunity that we should be exploring, that includes job creation and enhanced revenue possibilities," said the veteran Republican lawmaker. "It's all part of the global view. How do you improve the state's position? The effects of having new casinos, hotels, restaurants and venues for shows and concerts create worlds of opportunity in the end. When you have that improved revenue stream, it can help."
As for whether the ballot question concerning North Jersey gaming should go on the ballot this November, "The timing is good," Rumana said. "But when we get through the caucus discussion, the devil's in the details."