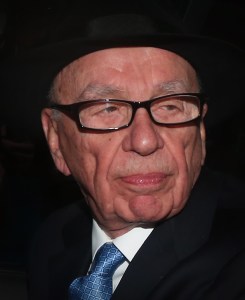 Nothing, not even Rupert Murdoch's tenure as CEO of 21st Century Fox, can last forever. The 84-year-young media mogul is apparently stepping down as CEO and appointing his son, James Murdoch, to the position, CNBC reported this morning.
The elder Mr. Murdoch is not retiring, though. He will share the title and continue on as the executive chairman of Fox, although son Lachlan Murdoch will, according to CNBC, become executive co-chairman of the company. The brothers will apparently have some sort of "partnership" in their new roles.
COO Chase Carey will have a new, unspecified role at the company. Or maybe he'll try to get out of his contract. Time will tell.
"While no one doubts that the elder Murdoch will still have the final say on whatever goes on at Fox, Carey's stepping down as COO will leave the company without a layer of senior management outside the family for the first time," wrote CNBC.
What could go wrong?