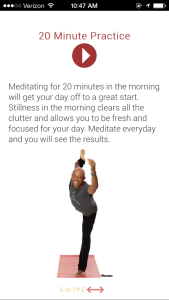 Russell Simmons has become as known for his strong belief in the positive benefits of meditation as he has for his success as a hip-hop and fashion mogul.
"It's been a passion of mine—giving meditation to as many people as possible," he told the Observer.
Today, he launched Meditation Made Simple, an app in which he guides users through meditation practice or vibration sessions to help them de-stress, lower blood pressure and reduce anxiety as well as tension headaches. The app is a digital expansion of his book, Success Through Stillness: Meditation Made Simple, which he published last year.
The Observer chatted with Mr. Simmons ahead of the launch about the app, how he became inspired to meditate every day and own his meditation routine.
He told the Observer he began meditating 20 years ago but only started to do so daily 15 or so years back.
"Every morning, I sit for 20 minutes, i repeat my mantra and just sit," Mr. Simmons said.
He's made morning meditation a family affair as well. After meditating himself, he goes to the house of his 15-year-old and 12-year-old daughters to meditate with them before school.
"It expands their brain capabilities."
He spoke so passionately about the general importance of meditation and the associated health benefits that we just have to let him speak for himself on this one. Here are some of the thoughts he shared with us:
"As many people as I can teach to meditate, the better. It's very important, and if everyone did it, it'd be a happier, healthier, less violent world."
"It's got to be one of the greatest tools we have to promote health and well being."
"The noise of the mind is the cause of all suffering and sadness. The still mind is bliss."
"Can we quiet the mind so we can see God's miracles?"
"No creativity will ever happen in the future or the past, only in the present. It's a jolt that takes you off guard and takes away the future and past."
On the app, Mr. Simmons expands on the benefits of meditation and the methods with even more inspiring thoughts.