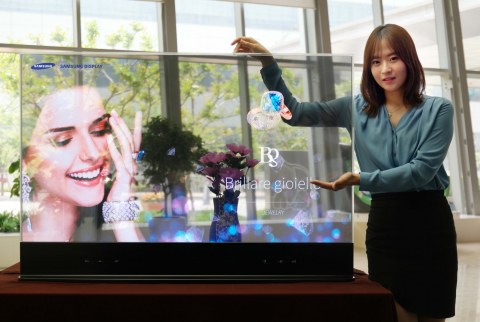 Until now, smart mirrors were a pipe dream. Reddit user Nick Nothom caused a stir in March when he posted a video of a voice-controlled smart mirror run on Android Wear— it seemed like a simple and somewhat stylish alternative to using a smartphone in the bathroom, but it was an open question whether the one-way glass/LED display could be mass produced.
Well, now Samsung has made all the doubters out there look like idiots. At Hong Kong's recent Retail Asia Expo, the company unveiled the Mirror and Transparent OLED, which can be used for personalized shopping. The device is aimed at retail stores— shoppers would view information about products, and even be able to virtually try on items through a shopping app, which would show shoppers what an article of virtual clothing would look like on their own body. The mirror is also voice-controlled, with front- and rear-facing cameras.
This "self-modeling" wardrobe will have a trial run at Hong Kong's Chow Sang Sang jewelry company, but Samsung hopes clothing and shoe stores adopt the virtual closet in short order as well. The company says that car dealerships and hotels are also possible markets.
"We are very excited to help bring a new interactive dimension to the world of multi-channel shopping through the integration of our newest OLED displays," Oseung Yang, vice president of Samsung Display Company, said in a press release.
Samsung wants the advanced display, which also utilizes 3D cameras, to eventually take the place of traditional home mirrors- so shoppers in Hong Kong may may be getting a first look at technology that will soon be routine.