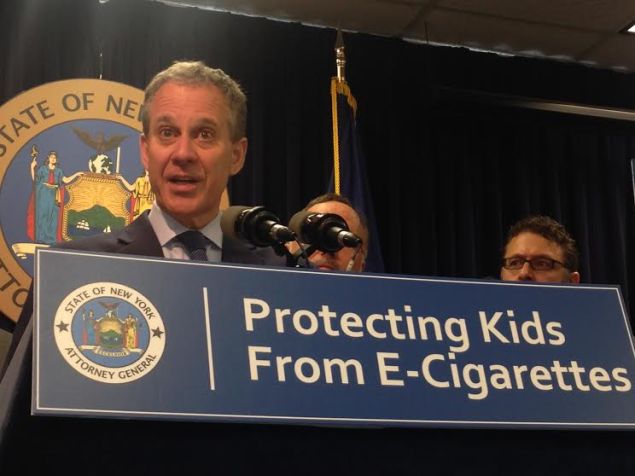 Attorney General Eric Schneiderman today blasted the possible postponement of the fraught battle in Albany over extending or altering mayoral control of city schools, rent regulations and the 421a building tax abatement until next legislative session, arguing it would leave citizens of the state in limbo.
Mr. Schneiderman, a former Democratic state senator, argued that Gov. Andrew Cuomo, State Senate Majority Leader John Flanagan and Assembly Speaker Carl Heastie must resolve the current legislative impasse in the capital over the most divisive issues—or risk leaving New Yorkers in disarray. Assembly Housing Chair Keith Wright has proposed legislation that would extend existing rent laws—which tenant advocates argued are too friendly to landlords—for six months, and Mr. Cuomo has said he favors temporarily prolonging the 421a credit in its oft-maligned current state.
"Any period without clarity and certainty is bad for everyone. It's bad for business. So that's something that we have to deal with, that compels us to act quickly. Punting everything down the road for three months would not be a good situation," Mr. Schneiderman told reporters after an unrelated press event today. "I look forward to them resolving these matters as soon as possible to give certainty to tenants, to give certainty to the real estate community, to developers and to others who are waiting for this very simple, straightforward set of laws that must be dealt with, to be resolved."
The Democrat-dominated Assembly has sought to make the city's rent laws more tenant-friendly while the Republican-run State Senate has sought to keep the current statutes mostly intact, and their failure to come to an agreement led to the regulations expiring entirely a week ago. The Senate GOP majority has aimed to preserve the 421a exemption in its present form, but Mr. Wright vowed not to allow the credit to be renewed unless reformed rent laws passed both bodies—and, in consequence, the abatement also has expired.
The legislative session was supposed to end last Wednesday, but the governor has detained the State Legislature in Albany to resolve the rent law dispute, and a five-day extension of the current regulations passed five days ago.
The attorney general, who is currently promoting a package of anti-corruption measures, called the current state of affairs "worse than most examples of the government in Albany."
Activists have become increasingly critical of Mr. Cuomo for his lack of public appearances during the negotiations and for not introducing his own bill for reforming the regulations, though he has called for no longer allowing landlords to remove apartments from the rent control program if they become unoccupied. Mr. Schneiderman, often seen as an antagonist and potential challenger to Mr. Cuomo, argued the governor has tremendous power in the negotiations due to his position as executive.
"The governor has extraordinary leverage at the end of a session of what deals get—keep in mind, the governor can veto anything. The Assembly and the Senate can agree to a six bill package, but if the governor says 'I'm vetoing two of them,' that package is not done," he said. "I'm not in the room, but he certainly does have leverage, and I trust that he's exerting that."
For his part, Mr. Schneiderman lashed out at vacancy decontrol and the "vacancy bonus" that allows property owners to hike the price on a stabilized apartment 20 percent if it becomes unoccupied.
"There is a structural incentive for landlords to get tenants out by any means necessary," he said. "A landlord that might make a living just renting out a modest building now has a tremendous incentive, given the way the program is structured, to get the tenants out however they have to do it, because they can triple, quadruple, quintuple the value of the property."