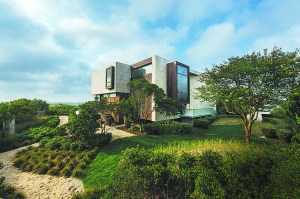 Of East Hampton's seasons, Dianne Benson likes spring best. "Watching things come to life during that time of year is very exciting," she said recently. "It's sort of like bearing children. You have this oneness with the flowers and the plants."
Ms. Benson, who made her name in fashion in the 1970s and '80s, and who is better known to her fans simply as Dianne B., had no interest in gardening when she and her former husband bought their first East Hampton home in 1984. But the land needed tending to, and so she tended to it. It occurred to her that she liked it—the tending, that is—and somewhere along the line, she turned professional and moved to Long Island full time, becoming a sought-after landscaping consultant in East Hampton and environs.
But as Ms. Benson's passion for planting grew, so did the public's appetite for the rarified comforts of the South Fork. It's a trend that has perhaps contributed to her preference for spring. "These new houses, they need to have at least nine bedrooms," she quipped of the local construction boom, for which modesty has rarely been a guiding principle. "And a pool house, which is really a guesthouse. And a garage, which is really another guesthouse. And for each bedroom, it's another car. The overcrowding—and it's only June! Last summer was scary. You plan your life around it. You go to town only on Tuesday or Wednesday. The idea of going to Southampton is out of the question. Maybe Bridgehampton—maybe."   
And of course, all of those people and their cars and garages and pool houses have to be put somewhere. Oceanfront property in the once-sleepy hamlet of Montauk reliably fetches $7 million to $8 million an acre these days, and last February, a 50-year-old wood-paneled trailer in Amagansett hit the market for $1.1 million, in recognition of the kingly 0.36 acres on which it stood. Indeed, the scarcity of land in the Hamptons is now such that for many, if not most real estate buyers, the house, no matter how grand, is largely beside the point.
'People aren't buying houses anymore. They're buying properties. Property is what's holding the value. The soul of the property is what's driving the sale.'
The most extreme illustration of this kind of thinking was perhaps the hedge fund manager David Tepper's 6,165-square-foot mansion in Sagaponack, which he bought for $43.5 million and then tore down in 2011 to make way for an edifice roughly twice as sprawling. It is not, however, an uncommon approach. "People aren't buying houses anymore," said Ed Hollander, a co-founder of Hollander Design. "They're buying properties. Property is what's holding the value. The soul of the property is what's driving the sale."
If there's any morsel in this feeding frenzy for those of us who are neither land barons nor real estate brokers, it might be that buyers, having paid so dear for their parcels, seem to be feeling more compelled to make good use of them. "People used to think of just the building as their home," Mr. Hollander continued. "One of the things we're seeing is that now it's more encompassing. There's a greater emphasis on outdoor living."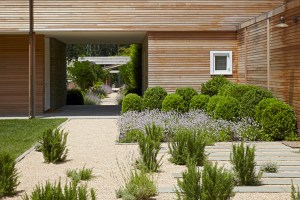 In practice, this can mean a variety of things. But generally, as traditional homes in the Hamptons are razed in favor of more modern dwellings, landscapes are being made to suit, growing tidier and less formal, while yielding ever so slightly to ambient eco-consciousness. (Mr. Hollander told us that not so long ago, his firm's Hamptons business consisted of perhaps nine traditional homes for every contemporary one; the ratio is now about even.) The gardens of roses and the cutting gardens, the French and English gardens that were popular 15 years ago have been mostly supplanted in the pecking order by designs requiring fewer maintenance teams and less hydraulic wherewithal. Verdant bluegrass lawns, with their diva demands for watering and fertilizing—their inevitable showtime threats to wilt and shrivel—are giving way to hardier plots of fescue; tennis courts are vanishing right and left.             
"The trend toward modern building out here is being followed up with very crisp details in the landscapes," said Jack deLashmet, of DeLashmet and Associates. "The lines are longer and simpler," to reflect the clean contours of contemporary homes. Rather than "soft, park-like, Olmstead-ian landscapes," with layers of mixed vegetation, Mr. Hollander added, builders of modern homes frequently opt for "bolder, more geometric patterns" composed of large masses of one species of planting or another.    
The plants in question have changed, too. "Even in the rare case where I'm doing a formal garden, I'm finding that people want to use indigenous plants within that context," Mr. deLashmet said. "It didn't used to be that way—I used to have to push for it." To sub in for the boxwoods (so ubiquitous in Hamptons hedges as to be an icon of the region), which have suffered in recent years from a nasty blight, Mr. deLashmet turns to holly and bayberry. He is fond, too, of native irises, hibiscus and swamp azaleas. "I never planted locusts before," he said. "Now I'm using them all the time." (Mr. deLashmet is also more than happy to do "the typical Hamptons house," with boxwoods, hydrangeas, roses, peonies and an "allée of trees coming up the lawn," he assured us.)
Mr. Hollander allowed that his clients are not, generally speaking, apt to make a fetish of "sustainability." Still, many of them nowadays, especially those with children, ask to incorporate organic gardens and orchards into their summer homes' yards: "They're growing tomatoes, carrots, beets, picking peas off the vine. Parents want their kids to be able to pick their own dinner." And naturally, apple and peach trees are sprayed with wholesome soaps and oils, rather than with the sorts of toxic elixirs that have lately been bubbling up in Georgica Pond.
Less welcome, as far as the wide world of nature goes, are the deer, the tens of thousands of them, which, due to their distaste for the blooms—and their insatiable hunger for seemingly every other variety of flowering foliage—have stoked the popularity of a variety of blue-gray flowers: catmint, Russian sage, lavender. Also, bee balm, a plant in the mint family (the whole of which holds no appeal for deer) with small, bright, spiky flowers that have the added bonus of luring butterflies and hummingbirds.
Deer, of course, are themselves a form of real estate, for the sorts of small, unsightly, Lyme disease-carrying neighbors that'd we'd just as soon relocate to the Jersey Shore. And it was no-doubt with horror that Hamptons homeowners who got caught up in the wildflower meadow craze of the '80s and '90s reacted to the emerging popular wisdom about ticks and their weakness for long grasses. Still, as David Seeler—the owner of the Bayberry nursery and landscaping firm, in Amagansett—pointed out, a wildflower field can make a most attractive addition to a country estate. Particularly if you have enough acreage to set it off in the distance, where you don't plan to do much walking around.