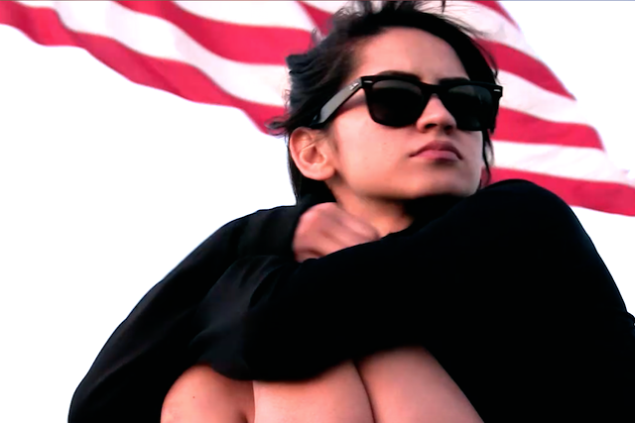 Friday night Pivot TV debuts it's newest show, Secret Live of Americans, a series that gives viewers an up-close and intimate look at individuals' lives as they expose their innermost secrets to the most important people in their lives. Each episode touches on a different issue — eating disorders, HIV, immigration, food insecurity, student debt, healthcare, and several more.
The series, shot entirely by the subjects themselves, gives viewers an opportunity to experience immersive and intimate documentation, and hear firsthand about the inner turmoil caused by the subjects' private struggles.  And, while these are personal stories, Secret Lives of Americans sheds light on pressing issues that affect not just the individual highlighted, but a large section of the general population as well.
Each of the ten half-hour episodes also contains statistics and news footage that illustrates how these issues relate to the bigger picture in present America.  As these stories unfold, viewers will come to understand the subjects' journey within the context of greater social issues.
"My original thought for the show was to take the crew away so that we could get the most raw and intimate moments with our subject. That's why they're self-shot," says one of the series Executive Producers, John Henshaw. "When you eliminate barriers to the story, you get a much better, more meaningful version of that story."
Henshaw goes on to explain that his personal life served as an inspiration for the series, as he reveals, "I went through all of the emotions of coming out to my family and I know that's something a lot of other people go through too, so I thought, 'how can I get that on TV?'"
The series, originally titled Rollercoaster, was to focus solely on millennials coming out, as another of the show's Executive Producers, Danny Villa, explains, "But, once we started really getting into putting the series together, we learned there were so many other types of things that we could look at. So, we decided to expand the concept to make it more encompassing. We have all ages and we tackle all kinds of issues. In each episode, we focus on telling both the micro story and the macro story – what individuals are going through but also what thousands, maybe millions, are also going through."
While it was a bit of a challenge to find people who could eloquently express what they were experiencing, the producers succeeded in finding just the right individuals to tell their stories, and they made sure to capture the most important parts of the journey. "We didn't coach them in any way, but we did give them some guidelines on how best to tell their story," says Villa. "And one of the things we made sure that each one of them did was to film when they first told their secret, because for many of them it was the first time they'd said it outloud and that's a really powerful moment."
Henshaw and Villa were happy to have an outlet for each of the individuals on the show to express themselves, but producers admit that at times it was a little hard to be around people who were going through the toughest time of their life. "It's a very emotional time for them and you totally get drawn into that emotion with them and it can be a bit draining because you really feel what they're feeling," says Henshaw. "Just watch and you'll see what I mean."
To help each of the subjects through this difficult time, the production team provided support in various ways, including a doctor who offered extensive counseling and was available to all of the participants at any time.
Once there episode is complete, Villa says that each of the subjects seem to experience an empowering feeling. "All of them are ready to have their show air and take the next step, which is helping others. The fact that they're no longer living a lie, that alone is so transformative for each of them."
Villa says that while most of the time, the subjects' fear of telling others is unfounded and they're ultimately embraced by friends and loved ones; there are those moments that don't end so positively. "What I find interesting is that there is some ignorance out there as well and we see that. But, that ignorance always sparks a conversation and leads to better understanding and we learn something. Those awkward, ignorant moments are a bit shocking to watch but there is knowledge to be gained there and you'll see that."
Along with those awkward moments, some stories take unexpected turns that no one could possibly anticipate, says Villa. "These are real people going through real things. We as producers are always trying to stay one or two steps ahead and we try to anticipate what's going to happen, but we quickly learned that that's really quite impossible."  Henshaw adds, "There are a few occasions in these episodes where we thought the story was going one way and things took a hard left turn. It makes for good television but when you remember that this is someone's real life it makes you feel more emotional about all of it."
Villa admits that it's the honesty in these emotional stories that makes him feel good about being a part of this series. "The truth is, I've been in this business for 20 years now and for every great show that I've worked on there are several others that have been garbage, that have dumbed down this country. I mean it.  When I got a job at The Oprah Winfrey network, that's where I learned about these things called 'feelings and emotions' that I had no idea I had. I learned about these two words – transformational journey. When I heard those two words as a 33-year-old man, I was like, 'what they fuck does that mean?' I don't want to get all Oprah-y here but my experience at OWN definitely made me better. Now I find it hard to develop projects that will dumb down people – I won't do it anymore. We're so proud of this series. Knowing that we're making great content allows us to sleep at night."
Henshaw shares Villa's positive feelings about the project, saying, "I truly believe that this is the most honest thing I've seen on television. There's no filter here – nothing to interfere with these people telling their story and that's something you just don't really see on TV."
Even though it's just hitting the airwaves for everyone to see, Villa insists that the series is already changing lives. "It's already absolutely enhanced the lives of the people who've participated, for sure. They're now living their true lives and by releasing their secret they've transformed their entire living situation for the better, and soon everyone is going to see it."
"Our hope is that this series inspires a lot of people to tell their story and reveal their own secrets – to themselves and to others," says Henshaw. "If this series can have that kind of impact, then we've really accomplished something."
"We all know that everyone has a story to tell and because of that we could really make a billion episodes of this show," says Villa, "Hopefully we'll get to make a lot of them and along the way, we'll help a lot of people. We truly can't think of anything better than that actually happening."
Secret Lives of Americans premieres Friday, June 12th at 10:30 et on Pivot TV.