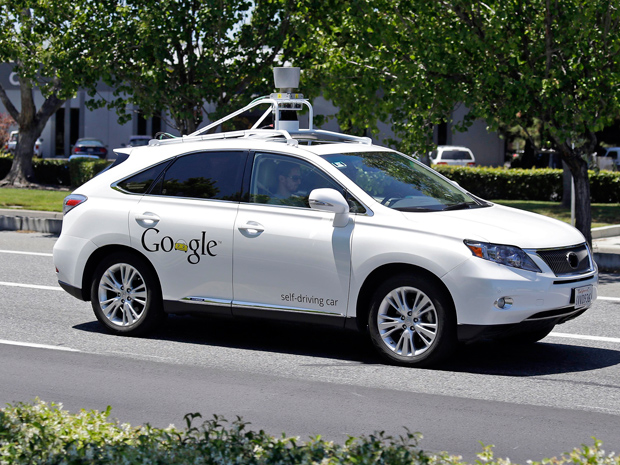 We have some bad news for the queasy.
For adults, motion sickness will be more of an issue in self-driving vehicles than in conventional vehicles. Some are expected to experience motion sickness often, while others may actually feel sick every time they're riding in an autonomous vehicle, a study by researchers at The University of Michigan's Transportation Research Institute revealed.
"This is an important issue that has received little attention thus far," Michael Sivak, a researcher who worked on the study told The New York Observer.
Mr. Sivak and his co-researcher Brandon Schoettle looked at the three main factors that cause motion sickness (conflict between vestibular and visual inputs; inability to anticipate the direction of motion; and lack of control over the direction of motion) and determined that they are elevated in self-driving vehicles.
"All three factors, to varying degrees, are more frequently experienced by vehicle passengers than by drivers, who rarely experience motion sickness," they wrote in their report.
It's become evident that self-driving cars will replace traditional cars in the future, and when this happens, all adults (who are most prone to motion sickness) will be passengers at all times. Mr. Sivak clarified that being a passenger in an autonomous vehicle will be quite different than riding along in a train or other mode of public transportation, for, unlike trains, self-driving cars will be subject to more lateral acceleration/deceleration as well as longitudinal acceleration/deceleration that is drastically less smooth. The small windows won't help either.
The other major factor in the increased prevalence of motion sickness is what adults will do whilst in cars instead of driving. In an opinion survey of 3,255 adults from the U.S., China, India, Japan, Australia and the U.K., respondents named reading, talking/texting, sleeping, watching movies/TV, working and playing games as the activities they'll engage in while riding in self-driving cars. According to the study, almost all of the activities mentioned worsen the frequency and severity of motion sickness.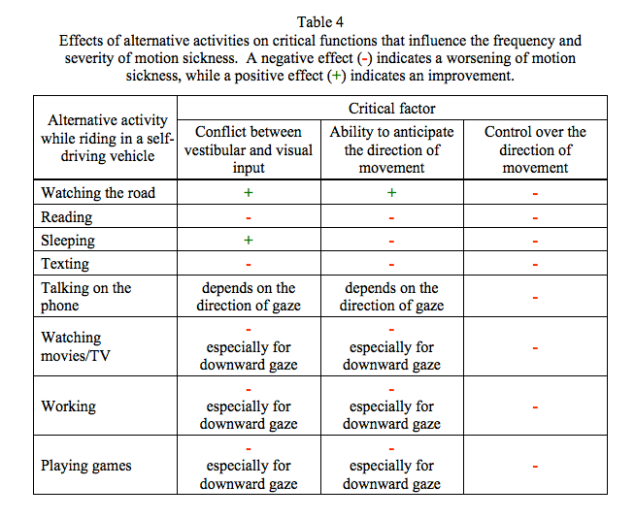 The researchers compared this data with information regarding how often and how badly adults experience motion sickness while engaged in these activities riding in traditional vehicles to determine how large of an issue it will be in autonomous vehicles. According to their results (which are detailed in the following table), up to 22 percent of adults are likely to experience motion sickness in self-driving cars. Additionally, a total of 37 percent are expected to engage in activities that increase the severity and frequency of motion sickness.
Mr. Sivak takes these findings to mean we may not be as prepared for self-driving cars as we think we are. Perhaps it's a good thing there's still a ways to go before they're our go-to mode of transportation.