TRENTON – Senate Democrats played on their Blackberries and gazed at the clock while outraged Republicans took requisite turns trashing the $35.3 billion document, all of them on their way to the budget passing in pro forma, bore snore fashion with Dems declaring aye and the GOP nay, out of the New Jersey State Senate and into the lap of an unwilling Republican Governor.
The vote was straight up partisan: 24-16.
"We are not producing jobs," railed state Senator Joe Kyrillos (R-13), slamming the crux of the divergence, the Dems' millionaires' tax, which Gov. Chris Christie will veto prior to his presidential kickoff Tuesday and a month in front of Kyrillos' scheduled fundraiser for former Florida Governor Jeb Bush.
Doomed today, reanimated with Christie's influence next week, each Republican senator cornered and bludgeoned a pet peeve in the budget, whether $20 million for two school districts, as state Senator Jennifer Beck (D-11) did, or the theatrics of politics, in the case of Kyrillos.
After bashing the budget, Kyrillos acknowledged that the Democrats are merely stuffing the document with comforting fat so that "the big bad governor" will veto it and "That gives the majority party a lot of luxury… to tell folks back home [we're poking rich people in the eye]."
Democrats weren't content to refrain from elbowing Christie.
State Senator Ronald L. Rice (D-28) flirted with breaking out of the chamber's predictable partisan molds when he gave a shout-out to fellow military man (Rice Marines, Doherty Army) state Senator Mike Doherty (R-23). "I don't rubber stamp," Rice thundered. "That's what I like about Senator Doherty. He will criticize the governor when he's wrong." A typically animated Rice slapped at Christie, noting that the GOP governor in 2011 said he would support Chapter 78 to fully fund public pensions. "The stuff that comes out of this budget [following Christie's redlining] is going to punish those that have the least, just as you [Republicans] say [the Democrats'] punish those who have the most," declared the veteran senator from Newark.
State Senator Steve Oroho (R-24) did his part to condemn the soon-to-be guillotined work of the Democrats, fingering what he said is an unfair targeting of "the wealthy." "What happened to our charities?" the Sussex Republican wondered aloud. "They [charities] lost two billion dollars in contributions over a five-year period."
From strictly a process optics standpoint, the absence of drama in the chamber handed Christie a smooth runway narrative into Tuesday, when he launches his presidential campaign.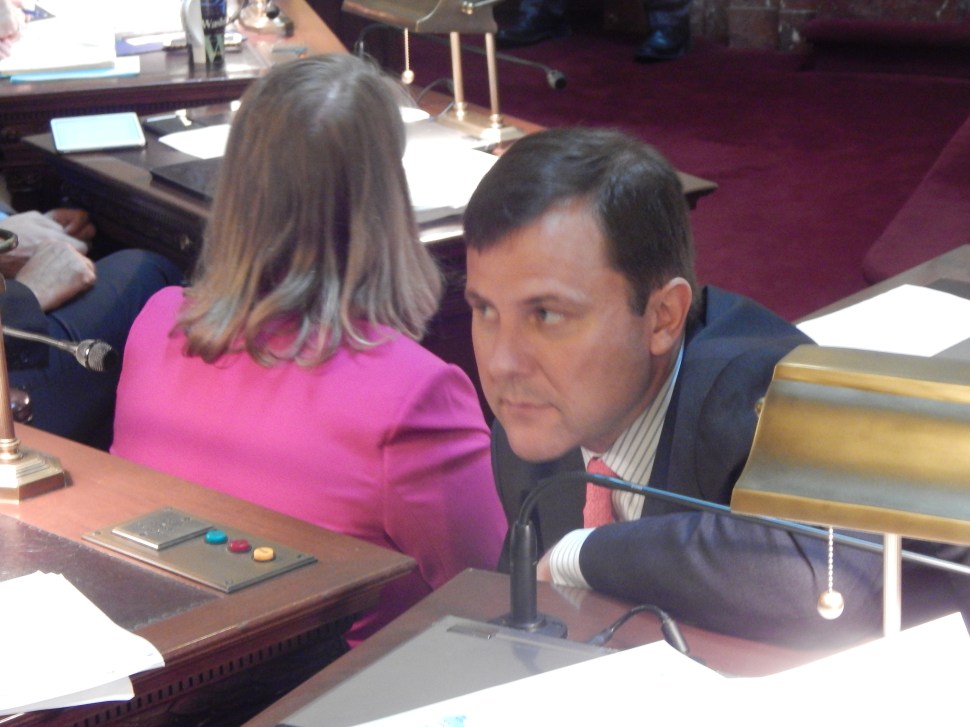 As Kyrillos noted, the budget's passage also gave Democrats a chance to spread their feathers and preen.
"This is a budget that meets the state's responsibilities, helps restore fiscal stability and makes necessary investments to grow New Jersey's economy," said Senator Paul Sarlo (D-36), chairman of the budget committee (pictured below in a Mark Bonamo photo). "It protects middle class families and working people by supporting things like higher education, and it provides for the needs of the most vulnerable in our communities.
"Failing to make the full pension payment only pushes the state deeper into the hole," he added. "That's why Democrats have once again crafted a budget that makes fiscally responsible decisions that will restore confidence in New Jersey's finances. There is no excuse – the state should balance its budget and pay all of its bills. In the end, this is about meeting our obligations while also protecting working New Jerseyans. This is a budget plan everyone should support."
The Senate Majority Office paid homage to their $35.3 billion spending plan's full $3.1 billion pension payment, funded in part through a temporary four-year increase in the "millionaire's tax" to 10.75 percent and a one year increase in the effective corporate income tax rate of 1.35 percent. They argued that the Democratic budget leaders said the fiscal plan protects the most vulnerable by helping victims of domestic violence, the developmentally disabled and senior citizens, among others. It provides for full restoration of the Earned Income Tax Credit to 25 percent of the federal level, which will put several hundred dollars more into the pockets of the working poor.
The leaders also said the proposed budget invests an additional $50 million into New Jersey's higher education system, including support for science and technology and restoration of the Educational Opportunity Fund to help make college a reality for those who can least afford rising costs.