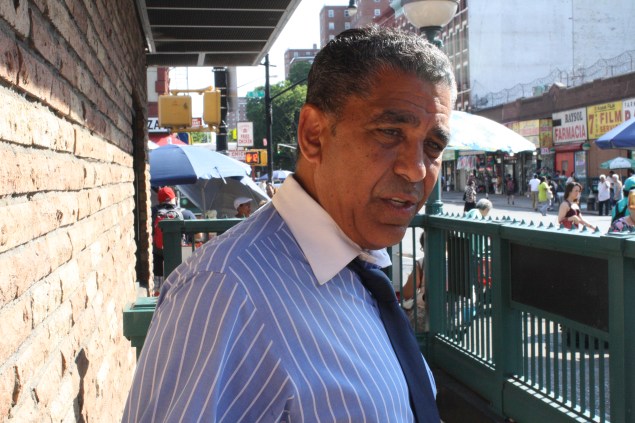 A Democratic state senator thinks his Republican colleagues have a clear message for New York City: drop dead.
State Senator Adriano Espaillat, a Manhattan Democrat and ranking member of the housing committee, said last night that Senate Leader John Flanagan's decision to send his Republican conference home for the weekend amounts to a major insult for the 2 million tenants of rent-regulated apartments who saw these regulations temporarily expire on Monday.
"That's terrible, that's the equivalent of telling New York City 'drop dead' as it was said by the federal government when we were in the middle of a financial crisis," Mr. Espaillat told Capital Tonight's Liz Benjamin.
"We are in the middle of a housing crisis. Many tenants are worried, they're anxious, they should get better from us. They should get a bill done on time that doesn't cost them the kind of grief and anxiety they're going through right now," he added. (Gov. Andrew Cuomo and legislative leaders agreed last night to extend the current rent-regulations through Tuesday to give them more time to negotiate. Mr. Flanagan said he can continue negotiations without his members in Albany.)
The Democrat-controlled Assembly and Republican-controlled Senate are currently at a stalemate, even in the wake of last night's agreement. Republicans, who are closely aligned with the real estate industry, are seeking a straight extension of the current rent laws, while Democrats are looking to strengthen them. Mr. Cuomo, a Democrat, favors tenant-friendly updates to the laws, though tenant activists and liberal politicians have attacked him for not doing more to help tenants.
The end of the legislative session is often frantic, but a new level of uncertainty has pervaded these negotiations. Both Assembly Speaker Carl Heastie and Mr. Flanagan are new to their posts after both their predecessors were forced to step down following corruption arrests. In addition to the renewal of rent regulations, the State Legislature must come to an agreement on mayoral control and a controversial real estate tax break known as 421a.
Even Mr. Espaillat, a close Cuomo ally, is looking for more leadership from the governor.
"He could be a little more forceful in getting the message across and bringing it home," he said. "I think he will bring it home and he will score a great victory of this legislative session."
"At the end of the day," he added, "he can walk out right now and claim victory and say that he had a great session but you know what, he can also look like it was close but no cigar if we don't get rent."