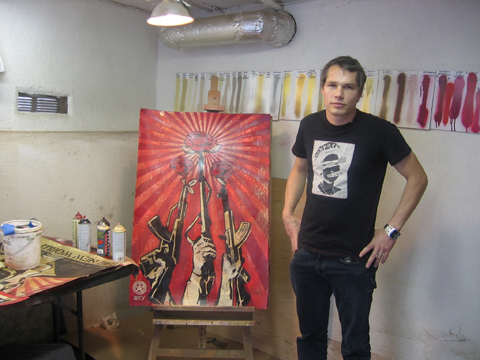 Shepard Fairey, the "street artist" whose work appears on t-shirts sold at Nordstrom, is wanted on felony charges of malicious destruction of property in Detroit, the Detroit Free Press reported.
Mr. Fairey was in Detroit to create a mural sanctioned by the city, but, apparently, freelanced in his spare time in Motor City, creating uh, works where local police fail to see the artistic merit.
"Just because he is a well known artist does not take away the fact that he is also a vandal," Detroit Police Sargeant Rebecca McKay told the Free Press. The department estimates he did $9,000 worth of damage by putting up nine posters with imagery similar to his signature André the Giant facial close up.
The two charges carry a maximum penalty of five years in jail and fines up to $10,000. Police officials said they will arrest Mr. Fairey if he returns to Detroit.
The artist, who is no stranger to tangles with the law, both as a defendant and as a litigant, all but bragged prior to his arrival in Detroit that he would be
"I still do stuff on the street without permission. I'll be doing stuff on the street when I'm in Detroit," Mr. Fairey said last month, according to the Free Press.
He has previously been arrested in Boston for vandalism and has been on both sides of squabbles over fair use, threatening to sue graphic designer Baxter Orr for appropriating his Obey Giant image, even as his arguably most famous work, the Barack Obama HOPE poster, used a copyrighted image taken by an Associated Press photographer.