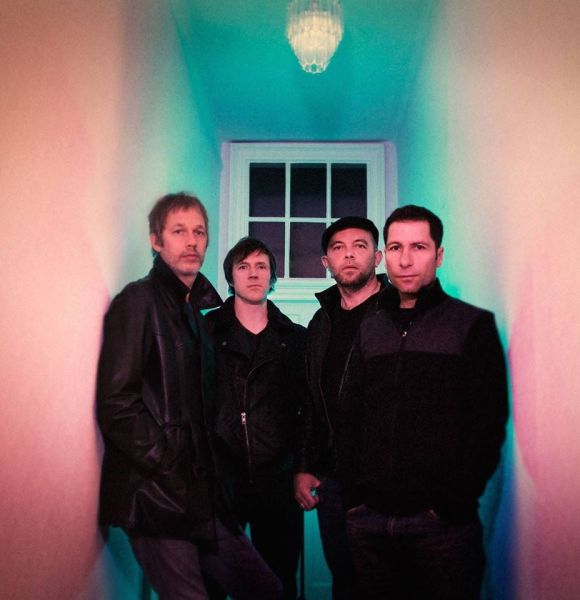 When the British indie-rock quartet Ride takes the stage at the Music Hall of Williamsburg on June 1 (followed by a Manhattan show at Terminal 5 on June 4), you can be pretty confident that all their noisy but melodious early-'90s classics like "Taste," "Vapour Trail," and "Leave Them All Behind" will get an airing. How could they not? It's been more than 20 years since any of those songs have been heard live in New York.
---

'Fashions will go all over the shop, but they'll eventually come back and you'll be riding high again. If anything, that's the lesson of Ride.'

---
Until this spring, Ride hadn't done much of anything in nearly two decades. Tensions between singer/songwriter/guitarists Andy Bell and Mark Gardener split the band in 1996, and except for a brief 2001 TV appearance, they resisted all entreaties to reform, even turning down an offer from their Oxford homeboys in Radiohead to share a bill. But the stars finally aligned last fall, following the breakup of Beady Eye, the band Mr. Bell had formed in 2009 with Oasis singer Liam Gallagher. As of this writing, the reunited Ride has only played about a dozen shows in Britain and America, including two sets at the Coachella festival, but just check out any recent YouTube live clip and you'll see they've still got the spark.
"Time mellows you," Mr. Bell says in explanation of the reunion. "We became more friendly over the last few years, and it seemed like everything that had happened in the past was all water under the bridge. Mark made it pretty plain a year or so ago that he was up for doing something. He had quite deep reasons for it, not just to do with us but reasons that were personal to him. At that point, I softened to it myself. And once we started, it didn't take long to see that it was working. It seems like our comeback has happened at a perfect time—the kind of thing we do really fits in with what people are listening to and what they want from music."
The kind of thing Ride does can be heard to best effect on four CDs released by the Creation label between January and October 1990: three EPs (Ride, Play, and Fall) and one full-length album called Nowhere. (In the U.S., the first two EPs were released together on one disc as Smile, and the third was added to the end of Nowhere.) In sum, it's a punishingly loud neo-psychedelic roar of guitars, bass and drums with quiet, wispy singing up top. The voices of Messrs. Gardener and Bell, often joined in fetching harmony, seem constantly about to disappear behind the distortion clouds but hang on for the most part with their melodic value intact. It's sensitive noise, alluringly turning inward at the very same time that it blares out.
Ride wasn't the only group making this kind of racket at the dawn of the '90s. So were My Bloody Valentine, Lush, and a bunch of bands—including Slowdive and Chapterhouse—from the same general Thames Valley area west of London that spawned Ride. Always quick to create a scene out of near-thin air, the British music press dubbed them all "shoegazers."
---

Until this spring, Ride hadn't done much of anything in nearly two decades.

---
This was because many of them had a frequent tendency to look down at the ground while performing, for any number of reasons: self-consciousness, lack of social skills, attempted mystique cultivation, a desire to let the music speak for itself, or simple preoccupation with the boatloads of guitar effects pedals on the stage floor that made their unholy din possible.
Neither Ride nor any of its contemporaries liked the "shoegaze" term all that much. For one thing, it wasn't entirely accurate; I saw another group so tagged, Swervedriver, at Tramps on West 21st Street in the mid-'90s, and I can clearly recall leader Adam Franklin keeping his eyes fixed on the ceiling for most of the set. (Maybe he was just messing with our expectations?) Today, Mr. Bell goes so far as to question whether there actually is such a thing as the classic Ride sound. "When people talk about that, it's hard to know what they mean. Let's not forget that Ride were notorious magpies back in the day," he says, laughing. "Our greatest moments were a grab bag of things we nicked off other bands: the Valentines, House of Love, Spacemen [3], Jesus and Mary Chain, Dinosaur Jr., the Smiths, Stone Roses, Pixies, Sonic Youth… I could go on. I wouldn't want to say we were originators."
Even greater stylistic restlessness marked the later phases of Ride's career. First they added keyboards and Teenage Fanclub-ish power-pop sensibilities to their second album, 1992's Going Blank Again. Then they tapped into more classic rock influences on 1994's Carnival of Light and 1996's Tarantula (released after the band's breakup). Although much of this music is excellent, Mr. Bell has mixed feelings about the period. "We were young and impulsive," he says, "and in our rush to not repeat ourselves, we lost some of our identity. Every musician has a kind of magnetic north they go back to; whatever Neil Young does, he's always Neil Young, even though there are times when he wants to break out of being Neil Young. You can dress things up differently, but there's something in you that you need to stay true to and be comfortable with. Fashions will go all over the shop, but they'll eventually come back and you'll be riding high again. If anything, that's the lesson of Ride."
---

'It seems like our comeback has happened at a perfect time.'


---
Following Ride's demise, Mr. Gardener and drummer Laurence Colbert continued to play together, while bassist Steve Queralt left the music business. Mr. Bell became the bassist in Oasis, which he served in for 10 years, longer than Ride's entire existence. After that group dissolved, he followed Liam Gallagher into Beady Eye. One suspects that so much quality time spent with the famously feuding Gallagher brothers may have changed Mr. Bell's perspective on intra-band squabbles, but he's too nice a guy to rise to that bait when asked: "I had an absolute riot in Oasis, and I've got so much love and respect for everyone who was in that band. The good times were pretty much all the time. The press likes to talk about the bad times, but I don't so much."
Beady Eye's breakup wasn't brought on by Ride's reunion—the four members were already planning to get back together before that news hit—but it did make a longer engagement possible. Originally, Mr. Bell and his colleagues were only going to do a couple weeks' worth of shows. Now they're booked to tour through the fall, playing dates in 15 countries. If you miss them this time, they'll be back for two nights at Irving Plaza in September.
"The offers have just kept coming in," Mr. Bell says with a mix of wonder and pride, "and I'm happy we can take them. It has surprised me the way this has all ballooned up. Initially, it was just about satisfying nostalgia. But we're having a blast doing it, and we can take this quite far without any new material, giving people a drip feed of lesser-known tracks. After we've done this world tour, though, we'll take stock and either say, 'Well, that was fun' and go back to what we were doing before … or we'll continue, in which case we'll have to do something new. Because you can only do this once."
[youtube https://www.youtube.com/watch?v=ZiwV4r4RmME&w=560&h=315]