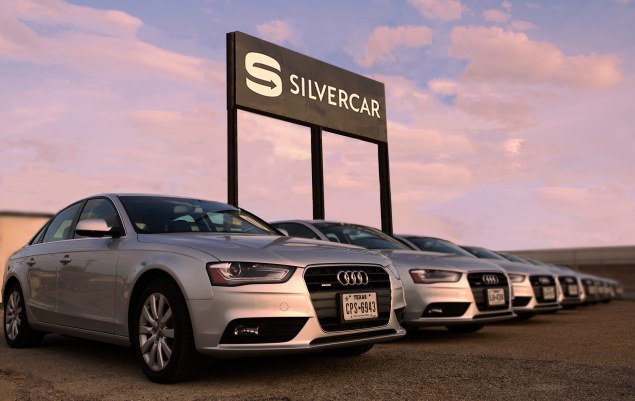 Escaping the city heat on a Friday afternoon is a habit most New Yorkers are guilty of. With destinations like the Hamptons, the Berkshires or even the far flung shores of Maine, summer weekends are an ideal time to embark on an adventure. But for those travelers who prefer to have their own set of wheels, and want them to be luxurious, there are very few attainable options. Until now.
Perfectly timed to coincide with the Fourth of July weekend, Silvercar is introducing their innovative rental car concept to Manhattan. For a mere $99 dollars a day, weekend warriors (and their weekday equivalents) can lease a fully-loaded Audi A4, replete with in-car Wi-Fi, GPS, bluetooth and Sirius Radio. But it gets better: Customers can reserve cars through the Silvercar app and they never have to deal with any actual person-to-person interaction.
On the day of the reservation, renters simply text the personal concierge that they're five minutes away and their Audi will be stationed right out front of the McCarren Hotel, which is Silvercar's home base for the summer. The final step of the process is to scan the QR code on the dashboard and the car is unlocked and ready to drive.

The only downside here is that this New York location is simply a pop-up version of Silvercar's original rental experience, with a tentative end date of September 7th. However, it looks like that date is not set in stone. "If demand continues and people keep booking cars, we will turn the McCarren into Silvercar's 11th location," Russell Lemmer, the VP of marketing at Silvercar explained to the Observer.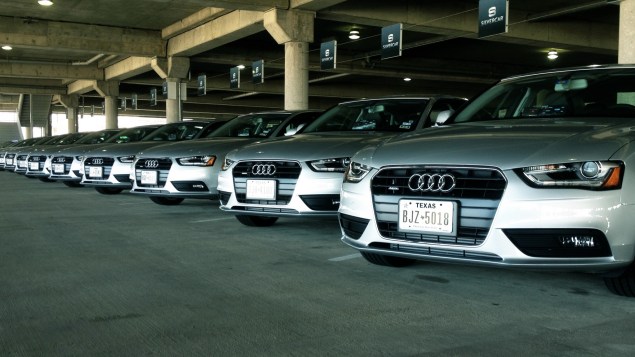 This would be an outlier for the Austin-based company, as their 10 other pick-up spots are located within a close radius of a busy airport. As Mr. Lemmer explained: "It would be interesting to push Silvercar into more of a local offering than strictly as an airport offering." The company, which was founded out of the frustration and lack of luxury that comes with a typical car rental experience, can now be found in a number of bustling cities across the U.S., including Los Angeles, Denver, Miami and Chicago.
Why did they decide to color outside the lines for Manhattanites? "New York plays host to the most valuable consumer group," Mr. Lemmer noted. "For us, it was a question of how do we take the Silvercar product and present it in a way that is meaningful to these tastemakers?" It turns out, focusing on weekenders that prefer the Hamptons was the answer. That's why the cars are located in Williamsburg, which is already on Long Island, and thus allows drivers to avoid tolls. It's also why the brand calls out the Hampton Jitney and the Long Island Rail Road in their press release on the pop-up. "Don't get us started on the stricter-than-middle-school "no cell phone" policy of the Jitney," it chided.
Spot on humor aside, it's clear that Silvercar has their finger on the pulse of what their customers want. Not only does the New York Audi rental come with a tote bag, stuffed with items like a Shake Bag, but they offer their customers discounts at Chelsea Hotels, including the McCarren, Martha Washinton in Manhattan and Ruschmeyer's, a Montauk hot spot. Now excuse us, as we plan our next weekend in the Hamptons.