When one tours with a real estate broker a duplex or triplex apartment located above the third floor of a building, it is very difficult to get through the visit without hearing the phrase "townhouse in the sky." That the formulation is popular is not surprising. It bespeaks something rare and grand, even magical. And on a recent morning, when the Observer joined Cathy Franklin and Alexis Bodenheimer, of Corcoran, at the Ritz Carlton Residences at 10 West Street, at the home of corporate lawyer Blair Fensterstock, Ms. Franklin's description did not ring altogether false.
The product of combining units on the 31st and 32nd floors, which Mr. Fensterstock acquired separately some years back—for $2.3 million and $3.3 million, respectively—the 5,088-square-foot condo, now on the market for $13.525 million, succeeds admirably in feeling not much like a place in the Ritz Carlton Residences, which can be excessively sleek and a tad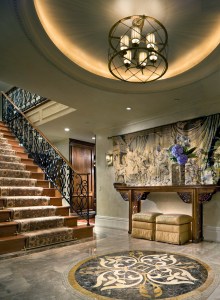 impersonal. To achieve the condo's (for the most part) highly personalized effect, Mr. Fensterstock and his wife employed the interior designer and architect Bjorn Bjornsson, but the vibe is not what you'd call Scandinavian. From an impressive entry galley, whose Emperador marble floor features a large, circular scarab inlay at its center, the residence opens to the south onto a slim living room with big, broad views of the Upper Bay. Through an arched doorway and a smartly cut window into the kitchen, these views have been extended to the home's interior.
But the clear centerpiece of the five-bedroom is the massive entertainment room, which can be accessed either from the kitchen and breakfast area or through the gallery. Armored in rich dark walnut and floored with lustrous Brazilian cherrywood, outfitted with a custom bar featuring a brass rail and antiqued mirrors, the 32-foot space would not be out of place at the Union League. (A similar motif characterizes the library off the master bedroom upstairs.) Mr. Fensterstock keeps a waist-high humidor and a long, glass-fronted cabinet displaying a formidable collection of pipes. There's a chiming grandfather clock, which comes with the apartment, and a 600-bottle wine "cellar" walk-in closet, which, as far as we could see, also works perfectly well for Gatorade storage.