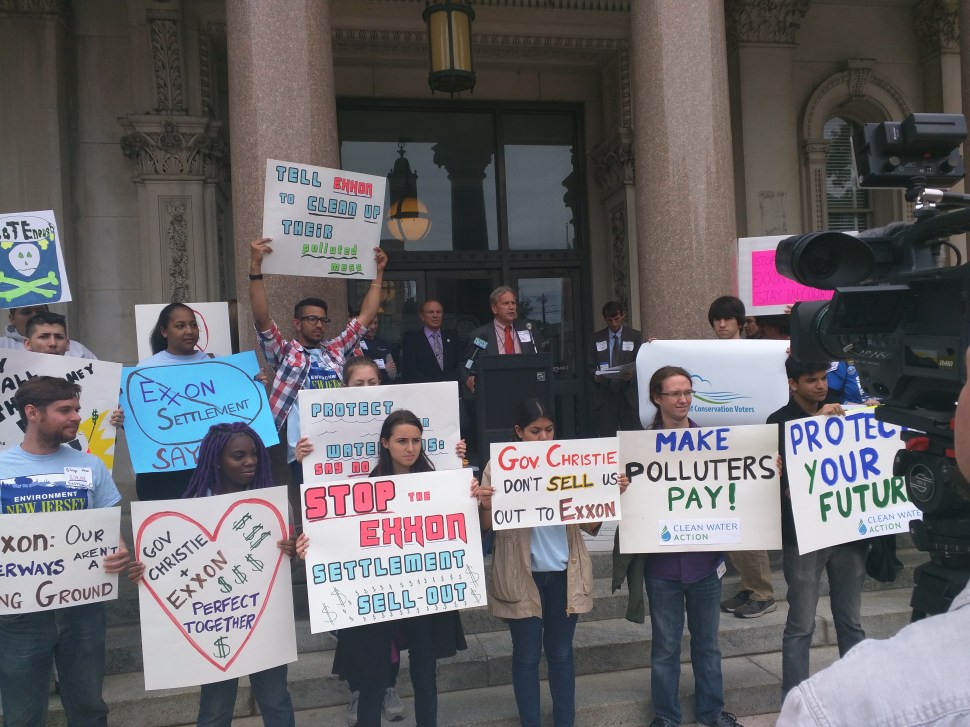 TRENTON — Closing in one the end of a public comment period on the deal, after which it will go before a judge for approval, environmental activists and opponents of the state's $225 million settlement with Exxon Mobil took to the statehouse steps today to vent their anger — and accuse Gov. Chris Christie of using the issue as a "bargaining chip" in his 2016 White House bid.
"I'm here today to say that we want to send a very loud and clear message to Gov. Chris Christie: we want to stop this dirty deal," bellowed NJ Sierra Club Director Jeff Tittel. "This settlement is a sell-out of New Jersey's environment. It is the largest corporate tax giveaway in history."
"It is so bad, and so dirty, that it's worse than the slime Exxon leaves on a wetland or stream when it's done spilling oil," he added. "This is about holding polluters accountable."
Holding signs the read "Don't sell us out to Exxon," and "Kindergartners against the Exxon Settlement" (complete with pre-k level doodles of oil slicks and green gas clouds) protesters gathered on the sidewalk outside the building's entrance to listen to speakers condemn the settlement. The group included environmental advocacy groups from across the state, such as NJ Food and Water Watch and Environment New Jersey, as well as top Democratic lawmakers in the Senate and Assembly, like Assemblymen Gordon Johnson and state Senator Ray Lesniak.
Lesniak has been one of the legislature's most vocal critics of the deal, and today called the state's defense of the final $225 million figure — as the biggest environmental settlement's in its history — "bullshit".
"Exxon has squeezed all the juice out of the orange, and Governor Chris Christie has given away the score," Lesniak said.
The protest coincided with a lobbying day for the groups, during which activists delivered some 15,000 comment cards and petitions to NJDEP offices in opposition to the settlement. Advocates said that over 30,000 residents have petitioned the settlement during a 60-day public comment period, which ends tomorrow. From there, it is expected to go before a Middlesex County judge for a final approval.
The protest also came a day after the Assembly Judiciary Committee — the panel tasked with investigating the settlement — held it's final public hearing on the issue in Bayonne, one of the main sites covered in the lawsuit between Exxon and the state. That committee's chairman, Assemblyman John McKeon, another vocal opponent of the settlement in the legislature, was also present at the rally.
At the mic, Johnson and others suggested there is a political element to Christie's support of the deal — particularly as the Republican continues to gear up for a presidential run.
"What [Christie] has done is it has given Exxon such a deal that the funding they will not provide will be realized in 49 other states," Johnson said. "Follow the money, people."