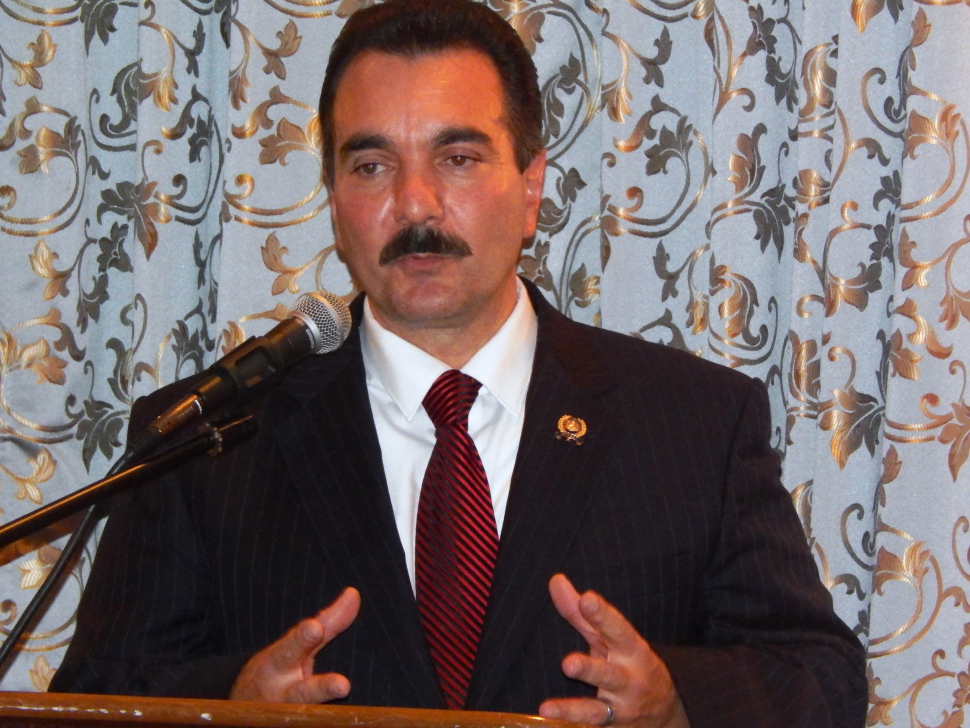 TRENTON – They tried to head this North Jersey gaming question off before it got worse – and it got worse. No punches were thrown in this meeting of Democratic legislative leaders in Speaker Vincent Prieto's (D-32) outer office but it was close, as North v. South tensions erupted in a flash of of anger between two prime players.
Sources told PolitickerNJ that those in the room included Senate President Steve Sweeney (D-3), Prieto, Assembly Majority Leader Loretta Weinberg (D-37), Senator Paul Sarlo (D-36), Assemblyman Gary Schaer (D-36) and numerous legislative staffers.
It boiled down to Sweeney and Greenwald versus everyone else, as the two South Jersey Democrats made the case that November is not the time to put the North Jersey casino gaming question in the ballot. A day after Prieto publicly affirmed his support for a ballot question this November amid some Sweeney-Prieto head-butting, the Northern lawmakers dug in, arguing that the South is worried about LD1 and LD2 Someone gently suggested that the South could lose one of those seats.
Greenwald asserted that it's not the South Jersey districts that worry them, but the Bergen-based LD38, a battleground where Assemblyman Tim Eustace (D-38) and Assemblyman Joe Lagana (D-38) face reelection.
Sarlo disagreed. He and Greenwald got into it, loudly and intensely.
At one point, a source said, someone on the South Jersey side made the argument that Eustace – a gay lawmaker – could be harmed by a beefed up presence of Building Trades labor at the polls, turned out to vote for the project.
That sparked vociferous counter arguments and jeers of "ludicrous."
A countering Greenwald and Sweeney urged their Northern counterparts to gutcheck political operative Michael Muller, who runs the campaigns for the Assembly Majority Office. Muller has argued behind the scenes that a North Jersey gaming question might not pass this year if it appears on the ballot. He also worries about its impact in battleground elections, the basis for Sweeney's and Greenwald's corralling of their Northern allies.
One source noted in agony how fast the conversation transitioned from the budget to gaming, and – with a head in hands tone – lamented what seems to be North Jersey's best argument: force-feeding a casino on North Jersey as an answer to the misery of a basically belly-up Atlantic City in South Jersey.
They also quibbled over the number of allowable casinos. Sweeney and Greenwald don't want three in the north, a source said, and the senate president made the case that the casinos would "cannibalize one another." That stirred some irritation from the northerners, who objected to being told how they should approach the project(s).
The meeting ended when Sweeney and Prieto retired to another room, leaving Sarlo and Greenwald to go practically nose-to-nose, their voices rising to an alarming level and breaking the comfort zone of staffers in earshot. One source objected to the characterization, dismissing Sarlo's and Greenwald's back and forth as a routine dialogue between two New Jersey guys, one of them arguably scrappier than most.
They meeting convened, sources said, with the players farther from each other than when they went in to try to resolve the separation, the divide cut along New Jersey regional lines.
"This is going to have to be resolved by Republicans," one source groaned.