In a bit of timing that can only be called suspect, this morning, just two days after Apple Music stole its thunder, Spotify posted "20 Million Reasons to Say Thanks" on its blog, celebrating the fact that it reached 20 million paid subscribers, doubling its subscriber base in one year (and the equivalent of a new subscriber joining every three seconds). Aside from going from 10 to 20 million users in record time, the streaming service also announced that it had 75 million active users, up from 40 million users a year ago.
Spotify, which has always touted itself as a revenue stream for artists, also revealed that it has paid out more than $3 billion in royalties. Given its strong new subscription numbers, payouts should continue to be strong, with $1.2 million projected this year for niche/indie artists and $13.9 million going to "global superstars" (as if they don't have enough money).
The online version of the release also includes a "Say Thanks" playlist, which includes songs like Walk the Moon's "Shut Up and Dance," Carly Rae Jepsen's "I Really Like You," Michael Jackson's "Don't Stop 'Til You Get Enough" and (for some reason) The Rolling Stones' "Brown Sugar."
As if the sexual undertones weren't enough, Spotify also posted a "Say Thanks" video on YouTube, which bore an eerie resemblance to the video about the history of music consumption that Apple played at its presentation on Monday:
According to Spotify, "there's always been free music on the radio"- it's just been mixed in with ads and songs you didn't like. On the off chance you did find a song you liked, you went to the record store and picked up the album- as such, the radio drove record sales.
Thanks to Napster and its ilk, however, the '90s generation "grew up thinking music was free," and record sales declined. Streaming looked like the solution, but the original all-free-vs-all-paid model wasn't good for artists or consumers.
And then (in its own narrative) Spotify came along to save the music industry with its "freemium" business model.
As Spotify describes it, the free radio section has "major limits to the user experience," including shuffled selection, ads and no song skipping (for the record, this isn't true—you can listen to full albums free on Spotify, and the few seconds of dead air at the end of most tracks mean you can click on the next song you want without hearing an ad.) The subscription service, on the other hand, lets you listen to whatever you want whenever you want—unlimited music with no ads, or "a music store in your pocket" in Spotify's words. Eighty percent of premium subscribers started out as free users.
Spotify concludes that custom radio is "good for music, good for music makers and good for music fans."
The streaming service learned very quickly the importance of good PR: This blitz of platitudes, though annoying, is a nice change from Spotify founder Daniel Ek's curt response to Apple Music on Monday (this tweet has since been deleted).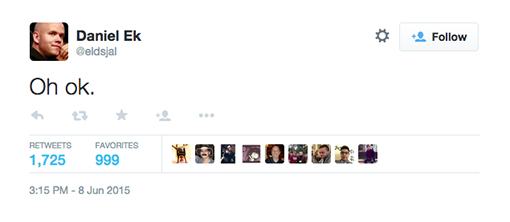 Congratulations, Spotify—now simmer down.