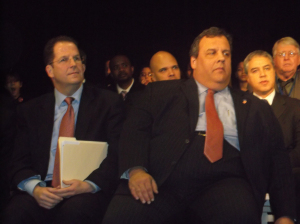 LIVINGSTON  — The crowd at Gov. Chris Christie's campaign kickoff this afternoon was composed overwhelming of Republican supporters — friends, family, state Senators and Assemblypeople — but there were a few notable exceptions, by PolitickerNJ's count.
One was Phil Alagia, chief of staff to Essex County Executive Joe Divencenzo. The Democratic power broker, observers will note, is one of those across-the-aisle elected officials Christie relied on hugely during his 2013 re-election campaign, garnering his public support and fostering a mutually beneficial relationship over the years.
Divencenzo's support, along with that of other Democratic mayors and officials, was considered integral both to Christie's successful re-election and the fostering of his unique brand of politics.
Another one of those figures was Union City Mayor Brian Stack, who was also in attendance during the event. Stack and Christie had also maintained a fruitful relationship over the years; with Stack's help, Christie won Union City by a considerable margin in 2013, and the Democrat is said to be an inveterate fan of the governor.
"He's been a great friend to me, he's been a great friend to Union City in the 33rd," Stack told PolitickerNJ as he left the Livingston High School gymnasium today. "I'm not really into presidential politics, it's more of a personal thing really. That's why I'm here today."