Whether you're shelling out the annual membership fee to see and be seen at the Southampton Bathing Corp. or you prefer Montauk's seaside scene, luxurious beach garb out East is a must. First up, stop by Zimmermann on East Hampton's main drag to score a skimpy but splendid swimsuit from the beloved Australian label. The paisley swirl on this Marisol Ladder two-piece will really pop through an Instagram filter.
Follow that up that shopping spree with a visit to Orlebar Brown to stock up on European-inspired swim trunks for him. Opt for one printed with a scene from a far-off destination; not only is it an eye-catching look, but it's the perfect way to drop a hint regarding your next beach vacation.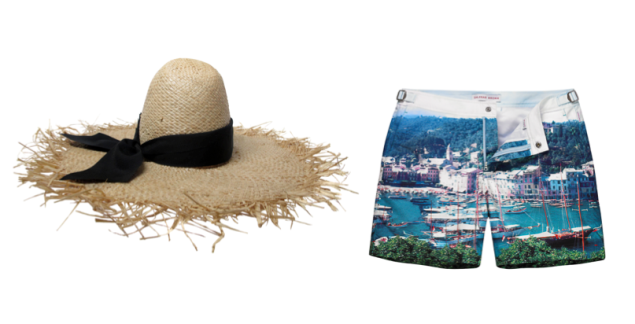 Finally, stuff a metallic gold tote from The Row with an opulent spread from Loaves & Fishes—don't forget the lobster salad—and hit the sand. A slather of Sisley's skin-saving SPF 50 and a topper from the darling milliner Gigi Burris are the only other accouterments necessary for some fun in the sun.