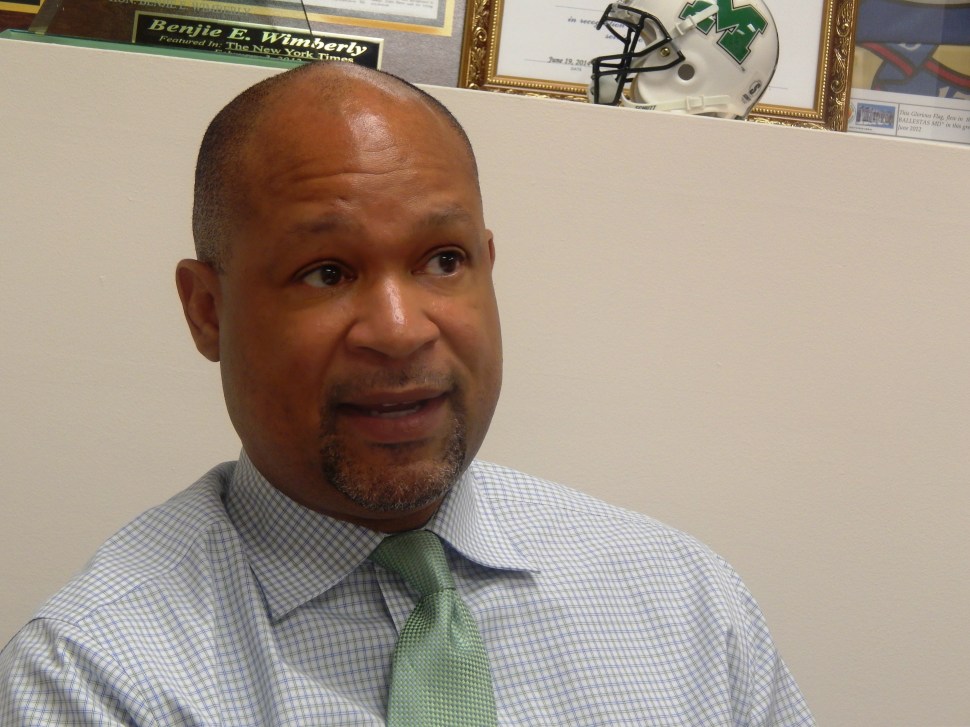 PATERSON – Sports and New Jersey politics nuts have a home in the pages of Victor Cruz's autobiography, "Out of the Blue," the first fourth of which goes in-depth into the gridiron prowess of that one influential, indispensable high school coach who taught Cruz how to be a Super Bowl-winning wide receiver: the seemingly constantly screaming, sunflower-seed spitting, war paint-wearing sideline gunslinger from Paterson otherwise known as mild-mannered Statehouse presence Assemblyman Benjie Wimberly (D-35), who sits on the Budget Committee.
"Structure," says Wimberly, when asked to pick the one word on which it all rests.
He says it again.
"Structure."
And again.
"Structure."
A Paterson Catholic High School basketball player transitioning to football, Cruz in his book tells the story of how Wimberly transformed him into an offensive weapon, teaching him every running route and all the football fine points he needed for the basis of what he ultimately became as a New York Giant. A lot of those sessions occurred in the basement of Wimberly's Paterson home, or in a swamp for a locker room, and on a field that looked more like a mud-filled demolition derby site than the origin of a local sports legend.
That Catholic school closed, and now the public schools in Wimberly's home town face deep budget cuts, $20 million total, with 175 teachers and 116 aides laid off and 154 teacher and 14 aide slots unfilled for the next school year; even as the City Council proposes cuts to the city recreation Department that Wimberly runs. The council's actions drove the assemblyman in near despair to the podium of the local city council. It is a bad time for the state-run public schools in Paterson, too often worsened by city politics. "We were never informed that such cuts would take place," said Wimberly, for the moment considering the state end of the equation, disappointed with the state Department of Education and its impact on the local school system, of which he is personally a product.
But it's always been a bad time, or at least for over two decades, the Passaic County Tech grad says, the period that the State of New Jersey has run Paterson Public Schools and, in his view, mismanaged a precious resource.
"We've become desensitized to public education," said Wimberly. "We've become desensitized to the idea of adequate education and to basic facilities that would alleviate the fear of  young people being gunned down in the streets, and alleviate homelessness and rampant alcoholism. It is a lack of education and an emphasis instead on our penal system that has created a situation where our prisons are overflowing with black men. It's the same with healthcare and specifically women's healthcare. We need to invest in women's healthcare and education now instead of doing it backwards. $19,000 to educate a child versus $54,000 a year to imprison someone.
"It makes me furious," he added. "It makes me furious that people in positions of leadership seem to be desensitized. This is a 24-year disservice to Paterson. This is not a [Chris] Christie issue. This is beyond Chris Christie. This is illegal."
The rage for structure drove him into politics in 2010, when Wimberly ran for a city council seat and was the city's top vote-getter, his popularity propelling Jeff Jones into City Hall on a wave of high African-American turnout. Two years later, the Passaic County Democratic Party tapped him for an assembly seat.
THE BEGINNING
A sports star in his youth who grew up in the fifth ward without his father close by and under the eye of a strong mother and role model coaches, the youngest of six siblings, a quarterback who at 23 returned from college to take a coaching job at Eastside High School, Wimberly has spent almost 33 years coaching sports.
It's a belief system unto itself. Growing up in the Paterson ghetto, sports was the outlet for Wimberly. Everything was sports. Everything was rivalry built around sports. The Boys and Girls Club organized teams, but neighborhood games abounded naturally, Wimberly remembers.
Among Wimberly's pupils, Cruz earned superstar status, but when pressed, the coach admits he helped 100s, maybe 1000s, of people out of Paterson. Yet that phrase "out of Paterson" stings a little, for with it comes acknowledgement that departure equals success, and that's not the way Wimberly wants it, as he sizes up the city where he was born, raised and works as the City Recreation Director, still a young and vigorous man at 50 despite an already long and storied career.
Over the years, former students came back and coached at his side, one of the rewards of his work, but under the always hard-driving demeanor, backed up by struggles and wins – the vagabond 1993 Passaic County League Champion Baseball Team and Cruz's Super Bowl Trophy hoist two big highlights along the way – the coach worries about the future.
"We're at a real crossroads," he told PolitickerNJ in his district office last month amid the cuts weakening his beloved schools and rec department. "When I went to the City Council to get them to stop the budget cuts to recreation, I was accused of grandstanding. This is not about grandstanding. This is conceivably the difference between a young person getting murdered or not. We're talking about .01% of the city's overall budget. To give you some perspective, we had more funding at the Department of Recreation than we do now."
Wimberly said he managed to get full funding for his summer recreation programs but each time it's a battle. Each time, he says, there seems to be a little less institutional awareness; a little more turbulence and a little more desensitization.
"I don't think people understand," he said. "Our kids grow up so fast around here. A trip to the Bronx Zoo – one trip – that's our Grand Canyon run. If we give them a fun day at the pool with slides and cotton candy – that's Disney, because there's not going to be a family trip to Disney. That's what the Rec Department means."
Based on watching Wimberly's work as coach at Paterson Catholic, the late Mayor Marty Barnes brought him in as the city rec director. When he considers the work again he finds himself grabbing hold of that word. "Structure," he said. "Most kids, including delinquent kids, are dying for structure. The kids who end up in jail are the kids who resisted structure – the structure of sports. So the whole thing – sports and recreation – it starts with a commitment. You have to be on time. You have to start with that. You have to be on time."
PLAYING FIELDS, BATTLE FIELDS
The public schools and recreation battles hurt as bad as the gnawing pain he still feels in the absence of Paterson Catholic, which closed in 2010. Briefly he decided he would be a dad instead of a coach, before Hackensack High School called and he went back to high school football.
But the anger isn't what it was once. He's redistributed it in part with politics. "I was mad at the world in the early days of my coaching career, but now I have a totally different approach," he said. "My old players constantly raz me. They say 'You would have never let us get away with that.' You adjust.
But he added with a mad coach's grin that one could easily picture fixed to his face as some young charge tries to gut out that 50th push up, "I'm still not looking to be liked.
"I'm looking for a fight," he admitted. "I'm looking for a fight because I know there's a fight somewhere that needs taking on. If there's an underdog, I'm there. I'll take on the dog with three legs every day of the week."
The structure of sports itself prevents contentment.
Everything hinges on the next season, the next game, the next play, the next play, with time ticking down and no margin to relax.
It's a useful structure in politics, he admits.
"You shouldn't take on a community leadership role when you are very content," he said. "You should not be in a position of entitlement. That's what leads to the mentality of royalty over public service."
Wimberly's coach in politics is John Currie, current Democratic State Party Chairman, who was once a star Paterson football player at running back and inspiring league coach. As a child, Wimberly wanted to play football for Currie, who coached the Inca Suns out of the 1st Ward. He remembers seeing the coach's face on billboards for Hawthorne Chevrolet, where Currie worked then as now. Wimberly couldn't wait to play for him when he was nine-years old but the team disbanded the year he was eligible.
Years later, he counts himself a proud member of Team Currie and the Passaic County Democratic Party, which the state party chairman still leads. Now his own sons are in Paterson Public Schools, those who are of age, all but one, who goes to Hackensack High School to be coached in football by his father.
"My kids walk the streets and these streets are not always the safest," said the assemblyman. "They see hypodermic needles. My kids are in the mix. My wife teaches 2nd grade in the Paterson Public School System. I don't have to Google these things."
PolitickerNJ asked the assemblyman about the plight of young blacks around the country gunned down in seemingly preventable horrific episodes, and the outbreak of violence in cities like Baltimore, which erupted in April after the death of 25-year old Freddie Gray. "I was in Baltimore when the city was being torn apart," he said. "I was there with my son at a Baltimore Orioles baseball game. I remember them closing the doors to protect the people in the stadium."
He recalls the incident somberly, and in the context of his own city, home to murdered 17-year old Nadjhier Barner-Timmons in April, the fourth juvenile homicide of 2015 at the time.
"I don't even remember anyone getting shot when I was a kid," Wimberly said. "I remember once in a while someone would get knuckled up. Getting knuckled up, in fact, was a big deal. But I never thought I would live to see Bloods and Crips. Back then, I played for the police. I played for the PBA League. We were mostly black kids and a lot of the coaches were detectives. That's community outreach. I think it helps to have police officers and teachers living in the city. That's the way it was, and it helped."
Much political agony teemed between the personages of Marty Barnes, Jose "Joey" Torres I, Jones, and Torres II, all outsized mayors. Through those City Hall changes Wimberly – who turned down a run for mayor himself in 2014 – remained in place as head of Recreation.
Why?
"I'm a team player," he said, as he was when Currie prevailed him on to back Andre Sayegh last year when he favored neutrality, as his life does not transition from sports to politics but intertwines the two. In spite of Wimberly supporting the county party-backed candidate for mayor in last year's race, the victor, Torres "has been gracious and open to working with me."
As Currie was gracious to back him for the assembly, Wimberly said, which was why he backed Currie when Currie needed him to back Sayegh.
"You don't leave the coach out there alone," said the assemblyman.
Someone else has been gracious, too, and grateful, never forgetting to call his own old coach, as Victor Cruz did recently when he attended an awards' ceremony and wanted Wimberly close by, as he did in 2012 when he and the Giants went to the Super Bowl against the favored Patriots and won, with Cruz going from unknown into the endzone.
Wimberly was there that day in the stadium in Indianapolis to celebrate.
"To feel that confetti," said the coach, with a smile, as he reflected on Cruz and any number of others he remembers, players, and gets ready for budget season in Trenton, and for a jammed Summer Recreation season in Paterson, and after that, high school football come fall.