The wait may soon be over for activists. Today, the New York City Landmarks Preservation Commission voted unanimously to formally consider Stonewall Inn for landmark designation, the Greenwich Village Society for Historic Preservation said in a press release this morning.
Although the vote came a little late, it comes as no surprise that Stonewall is in line for landmark status. Located on 51-53 Christopher Street in Greenwich Village, Stonewall has been considered the birthplace of today's LGBT rights movement.
But given Stonewall's significance—in 1999 it was the first site recognized by State or Federal government for its role in relation to LGBT history—getting a vote scheduled to consider it as a landmark didn't come as easily as one would think. For the past year and a half, activists have been asking the Commission to consider New York sites related to LGBT history for landmark designation. Key players in this process have been the GVSHP, elected officials, preservation groups, and LGBT organizations. Some officials include Manhattan Borough President Gale Brewer and Congressman Jerrold Nadler, who wrote to the Commission only a few days ago.
But Stonewall, although very important to the LGBT movement, isn't the only site activists have asked the Commission to consider for landmarking. Other sites include Julius' Bar on 159 West 10th Street, the Lesbian, Gay, Bisexual and Transgender Community Center on 208 West 13th Street, and the former Gay Activists Alliance Firehouse on 99 Wooster Street. Despite efforts, the Commission has not expressed interest in considering these sites for landmarking—not yet at least.
Moving forward, the GVSHP plans to focus on getting the Commission to vote in favor of Stonewall's landmark designation, while continuing to rally for the Commission to consider the three remaining sites for landmark designation.
While consideration to landmark Stonewall Inn leaves many hopeful, the Commission's track record with historically significant LGBT sites hasn't always been positive.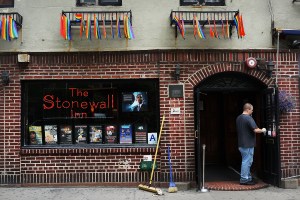 Back in October of 2012, 186 Spring Street, the red brick row house home to gay rights activists like Bruce Voeller, leader in the fight against AIDS, and Jim Owles, president of the Gay Activists Alliance and the first openly gay candidate for political office in the city, was demolished after the Commission denied activists' requests to landmark the building earlier that year.
"Today's vote is a welcome and long overdue step forward in recognizing and preserving a tremendously important piece of our history. Few sites more powerfully embody the struggle for lesbian, gay, bisexual, and transgender rights, and for achieving a fairer and more just society, than the Stonewall Inn," Andrew Berman, the GVSHP's Executive Director said in a statement released after today's vote. "But more than mere symbolism, today's vote is incredibly important for bringing us a step closer to securing NYC landmark status for the Stonewall Inn, which would help ensure that this building is never demolished or altered to erase that incredibly special history. Though New York State and the federal government recognized the tremendous significance of Stonewall in 1999 by listing it on the State and National Registers of Historic Places, only New York City landmark designation actually protects the building and ensures its preservation."
A public hearing on the proposal will be held Tuesday, June 23rd—a week before the 46th anniversary of the Stonewall Riots. The hearing will be followed by a vote, but a date on a vote is yet to be set. If all goes well, Stonewall will become the first site in New York landmarked for a connection to LGBT history.