Stonewall Inn, the site of a major turning point in the gay rights movement, has been granted landmark status, just in time for Pride this weekend. It is the first time in the city's history that a LGBT-related site has become a landmark. It also marks the first time that an individual landmark has been designated within an existing historic district.
On June 2nd, New York City's Landmark Preservation Commission voted to consider the spot for landmark designation, and today, the LPC held a public hearing over the proposal. The hearing, which only lasted a little over an hour, was filled with supporters––not one person spoke against landmarking the site. The vote was swift unanimous, met with loud support, and even tears.
The Stonewall Inn, situated at 51-53 Christopher Street, has been the face of the modern gay rights movement since June 28th, 1969, when patrons fought back against consistent police raids at bar—every June, cities around the world celebrate Gay Pride in honor of the events of that night.
Andrew Berman of the Greenwich Village Society, who has fought arduously for the outcome of today's vote and testified, was elated. "It's long overdue. Stonewall is an international symbol of the LGBT civil rights movement. It's really where the modern movement was born. With this act, that building and its history are recognized and proceed. It's a really cause for celebration, and it's been a long time in the making."
While the meeting was only scheduled to be a public hearing, LPC Chair Meenakshi Srinivasan wrapped up the hearing with a statement of support and a decision to move forward with a vote.
Ms. Srinivasan recognized New York's model as a world metropolis, claiming that New York represents "change, modernity, diversity, and freedom," and Stonewall represents more than just a bar in this city––it's the birthplace of one of the world's most important social movements."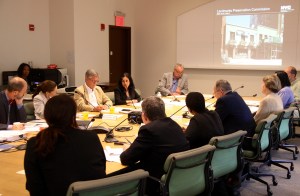 "The designation of Stonewall Inn as an individual landmark represents one of the city's most powerful movements in our era, that changed the nation and liberated LGBT communities all over the nation," Ms. Srinivasan said. "The events that transpired 46 years ago in a little bar in Greenwich village propelled LGBT activism in such unwavering commitment that now, international LGBT communities and others recognize this modest building as the birthplace of the modern gay rights movement."
She thanked those that came to testify, especially those that were at the bar on the night of June 28th, 1969. "We as the keepers of New York's social and cultural heritage ensure that New York's history is always present and never the past," Ms. Srinivasan said.
Men and women who rioted 46 years ago recalled their experiences in detailed testimonies. Others told stories of how Stonewall was a comforting and accepting place when they struggled to come to terms with their sexualities. Some Council Members shared stories of how granting the bar landmark status was personally significant.
Martin Boyce, who was 21 years old on the first night of the riots, described his experience that night to the Observer. "It was frustration, it was release, it was catharsis," he recalled. "You don't know how much they made me shake in my boots back then."
District 2 Council Member Rosie Mendez, who is openly gay, described Stonewall as a place that symbolizes a will to fight. 'Where the community stood and said no to police oppression and police discrimination." She said that Stonewall is just as significant today, as it is a place where many, including herself, celebrate the triumphs of the community. "It continues to be the place where people from all over this world come to—LGBT people and our supports, our allies—to see the birthplace of our movement."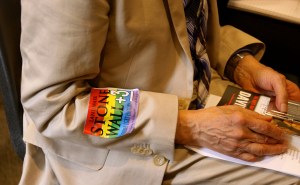 Today was a big victory for LGBT activists around the world, though Stonewall is just one of four LGBT sites in the city that activists would like to see landmarked. Supporters in the room wore rainbow-colored stickers that read "Landmark Stonewall +3." The three being Julius' Bar at 159 West 10th Street, the Lesbian, Gay, Bisexual, and Transgender Community Center at 208 West 13th Street, and the former Gay Activists Alliance Firehouse on 99 Wooster Street.
"There obviously was a lot of support for not just for Stonewall, but for these other three sites," Mr. Berman said. "Like every community, the LGBT community is more than just about one place, one site, one moment in history, so we hope that these other sites will be recognized and protected as well."