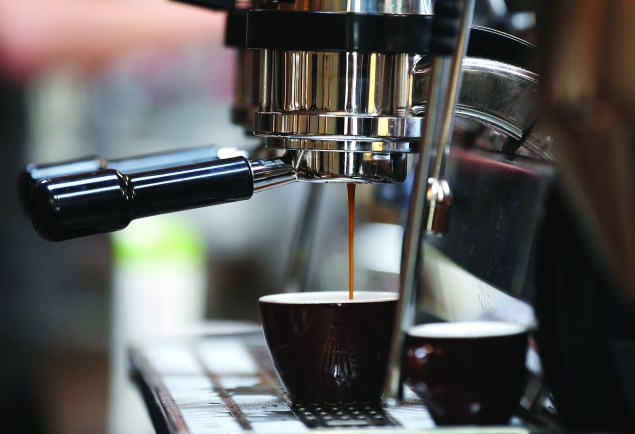 Over the past year, I've come to appreciate good coffee thanks to the proliferation of specialty cafés around the city like Blue Bottle and Intelligentsia. But there are perils to snobbery, and having a taste for the good stuff means I now come across a lot of battery acid. Top restaurants, it turns out, frequently produce the worst of it.
"If you served Oscar Meyer for charcuterie at a fancy restaurant people would stone you in the streets," said Jordan Michelman, a co-founder of the coffee news website Sprudge, "and that's what many, many chefs are doing the equivalent of with their coffee services."
Indeed, the coffee critic Oliver Strand, who writes for The New York Times, among other places, estimates that fewer than 10 restaurants in the city take coffee seriously. Those include Eleven Madison Park (which dutifully prepares its coffee on a siphon or Chemex), Dan Barber's Blue Hill and Blanca in Brooklyn. But in general, he said, Michelin-starred restaurants "don't give a shit."
That's dispiriting. While diners and joints in New York can be forgiven for serving mediocre coffee—I love diner coffee, in fact—the high-end establishments, where we expect attention to detail (and pay a lot for it) shouldn't get a pass.
"I've just given up," said John Mariani, the former Esquire food critic who is something of an espresso connoisseur. "They get better coffee in a prison in Sicily than most Americans will ever get a chance to drink."
Harsh but perhaps true. The java at many restaurants, which often tastes like it's been sitting in an urn for hours at a time—getting stale and burnt—is usually prepared by a busboy or a bartender who might not know the first thing about making a compelling cup.
What's more, according to a 2013 Grub Street report, a startling 30 percent of Michelin-starred restaurants around the world use Nespresso machines. In New York, Aldea, Restaurant Marc Forgione and Nobu 57 are among the high-profile restaurants using the ghastly pods, according to a representative of the Nestlé-owned company. 
"My question for chefs who use pod machines is: Do you also cook steak in the microwave?" asked Erin Meister, a former coffee columnist for Serious Eats. "Superautomatic and single-serve pod machines are the microwaves of the coffee world. If you wouldn't use a microwave for regular service prep, don't use one to brew your diners' last taste experience."
There's a number of ways chefs and restaurateurs could improve the quality of their coffee. Mr. Michelman suggests a few ways forward, such as forging stronger relationships with roasting partners—in the same way a restaurant will have a rapport with a butcher or farm—and encouraging those on staff to get into coffee so servers can meaningfully discuss the drink with diners. At the highly acclaimed Noma in Denmark, servers are trained to produce worthwhile stuff—by paying attention to water temperature and grind size, for instance.
Good coffee takes careful attention, the machinery to produce it can be expensive, and it doesn't bring in much money. But when fine dining establishments slack off, it sends a parting message that they don't care about their customers. With that in mind, here's a radical idea for high-end places in New York: If you're not willing to serve good coffee, don't serve it at all.