Jerry Seinfeld says that if you want to be a great standup comic, then write a joke every day. Don't break the streak, he told a contributor to Lifehacker. That strategy of daily application could work for any area of life where a person might want to do better and better. A new iOS app, Streaks, built with attractive design and plugged into Apple's new HealthKit, is meant to help you get those serotonin jolts of pleasure when you stick to goals, day after day.
"I'm trying to write a book," Quentin Zervaas, the app's creator who is based in Australia, told The Observer via email, in explanation of his desire to build this tool. "Some days I'm really motivated, other days not so much. I'm a big believer that if you do even just the tiniest amount of work on days you don't feel like it, you'll reach your goal (finishing the book in my case) much quicker."
Streaks did well on Product Hunt when Mr. Zervaas posted it this week. It's available in the iOS store now for $4.99; there is no Android version yet.
Other goal tracking apps do exist on the market already, such as Wonderful Day. Streak moves the ball in its integration with HealthKit, because that allows it to automatically track certain goals, such as attaining certain heart rates, walking a certain number of steps or keeping on top of your blood pressure. (Pro-tip: whichever tracking strategy you use, don't tell people what your goals are; it's counterproductive to blab).
There's a smart element in Streak, too. If a user is consistently failing to quite reach 5,000 steps per day, for example, the app will suggest lowering that number.
Mr. Zervaas said the app is too new to talk about frequently recurring goals, but he expects that most users will have at least one health related one, since that's what he believes makes it stand out.
Another of Mr. Zervaas' interesting user experience choices is limiting goals to six tasks, presumably so users know that making themselves crazy with a million goals isn't an option. The app also fits nicely on the screen that way: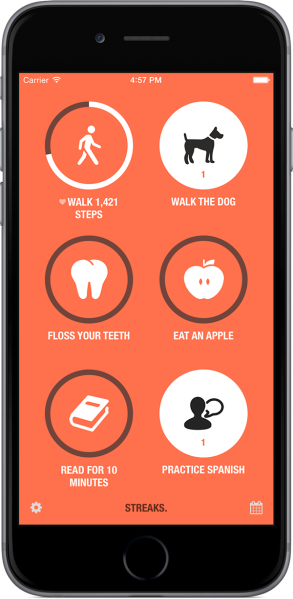 Mr. Zervaas is a veteran app developer working independently, who believes it is important that users pay for products that developers build.Previously, he built an iOS word game and apps built around transit schedules.
"Ultimately, I want to sell premium products and I feel the price point represents the value Streaks can provide to the user," Mr. Zervaas wrote.
Could you be the Jerry Seinfeld of walking your dog? Streak would be a good way to help you find out.