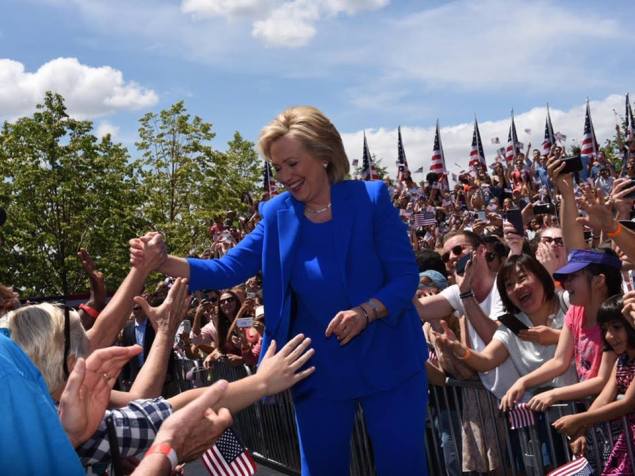 A bevy of New York politicians and a number of conservative activists joined the thousand-strong crowd on Roosevelt Island for ex-Secretary of State Hillary Clinton's campaign kickoff today.
Public Advocate Letitia James and Manhattan Councilmen Ben Kallos and Corey Johnson were among the elected officials who crowded around the enormous H-shaped stage and shook hands with the Democratic front-runner. Ms. James—who earlier this year demurred before endorsing the former first lady's candidacy—told the Observer that she saw Ms. Clinton as a "she-ro," and applauded the emphasis Ms. Clinton put on paid sick and family leave in her speech.
"She's a woman. I want to be on the right side of history," the public advocate said, noting that Ms. Clinton would be the first female commander-in-chief. "She touched on 90 percent of the things I care about"
Mr. Kallos seemed overjoyed that the ex-senator's campaign launched in his Manhattan district.
"Pleasure to welcome the next POTUS Hillary Clinton to my district," Mr. Kallos tweeted, cheering Ms. Clinton's previous calls for automatic, universal voter registration.
For Mr. Johnson, a gay man representing the West Village and Chelsea, the stress Ms. Clinton—a former opponent of gay marriage—placed on lesbian, gay, bisexual and transgender issues distinguished her from the large field of Republican presidential contenders.
"Hillary has mentioned LGBT Americans three times so far in this speech," the councilman posted on Twitter during the address. "Meanwhile GOP are trying to outmaneuver each other on anti-gay rhetoric."
But not everyone present was a supporter—or a Democrat. A number of young representatives of the Republican National Committee traveled from Washington, D.C. to attend the event.
Despite their "Stop Hillary" t-shirts and signs emblazoned with the word "Hypocrisy"—the "H" modeled on Ms. Clinton's campaign logo—a few managed to get in to the event. One of them was RNC deputy press secretary Raffi Williams, son of Fox News anchor Juan Williams, who highlighted the scandals surrounding Ms. Clinton's decision to use a private email server to handle State Department business and surrounding donations to the Clinton Foundation non-profit.
"She's running into problems, financing questions, and she's not talking to people," Mr. Williams told the Observer.
A number of opponents gathered just outside the entrance to Four Freedoms Park, where the kickoff took place, carrying signs with slogans like "Hillary: Deport All Illegals" and "We've Had Our Fill of Bill and Hill." Among them was Ben Kunst, who told the Observer he flew in from Miami to protest what he saw as Ms. Clinton's insufficient support for Israel, and her decision to hold the event on the Jewish Sabbath, an offense he compared to the political tactics of the Nazis.
"She thinks my 5,000 year covenant with God means nothing," Mr. Kunst said.