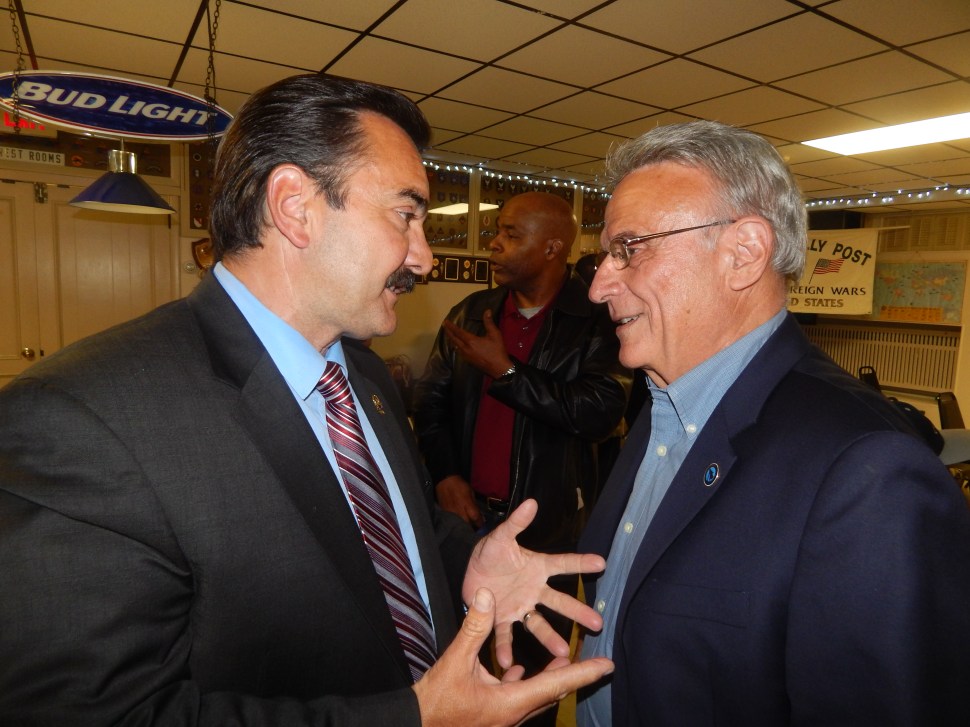 TRENTON – They've gently butted heads a lot lately in these backrooms, the former weight lifter and former body builder, each trying to out-bench press and out-flex the other on questions of policy amid North versus South Jersey political pageantry.
At the moment, three issues stand out as sticking points for Senate President Steve Sweeney (D-3) and Speaker Vinny Prieto (D-32), whose divergences on paid sick, public sector pension payments and now a North Jersey casino ballot question all might have been those power points Gov. Chris Christie happily alluded to in his now infamous correspondent's club speech.
Lurking in the shadows of the sumo stances of senate president and speaker is the unfolding 2017 gubernatorial drama, and the point-counter point implications of Sweeney's regional comfort zone in South Jersey and Prieto's Hudson County power projection platform shared by the speaker's ally, Jersey City Mayor Steve Fulop.
On the pension issue, Sweeney – a former ironworker in mea culpa mode – has welded himself to the public sector unions and wants nothing short of a full payment now. Prieto wants the payments staggered over more time and at the very least favors hearing the verdict of a court decision before committing.
One source at the Statehouse assured PolitickerNJ that the pension issue for the two men is little more than "a matter of timing."
Then there's paid sick leave. Prieto backs a plan that protects those municipalities that have already adopted the Working Families-supported initiative. But Sweeney's regional leadership ally in the lower house, Assembly Majority Leader Lou Greenwald (D-6), backs a uniform statewide plan that would preempt those already locally adopted models, including Jersey City, one of the first municipalities in the state to institute paid sick leave – a proud Fulop City Hall accomplishment.
"Let towns do their own ordinances – that's great for attorneys but bad public policy," one source in favor or preemption told PolitickerNJ.
South Jersey Democrats' uniformity of purpose in the caucus gives Greenwald a certain political sure-footedness, which Prieto, sources say, is trying to match with more aggressive alliance-building. The emergence lately of veteran Assemblyman John McKeon (D-27) as a key Prieto ally – his chairmanship of the Exxon Settlement mess, for example, turned some heads – shows a calculated play by the speaker to shore up a North Jersey flanking movement if things get rough, one source said.
A Prieto ally characterized it thus: "Greenwald and Prieto right now – the blood is not good. Prieto's been doing what he's been trying to do have the Assembly have a role rather than kowtow to the Senate on everything. He's trying to be relevant – like [former Speaker] Joe Roberts was relevant – in that vein."
Finally, the casinos question.
Prieto yesterday at a Meadowlands press conference indicated his preference for this election cycle to have voters consider North Jersey casino construction. But Sweeney – while favoring North Jersey casinos – wants to know how the question would impact this election cycle.
Specifically, South Jersey Democrats worry about LD1 and LD2, both competitive election districts this year where a North Jersey casinos question on the ballot could jolt the battleground with potentially ill-advised consequences. Two Democratic incumbents – Assemblyman Vince Mazzeo (D-2) and Assemblyman Robert Andrzejczak (D-1) – must win in November in order to have the requisite traction to hold down their respective districts in the event that Senator Jim Whelan (D-2) and Senator Jeff Van Drew (D-1) don't pursue reelection. Those seats contribute significantly to South Jersey's dominant starting point on state Senate control.
To that worry, "It's a wash," a North Jersey source intent on seeing the question on the November ballot insisted to PolitickerNJ, arguing that Christie's stated support for the ballot question would offset any argument to blame Democrats down South.
But a source close to the question disagrees. If authorized, gaming would become the driving issue of the cycle, a dubious proposition at best in South Jersey, one that would blow up delicate turnout models not only in LD1 and LD2 but in the equally competitive LD38 in Bergen County – and even conceivably elsewhere.
One source, objecting to Prieto's leadership as substantive or effective, noted the failure of paid sick leave and Transportation Trust Fund (TTF) as issues, and suggested the speaker is now eyeballing the casinos question for this cycle in part as a way to define an Assembly agenda.
The senate president supports North Jersey casinos, his allies underscore, it's just a matter of the timing.
In keeping with the whimsical political gamesmanship of the upper-lower house rivalry, while Prieto and other North Jersey Democratic lawmakers posed for pictures looking like Pete Townsend complete with electric guitars at the Hard Rock Meadowlands press conference, Sweeney solemnly made an appearance at the Trenton Area Soup Kitchen.
"We need economic policies that help the working poor and others who struggle each day to support themselves and their families," said the senate president said. "Under the current administration, the wealthy have prospered in recent years while everyone else has been pushed further behind. The economic truth is that from 2010 to 2012 every income group has seen the buying power of their take-home pay decline, with the exception of millionaires, who have gained an average of $123,000."
Sweeney noted his introduction of legislation that would restore the state's Earned Income Tax Credit to 25 percent of the federal credit. The Christie administration cut it to 20 percent in 2010. Eligibility for benefits ranges from $20,330 for childless workers to $53,267 for wage earners with three or more children. The EITC restoration is coupled with a millionaires tax, which would have the wealthy contribute more of a "fair share" with an increase amounting to two cents on the dollar for income above $1 million a year.
Restoring the full EITC would cost about $60 million annually, according to OLS projections, Sweeney noted, while Prieto specifically trumpeted a billion dollar investment by Hard Rock.