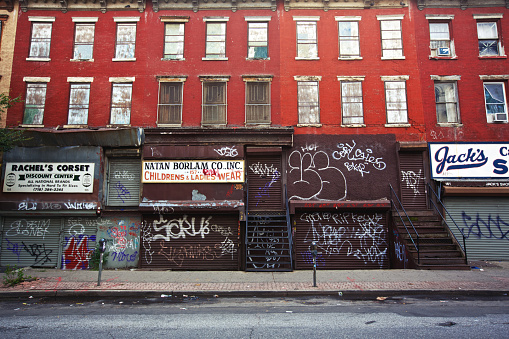 The cultural value of graffiti, an art form that has found its home on the blank, urban surfaces of New York City, has long been debated amongst collectors, academics and NYC residents themselves. So, while it is what Vinny Pacifico, a 60-year-old graffiti collector based in the Bronx, dubs "the fabric and history of New York,"  many city residents find it less than worthy of the respect paid to other contemporary works of art and their artists.
Mr. Pacifico, in addition to amassing his own private gallery of graffiti, has in recent weeks, commissioned 50 of NYC's more prominent graffiti artists to design and color the walls of six rooftops across Hunts Point warehouses, according to the cover story in this week's Crain's New York. These walls, approximately the size of a standard subway car, are to be reminiscent of New York's graffiti tradition, while making a statement about the future appraisal of graffiti in the art world. "This is abstract art that communicates in color, like Picasso, but it also uses language," the collector and meat distributor told Crain's, articulating his dedication to raising its intellectual and commercial value in the public eye.
In his recent article for Crain's  profiling Mr. Pacifico, reporter Aaron Elstein posited that New Yorkers find it difficult to embrace graffiti as a valuable brand of artistry because it represents "a piece of New York's grittier past."  So gentrification, he says, may ironically aid the rise of graffiti in the commercial art market as developers grow to evaluate urban canvases as historical, archival representations of an older New York.
In 1995, Pacifico opened a West Village gallery meant to showcase graffiti and was forced to shut it down soon after, as it met with little success. Further, not long ago, the Brooklyn Museum cancelled plans to showcase a graffiti retrospective called "Art in the Streets" curated by art dealer extraordinaire Jeffrey Deitch, due to "funding problems." As Elstein points out in his piece, "art may be art, but business is business," and the museum, according to Crain's, did not see the proposed collection as a particularly safe business venture.
There is, however, still hope to be had. Goldman Properties recently invited a number of graffiti writers to go to work on the wall made famous by Keith Haring, sitting at the corner of Houston and Bowery, and just last month, the New York City Department of Transportation hired 6 graffiti artists to help with a Washington Heights tunnel redesign project.