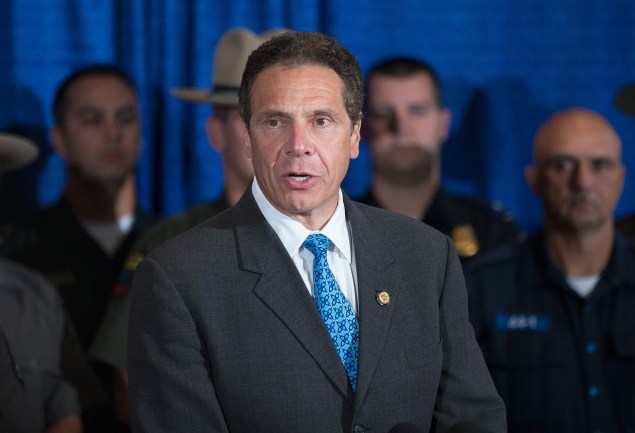 Where he goes, they go.
Alliance for Tenant Power, a left-leaning pro-tenants group, will protest outside Gov. Andrew Cuomo's Westchester home today–the first salvo in an effort they say will prevent him from winning re-election in 2018.
"Wherever he goes, we'll be there," said Delsenia Glover, the campaign manager for ATP. "We told the governor that we would work and do everything we could to make sure he would not run office again and that's not an idle promise. We meant exactly what we said and this is the opening salvo."
ATP is planning on sending four busloads of protesters to Mr. Cuomo's Mt. Kisco home, Ms. Glover said. They will arrive at 12 p.m.
Most recently, they protested outside a Manhattan fundraiser for Mr. Cuomo.
The tenant group, like other liberal activists and elected officials, is furious at Mr. Cuomo, a Democrat, for brokering a deal to extend rent regulations that they say are not nearly strong enough. Though State Senate Republicans opposed any significant changes to the rent laws, like an end to vacancy decontrol, tenant activists felt Mr. Cuomo was indifferent to their plight and did little to nudge Republicans toward a better deal.
Some even feel Mr. Cuomo worked in tandem with the Republican majority to squeeze Assembly Democrats into agreeing to a four-year extender that only makes certain tweaks to the rent laws, including raising the rent threshold for when an apartment can be taken out of the system.
But Mr. Cuomo has rejected that characterization, repeatedly calling the deal to strengthen the rent laws the best in history. Mr. Cuomo also angered tenant activists when he said they were being unreasonable and expecting far too much.
"Rent regulation was a good deal before the Republicans in the legislature started chipping away at it for 40 years. I don't know he's talking out," Ms. Glover said.
ATP is one of several progressive grassroots groups that frequently opposes the governor. If Mr. Cuomo seeks a third term–he has already expressed interest in doing so–he could face another challenge from his left, and a potentially stronger threat than law professor Zephyr Teachout, a long-shot who ran a year ago. Attorney General Eric Schneiderman, a fellow Democrat, is reportedly a dream candidate for progressive activists.
Mr. Cuomo's office did not immediately return a request for comment.