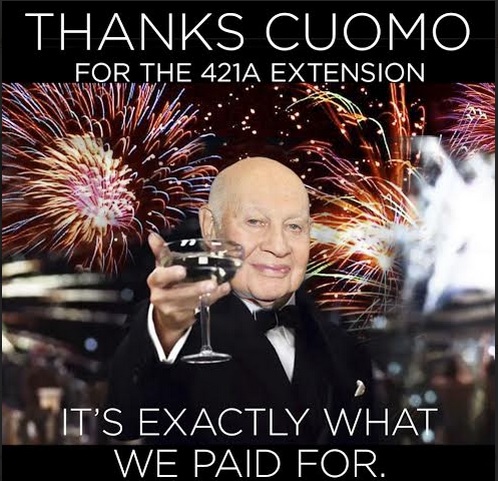 Leonard Litwin has one word for Gov. Andrew Cuomo: "thanks!"
The Alliance for Tenant Power, a left-leaning pro-tenant group, is circulating a meme and quote parodying Mr. Cuomo's ties to scandal-scarred Glenwood Management. The meme portrays Glenwood's 100-year-old founder, Leonard Litwin, raising a martini glass and smiling like Leonardo DiCaprio in the 2013 film The Great Gatsby.
Mr. Litwin is "thanking" Mr. Cuomo for calling for the straight renewal of a controversial real estate tax break known as 421a. Many progressives, including Mayor Bill de Blasio, want 421a reformed or scrapped altogether.
"The world's upper class can sigh in relief. A straight extender on 421a is exactly what we paid for. We know that billionaires want a 50' lap pool and their tax break as well. Thanks to the Governor we will deliver nothing less," reads the parody quote from Mr. Litwin. Alliance for Tenant Power noted the quote was delivered "from the stone whirlpool spa in his main penthouse."
The meme arrived in the form of a press release from a fake gmail account for Charles Dorego, CharlesDoregoNY@gmail.com. Mr. Dorego is Glenwood's senior vice president.
Mr. Dorego is currently at the center of the indictment of former State Senate Majority Leader Dean Skelos. Mr. Dorego, who is cooperating with federal authorities, allegedly gave Mr. Skelos' son $20,000 in cash and title insurance work he was not qualified for. Mr. Dorego, in turn, hoped to influence the powerful Republican as Albany negotiated the renewal of 421a, a program that gives tax breaks to real estate developers for building some affordable housing in certain parts of the city.
Mr. Cuomo, a Democrat, has also benefited enormously from Glenwood campaign donations over the years. Mr. Litwin is a prolific donor, giving to Republicans and Democrats alike.
The fight over 421a has scrambled alliances and added even more uncertainty than usual at the end of the legislative session. Mr. de Blasio, with the support of the real estate industry, advanced a plan to renew 421a by requiring any development receiving the tax break to build affordable housing. The mayor's plan also included a so-called "mansion tax" on the sale of any condo or co-op unit valued at more than $1.75 million. (Glenwood is a part of the Real Estate Board of New York, the industry's chief lobbying group.)
But Mr. Cuomo rejected that proposal, calling it a "giveaway" to wealthy developers. Building trades unions want any development receiving the tax break to provide prevailing wages for construction workers, a plan the normally union-aligned de Blasio administration has called too expensive and detrimental to housing construction. Though Mr. Cuomo never outright backed any proposal, his openness to the trade unions' plan won him praise in their circles.
Yesterday, Mr. Cuomo said 421a should be temporarily extended so all sides could come together on a plan. He maintained 421a is too complicated to hash out this month.
"The question is 'what do you do?' One question, one answer is, well, negotiate a whole new plan now. I think that's unlikely, because 421a is a very complicated beast, and it just doesn't lend itself to throwing together another program in several hours," Mr. Cuomo told reporters yesterday. "Then you can either let it expire—which would stop any production of affordable housing—some people support that, I don't support that, necessarily. Or a short-term extension while people work on a new program."
A Cuomo spokeswoman called the meme "disingenuous."