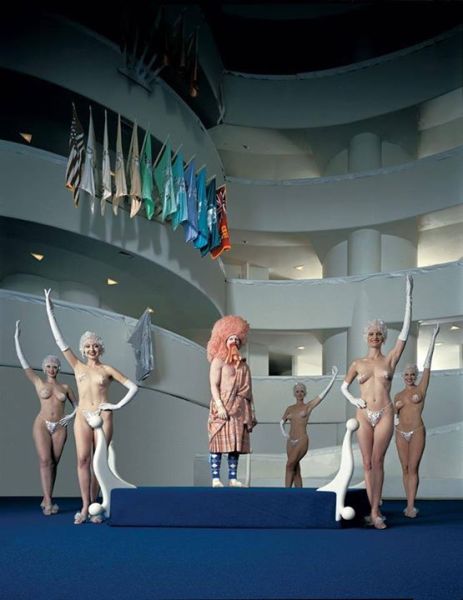 Matthew Barney's epic film series The CREMASTER Cycle pretty much made him a rock star in the art world. The five elaborate feature length films that comprise the work were made between 1994 and 2002, and named for the muscle that controls the male reproductive system. (The one that moves the gonads up and down in response to fear or fluctuating temperature.) Rarely are the films shown together, in entirety, but this summer the Guggenheim will give CREMASTER fans a rare chance to test their enduring love for the divisive work with a series of marathon Saturday screenings on July 6, July 11, August 8, and September 5, from 10 a.m. through 7:30 p.m.
The CREMASTER cycle received mixed critical reception when it was finished and shown in an elaborate solo exhibition for Mr. Barney at the Guggenheim in 2003. Art Critic Jerry Saltz gushed about it in theVillage Voice, saying "Even though his art can be oppressive, fussy, grandiose, melodramatic, supermale, hollow, hokey, dogged and daft, I'm smitten by it," while others like the paper's film critic J.Hoberman described it as "narcotized self-satisfaction," and adding that Mr. Barney was "never afraid to distend his ideas beyond ostentation." All things considered, people embraced Mr. Barney's brand of weird the films have been propelled to the status of cult favorites.
So, what are they about? In short: they're an epic unconventional narrative that explores themes of male sexuality and human biology while incorporating historical motifs like Freemasonry, Celtic lore, and the lost tribes of Israel, starring sculptor Richard Serra, actress Ursula Andress, writer Norman Mailer, and Mr. Barney himself. Scenic backdrops include the Chrysler Building, the Guggenheim's Rotunda, and Ireland's Giant's Causeway. In one film, Mr. Barney scales the Rotunda in pink Highland regalia with minimal climbing gear, while Mr. Serra splatters hot vaseline on the museum's floor. We won't spoil anymore.
All five films will be shown, back-to-back, in the order they were produced. However, if you're interested in watching the films in sequential order they are all available in full on YouTube, posted by a third party, though some are in segments. (If you watch them 1 through 5 they'll correlate to the way the gonads descend during the human sexual differentiation process.)
The marathon screenings are being done in conjunction with the museum's exhibition "Storylines: Contemporary Art at the Guggenheim," featuring work from the permanent collection that explore storytelling. Of course, Mr. Barney's unconventional narrative, which can be interpreted differently depending on the order in which it's viewed, was a shoe-in. The show opens today and runs through September 9. Screenings for The CREMASTER Cycle are free with museum admission.
Mr. Barney is set to have a solo exhibition at the Museum of Contemporary Art Los Angeles September 13 and will feature his latest cinematic epic, "Matthew Barney: River of Fundament." The work is his largest film to date, took seven years to make, and is inspired by CREMASTER star Norman Mailer's 1983 novel Ancient Evenings.
Below, the trailer for Matthew Barney's The CREMASTER Cycle: