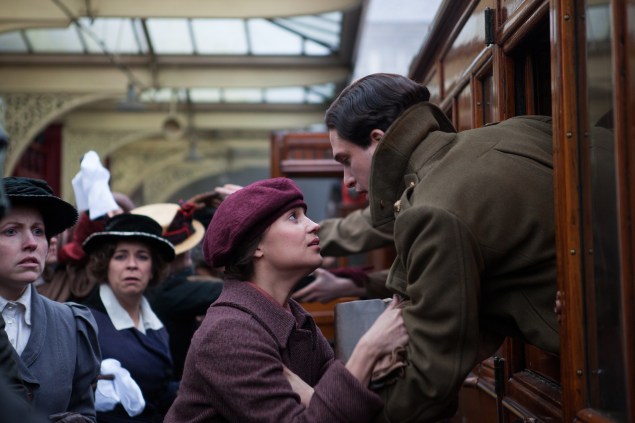 Handsomely mounted, skillfully acted, exquisitely photographed and genuinely touching, Testament of Youth is one of those rare film experiences that is just about perfect. An unforgettable mosaic of World War I, it is based on the best-selling memoir published in 1933 by feminist author Vera Brittain, a nurse on the front lines who counted her fiancé, her beloved brother and all of their friends among the casualties. But while this remarkable film, adapted by Juliette Towhidi (Calendar Girls) and directed by James Kent, does not flinch from showing the atrocities and agonies of the victims, it's more about the shifting social changes on the British home front and the effect of the loss of life on the people left behind than the action in the trenches. It's too long and sometimes paced too slow for its own good, but the rewards of watching more than two hours of the revered Ms. Brittain's pacifist chronicle, which took her 17 years to complete, are monumental.
---

TESTAMENT OF YOUTH ★★★½
(3.5/4 stars)

Written by: Juliette Towhidi
Directed by: James Kent
Starring: Alicia Vikander, Kit Harinton and Taron Egerton
Running time: 129 min.

---
Last year marks 100 years since the beginning of World War I, so it is only proper that the film that celebrates it should open on Armistice Day, 1918, at the end of the conflict, when a confused Vera (played in all of her moods and contrasts by the marvelous Swedish actress Alicia Vikander), old before her time by the carnage she's witnessed in the war, returns from the battlefields of broken, discarded bones to re-enter a tidier, more civilized Edwardian society half-forgotten in anguish. The film then reverts back to the spring of 1914 when, as a rebellious teenager, she realized her dream of acceptance at Oxford against the wishes of her disapproving parents (Emily Watson and Dominic West), then broke her own rules against falling in love with any member of the opposite gender by growing tenderly involved with her brother's best friend Roland (Kit Harington, who plays Jon Snow on Game of Thrones), an aspiring writer like herself and a house guest who slips wistful poems under her bedroom door.
In the four years that ensue, Vera watches her brother and his friends go to war, becomes engaged to Roland, only to lose him to a sniper's bullet, and finally surrenders her goal of academic achievement at Oxford to join the war effort herself as a nurse. For a while the events and experiences are conveyed through the thoughts and feelings in her letters, but by 1917, while she washes the wounds of lost soldiers in makeshift operating rooms so overcrowded and understaffed that even the nurses perform some of the surgeries themselves, she finds herself in France, trying to save German prisoners as well as fellow Brits—many of them dying in her arms after amputations without morphine.
It is here, in the last doorway to hell, where a proper young Edwardian lady who had never appeared on a date with a boy without a chaperone, found herself up to her elbows in blood and excrement, and where, in one of the film's most wrenching scenes, she at last finds her wounded brother on a stretcher on the threshold of death. Living every harrowing phase of war, telling the truth with her expressions and her eyes, Ms. Vikander scales the heights to stardom. Showing shock, grief and joy with equal naturalism and honesty, she is mesmerizing. It's her movie, but she blends seamlessly with the more experienced British veterans like Miranda Richardson, as a calloused university professor secretly shattered by war, and Hayley Atwell as a bitchy and tactless fellow nurse who resents caring for enemy prisoners of war ("Get some antiseptic for the filthy Huns," she barks).
The men are underwritten, but Mr. Harington is more sensitive as the dreamy, idealistic Roland than he has ever been on Game of Thrones, and Taron Egerton is warm and vulnerable as Vera's adoring brother Edward, especially memorable in that scene where his mangled body is found by his sister at the overcrowded nursing station. Rob Hardy's cinematography, contrasting the dreamlike greenery of England with the mud and sludge of the trenches, is unforgettable. It ends with an emotionally impactful speech about the imperative necessity for all people to say "No!" to war, no matter what side they are on. Except for that controversial speech, the film eschews the clichés of most pacifist agitprop agendas.
But of course there was another war coming—worse than any that came before it. That's the highly publicized follow-up to World War I, the war the movies have catalogued most often. As Marlene Dietrich always lisped, "You remember the war, don't you? It was in all the papers." Meanwhile, Testament of Youth is one of the most powerful and persuasive archives of the First World War ever written, on a par with All Quiet on the Western Front. The book is still is in print to this day, selling like crumpets at high tea. The movie is a proud collation of its reflected glory. Don't miss it.