It was a difficult winter for tous New York: even the 1-percenters who spend fewer than the allotted 183 days in the city.
Summer is here and while for many that means BBQs and cut-off shorts, for the uptown elite, the joy of breaking out the new Hermès cherche-midi and those must-have Louboutin Cataclous is spine tingling.
It looks like a sizzling season is in store. The Upper East Side has been the subject of keen interest recently, from Wednesday Martin's "wife bonuses" to Bravo's Odd Mom Out, starring its creator, socialite and author Jill Kargman. Wherever one turns, it seems the words Park and Fifth are on everyone's lips. Just recently, a diamond-studded fuchsia Birkin bag sold at the Hong Kong Christie's for more than $221,000. Who says the luxury sector is slumping?
With Europe on sale for as much as 25 percent off, hardly a room is available in the five-star resorts from The Grand Hotel Quisisana to the Grand Hotel du Cap Ferrat. Something tells me that with the current exchange rates, cultural sites will take a back seat to the Via Condotti, where well-heeled hordes will be snapping up those ubiquitous cashmere sweaters from Loro Piana and Brunello Cucinelli. Expect lines at the Holy Grail of Luxury, the Chanel Maison sur Avenue General LeClerc in St. Tropez, for the famed quilted bags all the ladies of Park treasure so much. New Yorkers are already instructing the housekeepers to pack empty satchels for all the anticipated loot.
Whether you plan on being in Wainscott or in the front row at Wimbledon, taking the Excel or coptering out East, my first-ever Best of Summer awards are meant to help you navigate summer 2015. For the 1 percent, there is no such thing as the dog days of summer—especially when you're traveling private with your Havanese.
The City
Best room with a view
The outdoor tables at St. Ambroeus on Lafayette Street provide a chic afternoon respite frequented by auteurs and analysts alike. Order a Côtés de Provence, lounge in the dappled sunlight and watch the jeune filles saunter. Some wager that this is the best people-watching in NYC; the display of skin, the array of skimpy outfits and the strutting has nothing on the Victoria's Secret fashion show, all for the price of an Insalata Tricolori.
Best place to meet your third husband
Thursday nights at Bilboquet. His black hair may be going gray but that doesn't matter when you're on the hunt for a man with a Black Card. That being said, there is a good chance that great catch at the bar is already "caught." (Did anyone say wedding ring in the pocket?) Downside: You may run into your teenagers while you are flirting. Don't forget the Hunt and Fish Club if you're interested in an investment banker sugar daddy or a younger protégé feasting on Japanese Wagyu.
---

At the Sagg Store, Check bad manners and your rhinestone-collared teacup poodle at the door.They won't go over well.

---
Best place to find a mistress when the wife moves out to the beach
Head for Beautique, whose name says it all: a boutique for saucy cougars, Eastern European "hand" models and divorced reality stars in search of a new story line. Or there's Cipriani Soho for international and chic 20-something beauties. They will undoubtedly have someone already gifting them Balenciaga and Celine, so you will have to up the ante if you want to compete.
Best caveman dish
Slices of lardo (yes, pig fat) at Il Buco Alimentari e Vineria on Great Jones Street. Get your Paleo on so you can compete with your wife, girlfriend or both when you're in Mykonos.
Best homage to Jackie and Ari 
Summer wouldn't be a bonne vacance without movie star shades that have that Monegasque aesthetic and the accompanying attitude. Take your passport and travel below 14th Street to visit Anne et Valentin, Surreal Eyewear or Selima Optique. If one happens to be in Paris, book an appointment at the uber-chic Maison Bonnet.
Best summer hike if you're on a staycation
The High Line. Revel in urban planning at its best. Visit the new Whitney and high-five one another when you see your name on the newly installed donor plaques. Have an al fresco lunch at Bagatelle and then scour Jeffrey and Scoop for Hamptons cocktail party and photo-op attire. Venture over to West 12th Street, downtown's answer to Madison Avenue, and feel like you're the Magellan of shopping.
Best summer insurance policy
Sometimes you have to pay to play. Get your spin class Super Soul package, which gives you priority bookings and bikes! Because on 83rd and Third, everyone wants to be a priority!
Best moment of June
Seeing the kids off to the camp buses in front of the Metropolitan Museum or the parking lot of Macy's in White Plains.
Best moment of August
Picking up the kids in front of the Met and Macy's.
Best summer film 
While it's not a screening at Cannes, the video at your Global Entry appointment at JFK is the best summer screening. Production values aside, you will be happy to sit through the short film and that you carved out the time so you can skate through airport lines, like the heavily donating diplomats in your ever-expanding social orbit. Bring your own popcorn.
Best European-style park if you're stuck in the city
With chic French garden chairs, gravel paths and abundant boxwoods, Bryant Park has become New York's answer to Paris' Jardin Des Tuileries. There is also a carrousel for les enfants and one can indulge in a game of chess or backgammon. Sip rosé from the underrated roof of the Bryant Park Grill. It's unusually serene and lovely. Qui savait?
THE HAMPTONS
Best celebrity sighting
The Bridgehampton Tennis and Surf Club. A very, very, very famous blonde rocker once tried to pick up my nanny.
Best summer breakfast buffet
The Garden at the Hotel de Russie in Roma (the coffee puts the aroma in Roma) has nothing on the breakfast buffet at the Baker House in East Hampton, freshly baked muffins and fresh berries. YUM.
Best exercise routine
Super Saturday in Water Mill. The flip of the wrist and plastic burns calories as you get those luxury goods for less, and do good for the world.
Best place to see all the people you just saw in Mykonos, Capri, St. Tropez and Aspen
The Palm East Hampton, on a Friday night. You won't have to hunt for anyone at the Hunting Inn. They'll all be there, in full summer regalia. Catch up over a 1942 or Tequila Avión, with the fried onion rings. When you book your reservation, also book Barry's Boot Camp the next day.
Best place to find a boy toy (ahem, driver) in the Hamptons when your husband is at Cipriani or Beautique
Any self-respecting lifeguard at any self-respecting beach club. You'll just have to get used to the smell of Clearasil. Again.
Best use of your Hamptons guest room
The guest suite is now designated for your children's future SAT tutor. Let the incentives begin!
Best summer import
Ignacio "nacho" Figueras and Delfina Blaquier Fiqueras give everyone well-deserved insecurity attacks. Who can compete with chic South Americans on horses looking that good? The Hampton Classic must be named for them.
Best "down-to-earth" excursion for the children 
The Montauk lighthouse and lunch at Gosman's Dock. Having corn on the cob with butter in plastic chairs is the equivalent of flying your kids coach. If they'll put up with it.
---

With chic French garden chairs, gravel paths and abundant boxwoods, Bryant Park has become New York's answer to Paris' Jardin Des Tuileries.

---
The best beaches only the 1 percent of 1 percent of the 1 percent can go to
Bathing Corporation, Gin Lane; The Maidstone, Maidstone Beach; Southampton Bath and Tennis Club, Gin Lane.
Best beach only the 1 percent can go to
The Bridgehampton Surf and Tennis Club, the Water Mill Beach Club.
Best beach if you have a parking sticker
Peters Pond, Wainscott Beach, Georgica Beach.
Best beach everyone can go to if you have a reservation 
Sunset Beach, Shelter Island. It's as packed as St. Tropez, but the frites are worth it.
Best financial indicator of the summer
At last visit, lobster salad was $100 a pound at The Loaves and Fishes Cookshop or, as I like to call it, "The Museum of Fine Food."
Best places to eat on your chef's day off 
For real local cred, check out John's Pancake House, the Crow's Nest, lunch at Sam's for pizza and anything red sauce. Hint: Leave the solid-gold Daytona at home and wear a plaid shirt to blend in. Order a beer (not rosé) if you don't want to give yourself away.
Best place to get financing for your hedge fund
Chabad, Southampton.
Best place that says "it's summer"
The Sagg Store, Sagaponack, which closes as tightly as a drum right after Labor Day. Check bad manners and your rhinestone-collared teacup poodle at the door. It won't go over well. The country store in Quogue is a close second.
The best place to find out what the summer "it" bag is
The Valery Joseph Salon, Bridgehampton or NYC. If those girls don't know what it is, no one will. Promise.
Best place to still occasionally see a vintage wicker summer handbag
The Driver's Seat Restaurant, Southampton.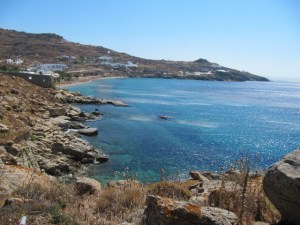 Best place to see a new wicker summer handbag
Hermès and the Southampton St. Ambrose. Or both.
Best place to be 29 again (or just try)
Any bar in Montauk.
Best place to meet someone who's 29
The up and down seats on the L.I. railroad.
Best way to resemble an L.A. transplant or show-runner
Breakfast at Babettes. Order the organic almond maple granola and/or the tempeh bacon and you will look like a transplanted Malibu-ite or someone friends with a very famous Academy Award-winning director.
Most-awaited summer opening
It's not "you know's film" at Cannes. It's Tracey Anderson in East Hampton. Get those abs burning like Gwennie!
Best guarantee of a successful Hamptons brunch
Serve the chicken salad from Round Swamp Farm and your reputation as a host or hostess will spread. One can resemble Quasimodo or have the social skills of the Clampetts; Round Swamp chicken salad will guarantee popularity. Even reclusive movie directors who reside in Georgica will respond "yes" to last-minute brunch invitations.
Best summer charity events
While the Southampton Hospital Benefit raises major funds, it's second to the massive charity haul reeled in by the tween mini-tycoons from Daniel and Bridge Lanes. I heard of one "child of" a burgeoning hedge fund manager who pulled in $1,800 in one afternoon alone. It's the children's version of the Robin Hood Foundation, with the nannies running the show while parents are off at polo or spin class. Job well done, Brittany and Jarrod!
Best landing strip
While many favor East Hampton or Westhampton airports, the sleek gals of summer prefer Kimara Ahnert. She knows how to create the perfect private runway.
Best place to get a parking ticket
Any beach from Southampton to East Hampton, unless you scored a non-resident parking sticker (as rare as a pink diamond) or are a resident. Don't make the mistake of not putting your metered ticket in your car window face up in the East Hampton public Parking lot. If you don't, you will pay for your crime after a visit to Khan's or the Blue Parrot.
Best summer reading (for your new driver)
The 2002 edition of Jodi's Shortcuts. Jodi Della Femina's classic is still available, last I checked, on Amazon with a chock-full of great driving tips to help your new driver navigate the hedgerow.
---

Beautique's name says it all: A boutique for saucy cougars, Eastern European 'hand' models and divorced reality stars in search of a new story line.

---
EUROPE
Best party restaurants in St. Tropez
Nikki Beach, Cinquante Cinq on Pampelonne Beach, which makes the Hamptons look conservative. It's less about the beach and more about the paaaaarty.
Best '50s throwback beach
Canzone del Mar, Capri. The 1940s English singing star Gracie Fields pioneered this ancient Roman fort into one of the world's most scenic beach clubs with Capri's first waterside swimming pool and the perfect al dente aglio e olio. Tip: Make a lunch reservation in advance and nap while counting yachts.
Best summer destination to get away from it all and still see everyone from NYC
Mykonos. Cries of "I can't believe it. What are you doing here?" will reverberate through Paradise Beach and Super Paradise. Added benefit: those monumental implants you paid for will be on full display when your wife or girlfriend goes topless. Amortize that!
Best swim instructor
Check into the Grand Hotel Du Cap-Ferrat and take lessons from legendary instructor Pierre Gruneberg, who has been teaching toddlers his method since 1951. He taught the children of Charlie Chaplin and Jean Paul Belmondo so why not yours? No one wears a chic straw hat better.
EVERYWHERE
Best summer culture
The Parrish Museum, Water Mill, or The Chobani store, Prince Street. Whether it's a spoonful of Greek yogurt or the Chuck Close photo exhibit at the Parrish museum, one needs a bit of summer culture.
Men's summer must-have
Recycle your "starter" Rolex. Have it carbonized black for the summer. Hint: it will look good against your blinding white, oversized new dental laminates. There's nothing like a little juxtaposition for maximum effect!
Women's summer must-have that you will be giving to your nanny after the conclusion of the summer season
High-laced gladiator sandals. They will be very popular overseas come September when you gift them to your nanny.
Best summer lid 
Pheasant-feathered straw fedora at Jay Kos. Best paired with a woman half one's age.
Summer picnic vegan treat
Divvies, an egg and dairy-free, nut-free, vegan and kosher chocolate cookie. They took everything out but the taste. Fifty calories. One of the few instances where you embrace the less-is-more aesthetic.
Best product breakthrough for the 1 percent
The light-up Dom Perignon bottle. Now you can find your keys on the walk of shame.
Best 1 percent excuse: the travel dog 
We all heard it's an anxiety remedy. How about renaming it the "furry Xanax"? That said, it looks a little too stylish exiting First Class.
Best men's summer attire 
At any of the fortress-like clubs in Locust Valley, slacks in the color of the sorbet rainbow are on display, like the gelato in Roma.
Best way to pretend to be 1 percent
No driver? Upgrade to the luxury liner (Wi-Fi and Internet access). No private plane? Copter out to your share on Blade (starting at $575). No yacht in the harbor? Rent a boat at Global Boarding with a captain for a day of wakeboarding, water skiing, or a seaside lunch on the North Fork. See how the other half lives and get your 1 percent on with this 1 percent starter kit!
Best summer read at your wclub, private airport or first-class lounge
Isn't that Rich?: Life Among the 1% by Richard Kirshenbaum. Publication on June 10, pre-order on Amazon and Barnes and Nobles. Oh come now! I get to plug myself. After all, I am in advertising.