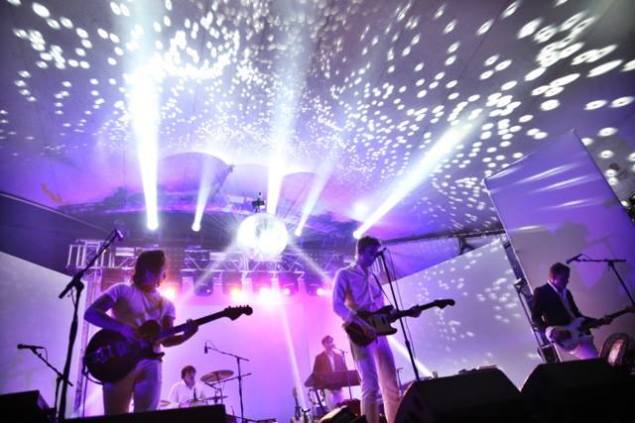 Spoon and The Antlers make an unlikely concert pairing. Yet the former, Brooklyn-based brooders in the Antlers, now stalwarts of the Kings County indie scene, opened for the jovial Austin veterans Wednesday at The Wick.
Spoon's lead singer Britt Daniel sounded as crisp as his white oxford looked beneath a black vest.
I last saw The Antlers in 2010 when they opened for The National at Radio City. Both of those bands can craft rock and roll dirges with the best of them, and the downtempo trio made a fitting appetizer to Matt Berninger and company. The group has lightened up since its lauded 2009 LP, Hospice. But these somber reflections need room to breathe and frontman Peter Silberman more time to keen than an opening set allows.
Still, the soaring ceilings and dark nooks of the post-industrial Wick provided a better context than Spoon to slow-burn songs with titles like "I Don't Want Love" and "Putting the Dog to Sleep." Silberman delivered both with his trademark howling falsetto while pitched forward toward the crowd in semi-genuflection.
On the previous night, the bands had played the recently restored Kings Theatre, a gilded and much larger venue. Intimacy at the Wick—carved, along with recording spaces and the Well, a beer garden, a hulking former brewery—extended to the Antlers lugging its own gear post-show through the crowd after Silberman had asked them to "part the Red Sea."
The parting closed and the current strengthened when Spoon emerged. Small confines also suit this group, whose music can approach a bar rock level of amiability compared to the Antlers' world-weariness. But Spoon plays to a literary bar's patrons, and has made several critics' lists of best active rock bands with little of the hype surrounding, say, Arcade Fire or The National.
With an audience ready to rollick after the subdued Antlers, Spoon performed a highlight reel culled from its 22 years. Lead singer Britt Daniel sounded as crisp as his white oxford looked beneath a black vest. He led the crowd in sing-alongs of "The Way We Get By," "I Turn My Camera On" and "Cherry Bomb" with the minimal theatrics of a guy whose long known what he's doing. Yet the second encore closer, "The Underdog" could still describe Spoon and the Antlers, whose headlining status is overdue.
[youtube https://www.youtube.com/watch?v=IpT5SBg1Mmk&w=560&h=315]