The Bachelorette is so good, it's frustrating that we have to cap it off at a measly two hours per week. That's why each Tuesday, we'll be having a Bachelorette Morning-After Rose Ceremony to celebrate the people, places and moments that really made the previous night's episode shine.
Kaitlyn, guuurl, you get no roses for expending precious tears on having to give Kupah the boot—regardless of whether you both like movies and/or movie quotes.
Do you know how much crying you're going to have to do this season? You'll have to dump someone on a two-on-one date. Someone's sad, single sibling will question your readiness for marriage. Birds will flap without warning at your eyeballs. Squeeze in some shots sans runny mascara when you have the chance.
A rose to Byamba, who's spent his entire life training in the centuries-old tradition of sumo wrestling, and who's a four-time world sumo wrestling champion, and yet who remained unknown to 99 percent of the human race until his appearance on a reality TV dating show.
A rose to ABC's Director of Buttcrack Censorship, who evidently did such a strong job last season, the network multiplied her responsibilities ten-fold.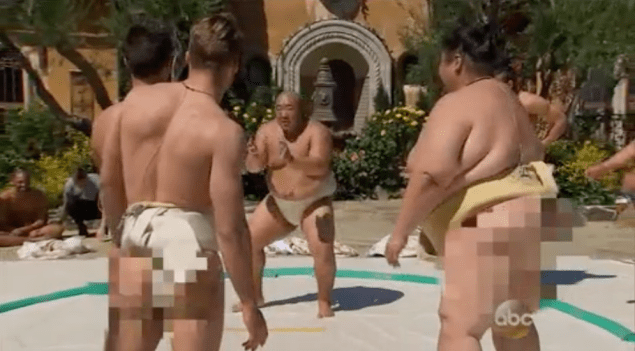 A rose to the veritable fireworks display of bizarreness that are Tony's final moments before his journey to find love meets it tragic end.
Horrified by the prospect of another fighting-related group date, Tony, deranged, makes various declarations like a) "I have the soul of a warrior and the heart of a gypsy" [last I checked, warriors are, like, cool with fighting?], b) "I view the world through the eyes of a child" [not a sexy trait], and c) "Can we not just take a boat ride or go sky diving?" [haha lol what].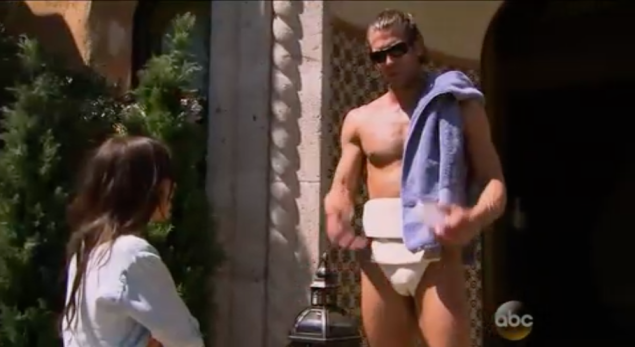 A gazillion extra roses to the spectacular climax of Tony's downfall: his ultimate, perfect date idea.
"Why can't we go to the zoo and imitate animals?" he demands, his eyes rolling back in his head and froth forming in the corners of his mouth. "Who makes the best elephant noise?" Who, indeed, Tony?
Shockingly, Tony realizes he is not cut out for Bachelorette-dom, and willingly removes himself from the show.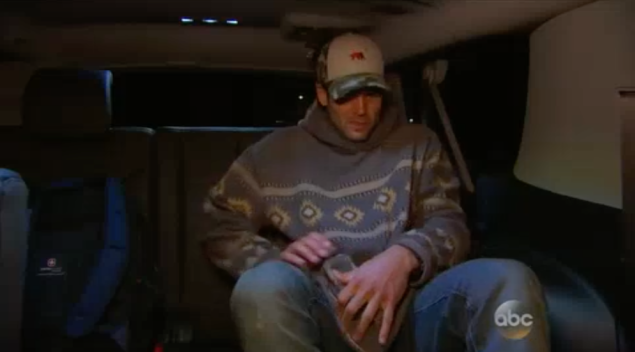 Ugh, no roses to Clint for the weakest group date strategy ever: testing Kaitlyn to see if she'll come to him. Clint, why would Kaitlyn seek you out if she's also surrounded by five attractive dudes who aren't denying her any and all forms of human communication? Listen, bud, people with monstrous, quivering neck boils aren't allowed to have shit personalities. It's, like, a rule.
Thankfully, Kaitlyn publicly shames Clint for ignoring her and gives the rose to Shawn, who's already claiming he "never falls so hard and so quickly for someone." Somewhere, an intern is monogramming the Fantasy Suite hand towels with Shawn's initials.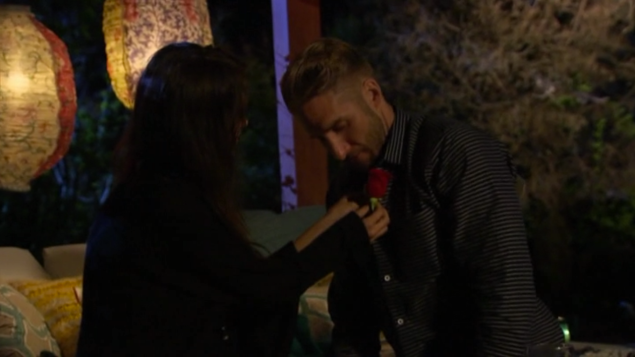 A rose to Kupah, who—still desperate for Kaitlyn to take him back—got a last-minute job with Escape the Room playing the coveted role of "bed sheet-covered man."
Dear lord, a rose to Ben Z.'s sob story, which somehow just defied all odds and got EVEN. MORE. TRAGIC. Not only did Ben Z.'s mom break her back, find out she had cancer, and die when Ben Z. was 14, but her actual death happened during the tiny 10-minute window when 14-year-old Ben Z. took the family dog for a walk.
Oh, and now Ben Z. hasn't cried in 11 years.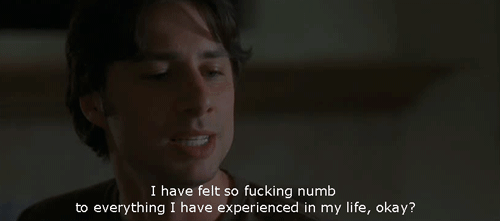 Anyway, his mother's death meant Ben Z. learned to support his dad and brother, and therefore was able to support Kaitlyn during the Escape the Room date [a stretch, tbh], and therefore will definitely be ~*~good at marriage ~*~, or something. IDK. But Ben Z. obviously gets a rose.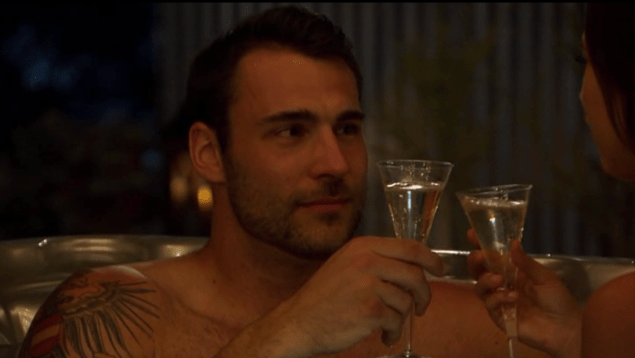 Negative 7 trillion roses to the creepiest date in Bachelorette history—and yes, I remember when Andi and J.J. dressed up as old people and ran around pulling pranks on innocent park-goers.
Because Kaitlyn wants to make sure her future husband can ~~talk about sex~~, the guys have to give sex-ed classes to a room full of pre-teens. Don't get me wrong: I'm all for teaching sex-ed in schools. But there's something very, very cringe-inducing when said sex-ed is being taught not by a trained professional, but rather by A GROUP OF GROWN MEN WHO ARE ACTIVELY TRYING TO APPEAR SEXY. And yes, I get that it was all a "prank" and the the kids were actually "child actors," but THIS FACT WAS NEVER ACTUALLY REVEALED TO ANY OF THE MEN. As far as they knew, it was legitimately on them to explain how anuses worked.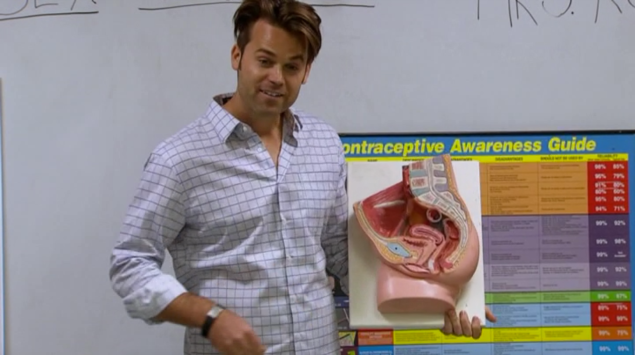 Anyway, Ben H. does a really stirring sperm demonstration and later scores the group date rose. Whatever. Preparing dump of all  memory of this date BEEEEEEEEEEEEEEEEEEEEEEEP.
A rose to the closest ABC has ever come to my ultimate dream of Gay Bachelor: two dude contestants, Clint and J.J., maybe/probably/almost definitely falling in love with each other. Their bromance—nay, romance—is not even a fictional subplot constructed by careful editing. They both love turtles. They squeeze each other's back zits. They've grown close "in the room and in the shower," according to Clint.
"I feel like I've connected with J.J. more than Kaitlyn," Clint straight-up announces.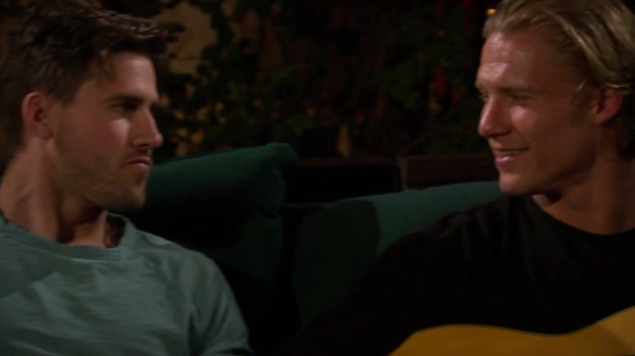 A rose to the truest act of love ever exhibited on The Bachelorette: Clint, despite being #overit with Kaitlyn, purposefully vying for a rose so he can stick around and spend more time with J.J.
No roses to the 13 other dudes who CLEARLY don't care about my dreams coming true, and instantly rat out Clint and J.J. to Kaitlyn.
"Clint played me," Kaitlyn says as she charges through the cocktail party, a shaky cam in her wake. "At this point, there are too many red flags."
All I can do is pray that Nick Viall's weird, goofy face is enough to distract Kaitlyn from her mission to send Clint home.