The Bachelorette is so good, it's frustrating that we have to cap it off at a measly two hours per week. That's why each Tuesday, we'll be having a Bachelorette Morning-After Rose Ceremony to celebrate the people, places and moments that really made the previous night's episode shine.
A rose to the proverbial troupe of pointy-shoed Mariachi men that stomps over Shawn's delicate, delicate heart during his first of like 17 visits to Kaitlyn's hotel room this episode.
"Are you in love with me?" Shawn demands. "I'm falling in love with you," Kaitlyn answers. Yikes. That's almost as bad as telling someone you love them, and having them say "thank you" or "no thanks, I'm full."
A rose to that plate of falafel or hamburger or chicken finger product or whatever it is that's sitting on Kaitlyn's hotel room table. You know why? You know WHY? Because IT'S THE FIRST SHOT OF EATEN FOOD IN BACHELORETTE HISTORY.
A rose to the dark, moody Regency-era romance novel that was the scene after Shawn and Kaitlyn's cry-fest. As Shawn sits brooding on the hotel steps, noted chums Nick and Tanner take a turn about the garden, casually chatting—in earshot, of course—about how much that fool Shawn hates Nick.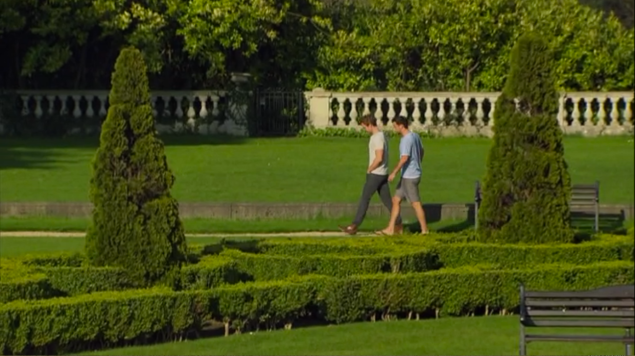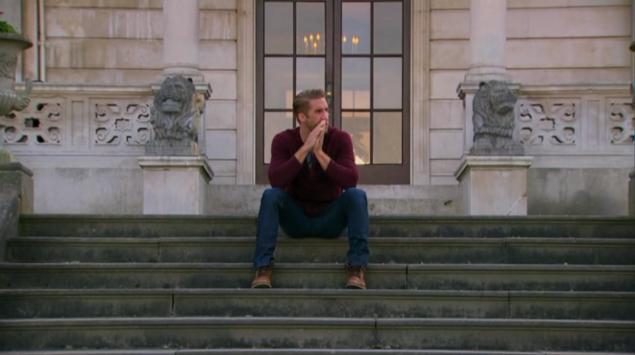 A rose to this awkward two-on-one date, evidently brought to you by the same people who staged the poison scene in The Princess Bride.
A rose to the insane roller coaster of emotions I experienced during the 45 seconds in which I thought Kentucky Joe might be going home—i.e., the one thing that'd be more utterly gut-wrenching than Shawn's "but u said i was The One" face.
First it sounds like the rose is going to J.J.—"I'm genuinely looking for a husband, and that takes time—Joe, I don't feel like we've had that time." Then it sounds like the rose is going to Kentucky Joe—"J.J., you've got a beautiful daughter at home, and I don't think it's fair for me to keep you here if I don't see a future with you." And THEN it's revealed that no one's getting a rose, but J.J. has to beat it and Kentucky Joe gets to stay. Yay, I think?!?!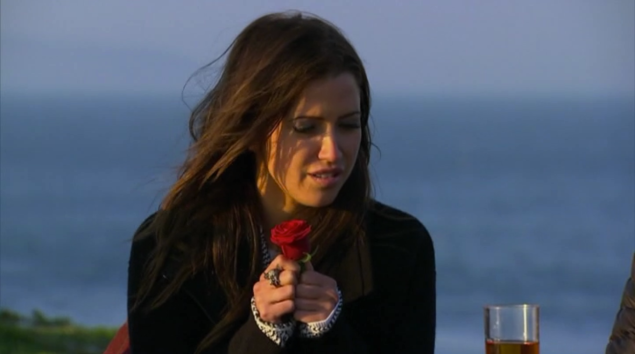 As Kaitlyn and Kentucky Joe leave together, J.J. cries about having to go home. "I just really want to find someone to spend my life with," he says. Don't worry, J.J., just follow the magnetic pull of Clint's big, juicy neck boil.
Later in the night, Kaitlyn and Kentucky Joe make out in a fancy-looking room and Kentucky Joe gets a rose.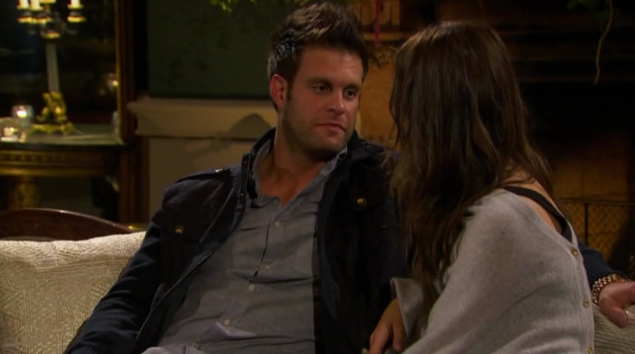 No roses to whatever the heck happened when Kaitlyn did the ol' Texas tiptoe over the boys' San Antonio hotel room, because it made this episode more confusing than whatever is growing inside the aforementioned egg sac on Clint's neck.
Let's sort through this dumb mess so we never have to talk about it ever again. In San Antonio, Kaitlyn told Shawn off-camera that he was "the one." But in Ireland, Kaitlyn banged Nick. When Shawn shows up at Kaitlyn's hotel room upset, she presumes he's found out about her romp in Nicktown; really, he's just having a hard time watching her date other guys. Shawn's ignorance makes Kaitlyn feel relieved. Kaitlyn is literally a tween.
Still with me? Kaitlyn shows up at the rose ceremony rullllll sad, and announces she's made a "mistake." Shawn assumes the "mistake" was telling him too soon that he was "the one." The real "mistake" Kaitlyn was referencing? Sleeping with Nick while she still had relationships with the other dudes. Aaaaaand scene.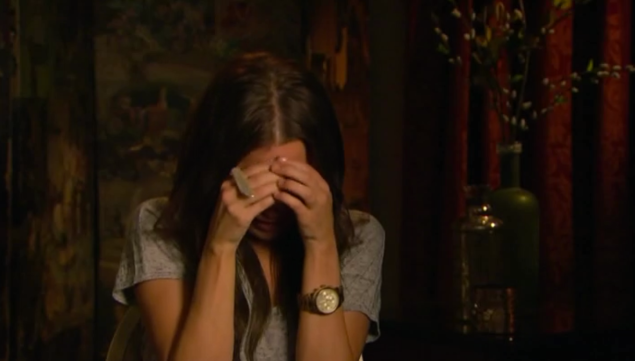 A rose to the S.W.A.T. team that will undoubtedly have to intervene when Shawn finally discovers Kaitlyn's REAL "mistake."
Oh god, oh god, oh god, no roses to Nick and Kaitlyn's creepy cocktail party make-out sesh. Notice how Nick repeatedly opens his eyes and stares intently at Kaitlyn as they kiss? Know that when someone kisses you that way, they are also thinking about cutting off your skin and wearing it as a cloak.
I lightened up this screenshot so you all could see the terrifying truth:
No roses to the most WTF elimination this season: Ben Z., he of the incomprehensibly tragic backstory and remarkable haunted house-surviving ability (sorry, Tanner, but literally no one—including you, I suspect—is surprised you got the boot). But what the heck happened to turn Kaitlyn off Ben Z. so fast? Weren't they just making out under a blanket? Did he have incurably bad breath? No kissing skillz? Is Ben Z. actually a bird? I MUST KNOW.
Uh, a rose to anyone who's actually heard of the Blarney Stone. On Kaitlyn and Scary Jared's mini-date to the Blarney Stone, all they do is talk about the Blarney Stone like it's the goddamn Eiffel Tower. "We're going to the Blarney Stone!" "OMG the Blarney Stone! Everyone knows about the Blarney Stone and the Blarney Stone's significance!" "Blarney Stones are a lot like relationships!" The Blarney Stone is even on the two-sentence Amazon description of last night's episode:

The only conclusion I can draw is that the owners of the Blarney Stone are paying the Bachelorette crew lots of money to come see the Blarney Stone.
A rose to Chris Harrison, whose role this season is literally "sitcom dad."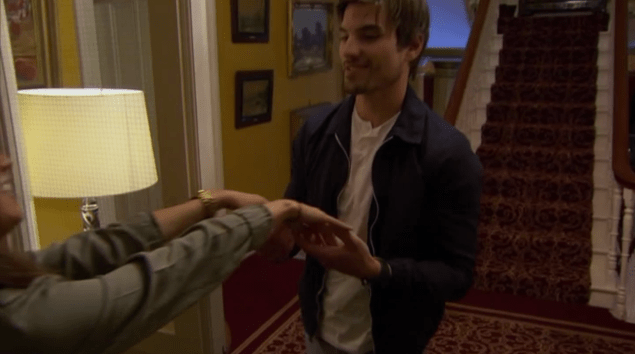 No roses to this dumb ~twist~ that's supposed to be dramatic, but is really not dramatic in any way whatsoever: Kaitlyn will have to cut her group of guys from six to three, head straight to pound town the Fantasy Suites, and then eliminate one more before she gets to go on hometown dates. Was anyone ever doubting, with or without this "twist," that Shawn, Nick and Scary Jared would comprise the final three? Painful as it is it—i <3 u so much Kentucky Joe—this only speeds up the inevitable disposal of Kentucky Joe, Cupcake Chris and Ben H.
A rose to the exact moment Cupcake Chris realized his 0.3-seconds-long performance in Aladdin would be the last time he'd ever kiss Kaitlyn.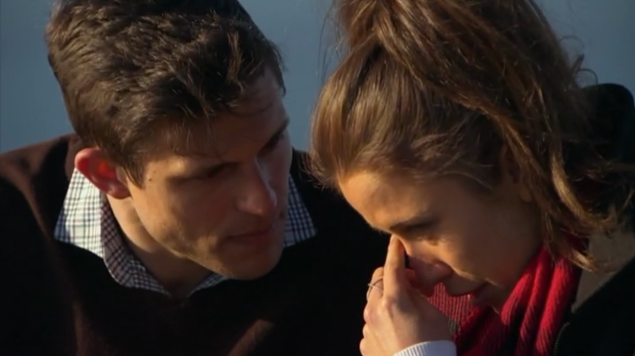 A rose to the legendary James Van Der Beek crying gif, which can officially weep its way into retirement now that we have this gem:
See you folks next week. In the meantime, booking a trip to the Blarney Stone.