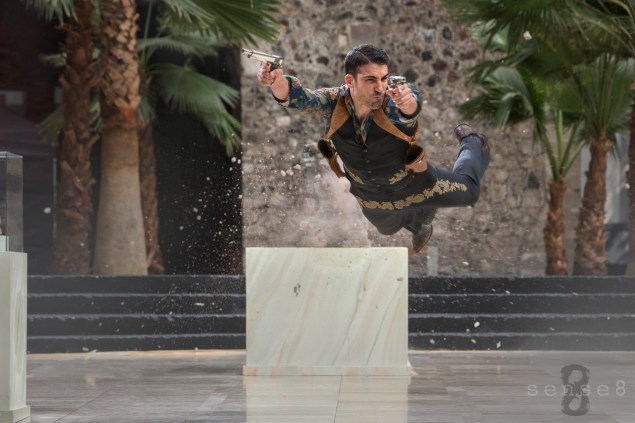 One of the more helpful features Netflix recently added to its venerable streaming utopia is the option of a descriptive audio track for the visually impaired. Basically, a silky smooth voiced narrator describes every action happening on screen. "The man picks up the gun." "The man and the woman kiss." Etc., etc. This feature began, appropriately enough, with the release of Marvel's Daredevil, but has since been added to most new and classic Netflix Originals. Imagine the voiceover from Fight Club saying "I'm Jack's total lack of irony," except it's just describing punches and car chases. It's kind of incredible.
Which brings us to Sense8, a show directed by the definite filmmakers/possible outer-space alien Wachowski siblings, the same directors that both caused you to lose your shit over The Matrix and lose your money buying a ticket to Jupiter Ascending. 
The problem with Sense8, the Wachowskis' first foray into television, is that the collective critical reviews across the board have pretty much amounted to a shoulder shrug emoticon. No one can quite tell if it's a good show or a bad show, because no one can quite tell what in the name of Neo is going on. Simple terms: eight people spread across the world share one mind, and feel each others emotions, experiences and thoughts. Actual terms: one moment you're in Kenya inside a bus decorated with pictures of Jean-Claude Van Damm, then jump cut to an EDM club in London but you're not actually in the EDM club, you're in Seoul seeing the EDM club through a South Korean woman's eyes but then bam back to the club, bam back to South Korea and a chicken from Kenya is on the South Korean woman's desk. Then the chicken is gone.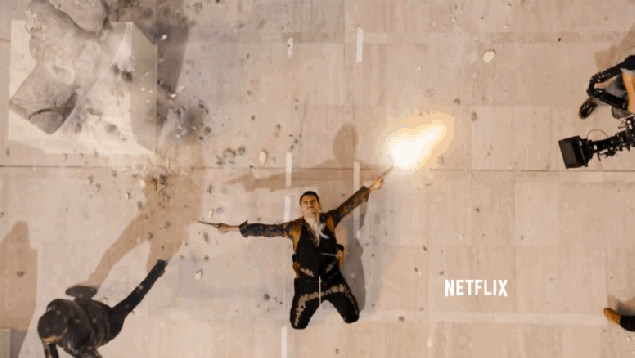 Yeah, that's Sense8. Even one of tvDownload's finest recappers, Jason Reich, can't quite get a grip on it. But you know who has this shit perfectly sorted out, to an almost impossible degree? The descriptive audio narrator for Sense8, that's who. 
I switched on the audio description on my second viewing of the Sense8 premiere because I was genuinely curious how any one human could keep describing the constant shifts and cuts of this show. This guy nails it. This guy deserves an award. Any award. Invent an award for this man.
For those that don't know, the Sense8 opening credits are just a constantly shifting montage of images from across the globe, which of course this dude has to describe one by one. And again, it's impressive. Taken out of context, it's like listening to an auctioneer who lost his mind mid-auction. "A Neon sign:Twin Peak. Two elephants. A scone on a plate while tea pours. A bridge in Seoul. A giraffe outside a modern city."
But really, it's the pace at which the audio track keeps up with every bonker-bananas shift in perspective combined with macabre atmosphere that astounds me. Here are some of my favorite excerpts:
"In the derelict church, Jonas holds the blonde. He is gone. He reappears."
"Men dressed as faeries scatter petals. Riley looks from the men to the brown-skinned woman, who eats. Riley looks down. Riley is gone."
And those are the normal scenes. The thing about Sense8 is that even beyond the grand concept, it's just weird on a scene-by-scene basis. Our faithful narrator, that brave, brave speaker of words, describer of scenes, goes elbows deep into these scenes, making sure you see it, even if you can't see it:
"The man stares, then urinates on the grave. He clenches his jaw. The picture on the headstone stares back. A man with a round face, receding hair, and deep-set narrow eyes."
"They kiss … the brown-skinned woman drops a dripping, rainbow-colored dildo on the floor."
He could have just said dildo. He could have just said dildo. But he didn't, he went above and beyond to guarantee you know exactly what it looked like when that dildo hit the floor. Now, I'm not visually impaired, and I truly feel for anyone out there that is, but it is cool that Netflix even has this option. And rest assured, Sense8 might seem indescribable to those of us whose job it is to describe TV. But this guy's got you. Good on you Netflix. Good on you, unnamed narrator. Whoever you are.