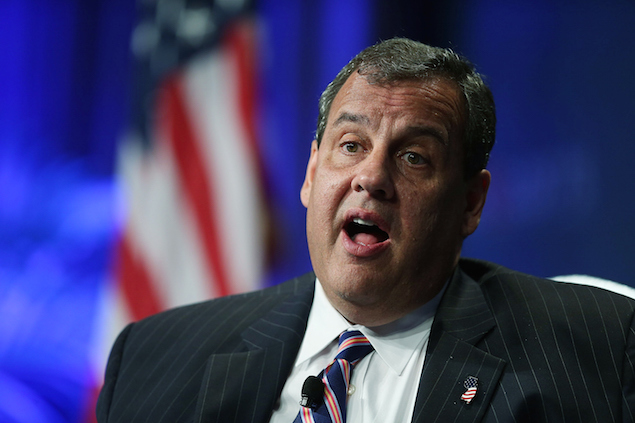 Here's something that's not news: Gov. Chris Christie is not a slender fellow. He's talked frankly about it, he's joked about it, he's even done something about it. But you'd think from the way the internet exploded with glee over photographs of Mr. Christie playing in a charity softball game that the sites had somehow uncovered the Governor's dimensions in a heroic act of enterprise journalism.
Deadspin ran a story simply called "Here Are Some Photos Of Chris Christie Playing Softball" featuring six photos of the governor and almost no text. The message was unmistakable. But in case you missed it, click over to Complex, where you learn that "Chris Christie Showed Off His Camel Toe at a Charity Softball Game." E-online comes at it from a fashion perspective, helpfully informing its audience "Chris Christie Wears Unfortunately Tight Pants at Celebrity Softball Game—See a Photo of Him in His Uniform."
This would never be tolerated—it wouldn't have been conceived—in any American newsroom were the plump politician a woman. A minority politician probably gets a break on how his pants fit, too. But a white man, especially a Republican and even more especially a white Republican man best known for taunting and antagonizing those who disagree with him … well then it's Don Rickles time.
As a former fat guy myself (and a near lock to be one again in the future, unfortunately), there's every chance this particular form of nastiness just hits closer to home than I care to admit. But I think there are larger issues at play here, too, about the way Americans talk about politics and the way the media provides information to citizens.
The Observer (as well as our sister site, PolitickerNJ) has been very tough on Mr. Christie's policies. We've run brutal cover stories and broken as much news as anyone about the difficulties the governor's presidential ambitions have faced and the way his story about Bridgegate has "evolved." There have been times when I imagine the governor's press office must have my cell phone on speed dial, given the number of calls I get complaining about our stories, and you can take my word for it that Mr. Christie likes to hire press guys who share his subtle way of making their points.
The phenomenon of "fat guy looking fat and doing stuff that is funny to fat shamers" is hardly a new thing for Gov. Christie. But there ought to be some daylight between tough reporting and cheap shot.
For the Observer, the issue arose anew last week, before the emergence of the softball photos. This site ran a miniscoop that revealed how Mr. Christie, who attended both Games 5 and 7 of the New York Rangers playoffs, sat in seats normally used by Zygi Wilf and other members of the Wilf family. This was news because on the very day of Game 7, the Wilfs had agreed to settle a suit in which the EPA and the DOJ accused them of polluting New Jersey's rivers and required the payment of a large fine and the donation of over a hundred acres to preservation in Morris County, where Mr. Christie lives.
Within minutes of the story being posted, my phone lit up with serious pushback from the governor's spokesperson, who also contacted the reporter and even the editor of PolitickerNJ. To be fair, the original version of the story did arrive at a conclusion that could not be substantiated (it was corrected). But the point is that when we were posting the story, we went to Getty Images and typed in "Chris Christie Rangers." What we got was photo after photo of the governor whaling on nachos and eating a sundae. Seriously, what grade are we in? (The Observer used an older photo from a different sporting event to illustrate the story.)
If someone can't take the heat, he's not fit to be governor and Mr. Christie himself has given no indication that this stuff gets to him. But it ought to concern anyone who cares about not just the level of political discourse in the United States but also about the distraction from the very real problems facing New Jersey, including those perhaps being ignored in favor of easy fat jokes.
Meanwhile, Mr. Christie, who was well regarded as a varsity baseball player way back when at Livingston High, had the last laugh. The charity game named him MVP.