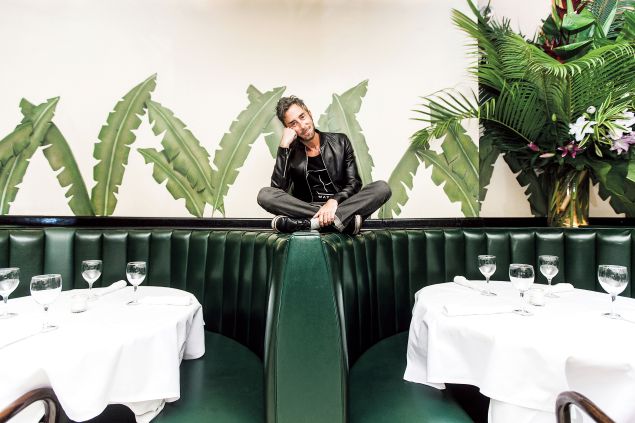 "Every time I return to New York after visiting Europe, I love to walk around the streets and just enjoy being back home," Jean-Marc Houmard told the Observer recently, pre-opening time at Indochine.
Andy Warhol, Bianca Jagger, Halston, and Jean-Michel Basquiat dined at the legendary New York restaurant, and owner Mr. Houmard remembers every single occasion. Whether it's the iconic palm-print walls, painted for the opening in 1984, Jean-Philippe Delhomme paintings in the back room next to the telephone booth, or the fact that there isn't a bad seat in the house of 28 tables, every New Yorker knows Indochine. The menu has changed very little over the years and if they took off the crispy shrimp or steamed Chilean sea bass, the place might shut down. Or at least protests would be drawn from the fashion and art crowd responsible for its elusive kudos. Mr. Houmard recalls Anna Wintour throwing Grace Coddington's 50th birthday at Indochine and 20 years later, throwing her 70th birthday. It doesn't get more New York than that.
Indochine opened with a dinner in honor of Julian Schnabel. The high wattage art crowd in attendance (Warhol, Basquiat, Kenny Scharf, etc.) immediately put the restaurant in the spotlight.
"Night after night it was filled with a mix of downtown club kids, fashion moguls, famous and starving artists, socialites, gallery owners and art patrons," said Mr. Houmard. "When the market tanked in the late '80s, Indochine felt the knock-on effect and briefly closed in 1992, My current partners Hui Chi Lee and Michael Callahan decided to try and save it. We pretty much bid on everything in the room and made a deal with the landlord to keep the lease going."
The rest is history: With the era of the '90s supermodels advancing and the art market back on its feet, the restaurant got back its nightly party vibe and has continued on this path to this day. Mr. Houmard remains devoted.  "I was hired by the former owner as a server in 1986: I graduated from law school in Geneva the previous year and was interning in a law firm (since it was a non-paying internship I worked in restaurants to pay my rent). The first week there I waited on Andy Warhol, Bianca Jagger, Halston—all the people I had read about from Studio 54, and within less than a month I decided to quit law to become a full-time server."
Mr. Houmard rose through the ranks to the post of maître d'/manager and vowed to stay forever. "Once I was in charge of seating that fabulous '80s crowd in those coveted booths—an incredible opportunity to meet some of the most interesting people of the time—I became the recognizable face of the restaurant and, with my partners Hui and Michael, have managed to keep it a fun and relevant place in the downtown scene."
Instead of any refurbishments or updates, the management of Indochine has retained the décor and vibe. Insiders claim this is one of the cornerstones of its success. "The original idea was to create some sort of '40s tropical room, in the way The Beverly Hills Hotel felt," explained Mr. Houmard. "None of the materials or pieces of furniture were expensive but they somehow created an air of old glamour that remains. I don't always feel that much more in sophisticated and expensive restaurants. When something clicks you don't change it. The room is really pretty simple and not luxurious, but somehow it works and guests feel comfortable in it: the lighting is flattering. The booths on one side of the room act like a stage but feel private at the same time, the large tables in the middle create energy in the room, and the mirrors around the alcove ensure that everyone can have a glimpse of what's going on around them. The design itself, though, is full of mistakes and pretty much the opposite of slick, but all in all it's perfect imperfection." 
It is possible to call up and book a table at Indochine, no matter how connected or unconnected you might be. "What's really great about our clientele is the generational mix that somehow works well together: the old hipsters, artists, fashion power heads from the '80s and '90s, and fashionable kids not even born when Indochine opened. Some nights, when it feels like everybody knows each other, are especially magical—you never know when that will happen. Those are the nights that feel like a real Indochine night." This potential for magic is the nub of New York nightlife. The iconic building blocks of the city's current cachet have their foundations in Indochine. Though the cuisine is delicious and hot, it is not haute. "People like the food we serve," Mr Houmard summarized, "because it is flavorful and fun to share without being overly challenging."