Over the weekend, New York's dolls and babies joined their gents and gigolos for a whale of a time at the annual Jazz Age Lawn Party on Governor's Island. For the last ten years, the party has remained one of the most celebrated summertime attractions in New York, where partygoers don their best roaring 20s get-ups and dance the Charleston to big band swing, headlined by event founder Michael Arenella and his Dreamland Orchestra. This year in particular was a special one, marking the decade milestone. What began as a simple event with 50 friends has exploded into a highly sought after ticket for this highly curated affair.
"The music, culture and the zeitgeist of jazz culture caught on because it has this infectious quality that so many people wanted to be part of," said Mr. Arenella. "I think the jazz age evokes optimism, exploration and celebration, and people are looking for authenticity again. It's easy to get inundated with technology and the internet, and our objective is to bring people back to a time when you could meet a stranger and have a dance. That's what life is about—good music, good food and pretty things."
Speaking of pretty things, guests took the invitation's dress request quite seriously. Women brought out their best swinging 1920s looks. There was eveningwear like art-deco inspired sequin dresses with fringe, accented by pearls, tiaras, tasseled jewelry, gold bangles and feathers.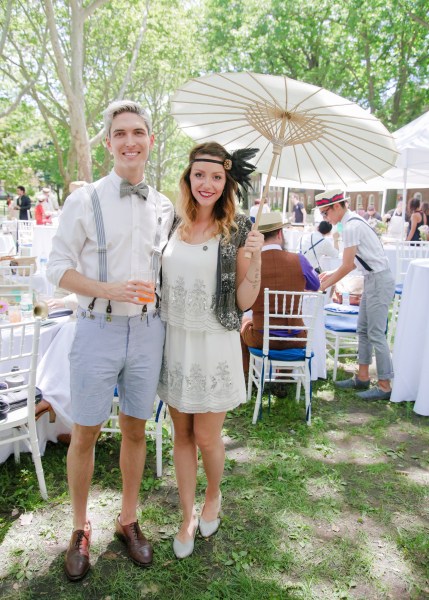 "I got this dress at a vintage store, but it's super comfortable and I wouldn't mind wearing it all summer," said Kate Ryan, 28, a Williamsburg resident found on the dance floor in a loose, white sleeveless sheath with fringe.
Other women dressed in daytime looks, like cap-sleeve polka-dot dresses with character shoes or even loose slips to match their loosely-pinned curls. Men worked the dapper look with bow ties and suspenders over cropped trousers, while many donned panama hats and button-waist coats. It was all very Gatsby-esque as guests danced, dined on shrimp cocktail and sipped delicious cocktails courtesy of St-Germain. How roaring, indeed.