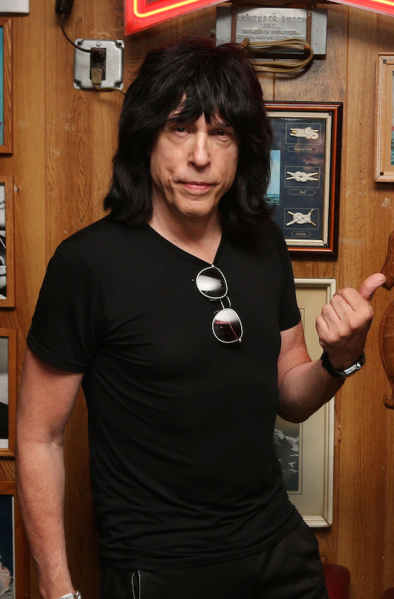 All four original Ramones are dead. But the drummer for most of their records, Marky Ramone, who replaced Tommy from 1978–1983, was booted for alcohol abuse and band dysfunction for a few years and then rejoined in 1987 and remained until the end, including induction into the Rock n Roll Hall of Fame. Marc Bell was also a founding member of Dust, played with Wayne County and was an original Voidoid while Richard Hell invented the punk rock look. Born in Brooklyn, lord of the East Village, King of New York. We ate at DBGB's.
Hey, they stock jars of your tomato sauce here. Elle Décor says it's pretty good.
Yeah, yeah, it's rated #2 in the Wall Street Journal behind Rao's.
I'm a rock memoir addict and I'd rank yours, Punk Rock Blitzkrieg, up there with the greats. It's certainly the best of the many Ramones-related books.
I liked the Keith Richards book. I thought it was very honest, but I felt there are a few things that were left out and I'm not saying it was whitewashed, but there are a lot of things that he could have been a lot more in-depth about with Brian Jones. Did you read Peter Criss' book? He's a good guy.
One of the things I liked best in your book was your description of AA.
I had a drinking problem in my first tenure with the band the first five years, and then I came back four years later. When I got back in the band there was basically the same things that were going on. Nobody was talking, the same as if I didn't leave. But Joey was drinking and he was doing powders and I really tried to help by you know setting an example and taking him to a meeting and he didn't want to go anymore after the first one. So you know I tried and the same thing with Dee Dee. He kind of almost liked it but he just couldn't mentally grasp to have a higher power. And I would tell both of them it's not about God. It's not about religion. It's about what you can focus on to help you get
But I needed to confront different situations in life, not the bubble that I was in for five years with the Ramones.
sober. You know what I mean? Whatever it is, whatever it is. It's not a religious God thing.
That's the thing, when I got back in the band I noticed that Joey was starting to drink a lot. And knowing what I went through I know if he didn't stop at one point it would have gotten heavier, but what can I do? You can't tell people what to do; they have to want it. He stopped going then he started taking Prozac to deal with his issues. I think the drinking and the other stuff was really just something to alleviate how he felt you know, mentally and being in the band not talking to John, John not talking to him and this and that, so helped him for a while.
That's something all the Ramones books describe – the total silence and quiet hatred.
There were two writers in the band. There was a military school graduate who thought he was Sgt. O'Rourke in F-Troop and then I'm there trying to keep the peace with everybody. Meanwhile I'm sober four years but I've got to deal with this again. But it was 90% fun, 10% stressful and anxiety-ridden. But we never brought that shit on the stage. No way. I mean the traveling was great. I did 1700 shows. I did nine studio albums and I was with them for 15 years. Me and Dee Dee got along the best. Rhythm section. It's a natural thing.
You got kicked out and missed "Bonzo Goes to Bitburg" but got your life cleaned up.
It was a period of growth. There were some good songs that were on those three albums that I didn't do. I Want to Live, Bonzo, Sha-La-La. But I needed to confront different situations in life, not the bubble that I was in for five years with the Ramones. So that's why I was told by my counselor at the rehab, "Meet different people. Get a regular job. Be physical. Stay in shape." I put up wrought iron gates in crack houses, mixed cement by hand in a wheelbarrow. I had to get up at 5 in the morning to get to the site. I had to realize that there was something out there that can maintain and keep my sobriety. But when the drummer that replaced me deserted the band there was nothing they could do. They tried Clem Burke, a good friend, and he only lasted two shows. Great for Blondie, not for the Ramones. And then they called me and we set up an audition and it was like I never left and that was it.
I knew of Dust but until I was preparing to meet you, I didn't really appreciate how innovative the band was, especially considering how young you were.
We were in high school and in America there really wasn't any heavy metal. The Black Sabbath album came out in '70 on Warner Brothers. We already had the songs written for the first album and which we were rehearsing. We recorded it and that was it. You count on your fingers who was really out there playing heavy music in America. You had Blue Cheer, you had Mountain, you had Sir Lord Baltimore or whatever you want to call them, and us and Grand Funk Railroad; I wouldn't really consider them heavy metal. I think Dust was really heavy metal. They didn't even have a term yet for the genre. It was just called hard rock. We were kids. We were very young teenagers. I really liked the band because it showed what you can do, the different time changes.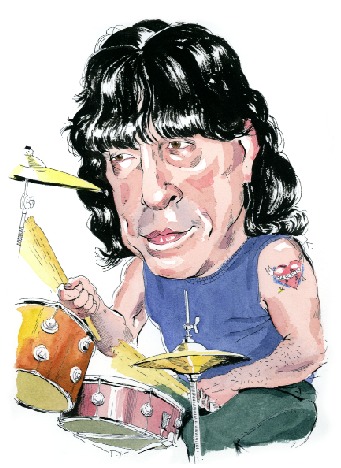 To move from that to Wayne County and Richard Hell, also incredibly influential bands. How does a regular guy from Brooklyn do that?
Bob [Quine, the guitarist for the Voidois] said the group wasn't the same after I left. It was his opinion. I don't know how the other drummer was. I stopped my involvement with Richard Hell you know. I really didn't get along with him. He could have catapulted to a much larger star, a star base, stardom, but the heroin was the thing that stopped it. It was a shame. A great songwriter and obviously the English took his look. Malcolm brought him back to London. The Pistols all had long hair. Meanwhile they were putting down hippies, putting down people with long hair. Malcolm got a hold of them because of the Richard Hell influence they got the makeover and they all looked like little Richard Hells you know. But when they keep saying that they are the ones that started punk that's what annoys me because it's such bullshit. They tried to change history. They didn't. It started at CBGBs in New York. That was the hub. Everybody came there, scrutinized all the bands, brought it back to England and everyone started wearing leather jackets, sneakers. They all start playing fast, counting 1-2-3-4 between each song.
And the drummers you most admire?
Ringo, Dave Clark. Keith Moon. I like jazz drummers. I like Mitch Mitchell. He's really a jazz drummer – listen to "Manic Depression" in ¾ time and what about the drum solos in Hey Joe? Hal Blaine from the Wrecking Crew. He was on the most top 10 singles of any musician ever. Jim Keltner is great. He's sort of Hal Blaine's protégé. Then you had Joe Morella from Dave Brubeck and Buddy Rich, who I always loved.
And now, as the last surviving Hall of Fame Ramone?
I've got my own radio show on Sirius. I tour. I've deal with the pasta sauce, my beer. [Marky pronounces pasta as to rhyme with Shasta soda or Asta the dog, not hasta la vista.] What else is there? I mean that's kind of enough. The book I just finished writing, it's been #1 on Amazon when it came out for 5 weeks in the punk genres.