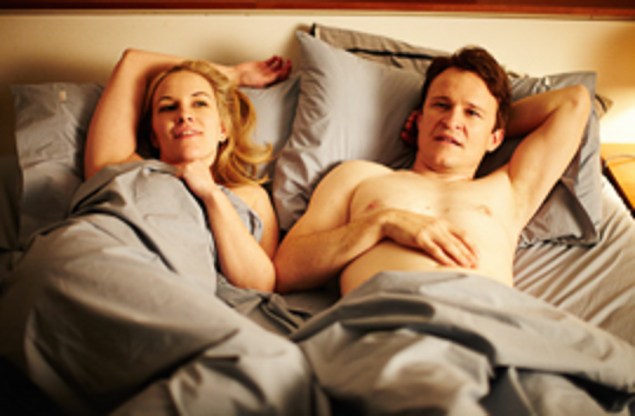 Sex is always popular on the festival circuit, but rarely is it as fresh and feel-good funny as in The Little Death, a happy surprise from Australia that has been making the rounds this year and getting raves from Toronto to Texas. The title is a translation of la petite mort, the French euphemism for orgasm, and the movie explores five couples in the suburbs of Sydney and what they do to have one. The film investigates a gallery of kinks, fetishes, oddball turn-ons, and pent up sexual repressions like somnophilia (sex with someone who is asleep), dacryphilia (tears and sobbing), unconventional role-playing, and worse. The results are sad and often laugh-out-loud funny.
---

The LITTLE DEATH ★★★
(3/4 stars)

Written and directed by: Josh Lawson
Starring: Bojana Novakovic, Damon Herriman and Josh Lawson
Running time: 96 min.

---
Paul and Maeve address the subject of sadomasochism with controversy. Paul, played by the charming Australian actor Josh Lawson, who also wrote the very original screenplay and makes his directorial debut, and his live-in roommate-girlfriend Maeve (the remarkable Bojana Novarkovic) have been together for six years without any interest in marriage, but Maeve has been petulantly hiding a secret fantasy about what it would be like to be raped. Paul is horrified, but tries to please. Dan (Damon Herriman) confesses in couples therapy that he wants sex in anonymous costumes, pretending to be someone else, but his wife Evie (Kate Mulvaney) finds the good-cop-bad-cop game so funny she can't stop giggling. Richard and Rowena are trying to conceive but the only thing that works is doing it in front of the computer while masturbating.
Eventually Rowena (Kate Box) experiences her first orgasm watching Richard (Patrick Brammall) sob uncontrollably when his father dies of a heart attack. Suddenly her unfulfilled sex life takes on new thrills—as long as Richard continues to burst into tears. In less capable hands, by the time such a movie ends, you might want to burst into tears yourself. But there's more, and as it shifts gears, The Little Death gets better.
Phil (Alan Dukes) keeps dozing off at the office because he's awake all night with frustration trying to arouse his bored wife Maureen (Lisa McCune). Every time he reaches for her breasts, she rejects him, saying, "Tell me you're kidding." Phil's ultimate nirvana comes when he discovers a way to knock Maureen out every night with sleeping pills in her tea. Ultimately he gets fired from his job and his wife accuses him of having an affair that keeps him from sleeping. "What ever happened to good old-fashioned run-of-the-mill sex?" asks one of the neighborhood friends they all think is the only happily married husband on the block. "People have to complicate it with all this kinky shit." In the end, he's shown visiting a shrink, too.
The final and best sequence shows a new couple, Sam and Monica, meeting for the first time through phone sex between an engaging deaf-mute interpreter talking dirty in sign language (Erin James) while acting as a frustrated translator between a charming, handsome client (TJ Power) and a tough prostitute who is really just a poor woman on the other end of the line making some extra money spouting filth while feeding her sick grandmother.
The writing here is slick, sharp and engagingly romantic, and the acting is memorable. Mr. Lawson blends all of the narratives seamlessly. The connecting tissue is a new neighbor named Steve who bakes cookies as a hobby and shows up at the couples' front doors at inappropriate times to deliver them in a friendly fashion. Nobody pays the slightest bit of attention when he always adds, "Oh, by the way, I'm required by federal law to inform you I am a convicted sex offender."
Part sex training manual, part satire of modern suburbia (they used to call it "playing Westport"), The Little Death is more daisy-fresh than anything on Saturday Night Live, and while every episode starts out contrived, nothing ends the way you expect. The husband half of the rape couple uses his imagination and puts everything into the rape as a surprise for his wife's birthday, but he's the one who ends up in the hospital, while the husband in the role-playing couple is so good his wife no longer knows who he is, so he ends up in acting class and she ends up in divorce court.
Josh Lawson is definitely a director to keep an eye on. He hides an element of surprise around the corner of every manicured hedge, and the game ensemble cast full of stars in the making throws themselves into the risky humor of neighborhood Kama Sutra to create a work of weird, sexy fun—just like the good old days.