Standing in the reception area of the Surrey Hotel's Cornelia Spa, I couldn't be sure whether the softly-glowing orb-like capsule in front of me—large enough for a fully-grown human to climb inside—was some kind of futuristic tanning bed, or a straight-up time machine. Was it the greatest technological advancement to hit the spa industry, or a giant practical joke?
The perplexing contraption was called the Somadome: one of a very small group of prototype meditation pods cropping up in luxury spas across the country. One is Ojai, California, at the 5-Diamond Ojai Valley Inn & Spa. The other is here in New York, waiting for bold contenders to venture in off the streets of the Upper East Side.
An attendant beckoned me forward for my complimentary 20-minute session inside the pod—a service that typically costs guests $60. The top half of the orb swung open and I climbed inside, making myself comfortable on the velvety cushions. I was told to rest my protruding feet on an adjacent ottoman—an awkward move that surely produced the appearance of a massive egg with human legs. I slipped on a pair of headphones and, on an iPad attached to the Somadome's inner wall, selected my chosen meditation track, "Recharge."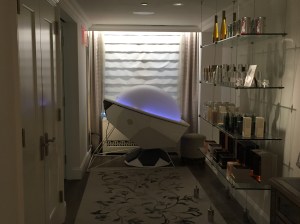 "This invigorating track uses beta, gamma, and theta states to massage your mind, promote creativity, and relieve tension," the pamphlet we'd read in the lobby had mysteriously promised. "Best used as a midday pick-me-up, or at the end of a hard day."
The top of the orb closed, the inside walls glowed light blue, and a rhythmic humming was projected into my ears. For those with claustrophobia, the Somadome would likely be a breeding ground for nightmares—though let it be known, participants can release the lid via an easy-to-reach handle inside the dome. Thankfully, it also looked and smelled clean inside—no doubt a concern for germaphobes, who might not be thrilled with sharing a plushy pod with other strangers.
I happen to be alright with small spaces, so I lay back and closed my eyes. Over the course of the session, the humming in my ears gradually changed to birds chirping, and the sound of water flowing over rocks.
Twenty minutes later an attendant opened the pod again, rousing me from my relaxing, meditative state. Even after it was done, I felt calm; I glided through the remaining three hours of the work day.
"I really think there's something magical when you're in this cocoon environment—it feels almost womb-like," Sarah Attia, Somadome's founder and CEO, told me over the phone a few days later. "It's nice to be in your own little world—it's necessary. We all need that me time."
The idea for the Somadome came to Ms. Attia 19 years ago, but back then, she couldn't figure out how to make it a reality. For years she worked as an attorney, among other jobs, until finally, four years ago, she realized she couldn't ignore her original vision any longer. Over time, it "had only grown inside of me," she said, "stronger and stronger and stronger. I couldn't not do it anymore."
"I sold my house, maxed out every credit card, quit my job, and just gave myself to this," Ms. Attia recalled. "If it's meant to be, it'll be supported. I'll just trust that process."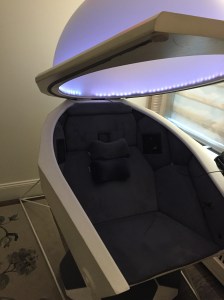 For a couple of years she retreated to a cottage in California, where she worked to design a prototype. A year-and-a-half ago, she officially launched the company in Santa Monica. Since then, the high-tech pod has accumulated fans like Richard Branson and Doctor Oz.
The Somadome is certainly relaxing, but it's tough to tell if it's attributable to science, or the mere fact that it's a dark, cozy nap spot that beats sitting at your desk or elbowing your way through a crowded subway platform. Why pay to to curl up in a pricey dome when you could also go home and lie in your bed for free?
Ms. Attia does not claim to be a scientist or a doctor, but she does believe the Somadome's inner workings can have a positive effect on our moods.
Remember the rhythmic buzzing that passed through our ears? That buzzing created a binaural beat—in other words, what happens when your right ear and left ear hear different frequencies. Your brain picks up on that discrepancy, Ms. Attia explained, and creates a third beat—a binaural beat—which, depending on its frequency, can help guide us into different states of mind. "Alpha" binaural beats lead to stress reduction—"almost a mental euphoria," Ms. Attia explained. "Theta" beats stimulate creativity. In "Delta," the brain is in deep sleep.
"By doing this type of meditation," Ms. Attia said, "we're able to access states that are incredibly healing."
There's also the LED color therapy produced by the lights inside of the dome—"not hardcore, FDA-type science," Ms. Attia said, but there is plenty of research to suggest that colors can effect our mood. Light blue—the color present during our Somadome session—is very soothing and calming, she explained.
The Somadome isn't just in spas; it's also been tested in various corporate and academic settings, and "getting a really positive response," according to Ms. Attia. There's even a long waitlist of people who want Somadomes in their own homes, though the company isn't quite there yet.
For now, she thinks many New Yorkers could benefit from a session at the Cornelia Spa. Our fast-paced culture, after all, leaves little time for peace and self-reflection.
"I used to go in bathroom stalls," Ms. Attia said of her years living in New York. "There's nowhere to go to just deal, recover, process, plug into yourself for a few minutes."