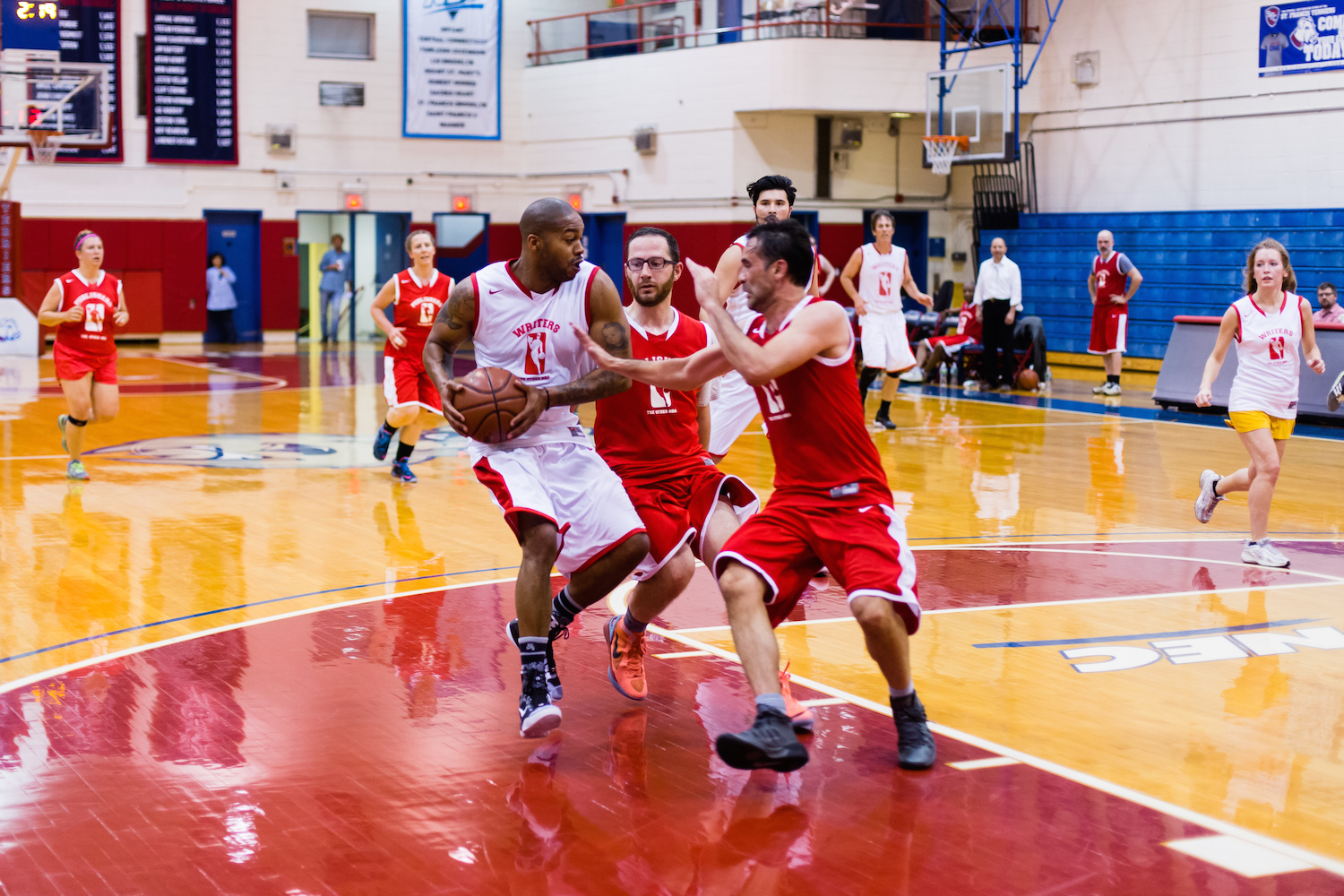 This weekend, basketball got bookish. On a muggy Saturday afternoon in Downtown Brooklyn, some of the city's biggest names in writing and publishing took it to the court for "The Other NBA" — billed as "the greatest basketball in literary history" — raising about $6,000 for the National Book Foundation.
As a playlist of Drake and Run DMC swelled from the speakers of the St. Francis College terriers' gym, the opposing teams of writers and publishers took it 0-100 with a quickness only the strictest deadlines can bring. Onlookers in the stands tucked away their ebooks and flower crowns (literally) as the writers took an early lead in the best basketball game coming soon to a bookstore near you.
However, the game's basketball wasn't as clean as the prose, with several players from both sides taking the road more, er, travelled. "You don't call traveling in the real NBA, and that's what this is," said comedian Kenny Warren. Referees Paul Morris (the director of literary programs for Pen American Center), Beowulf Sheehan (frequent photographer for the National Book Foundation) and David Hatchett (a professor at CUNY Medgar Evers College) didn't start giving notes on the carrying the ball until well into the game's second half after the writer's had solidified a strong lead, 31-10.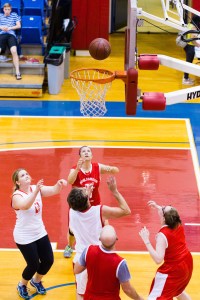 Though the Publishers played like a rough draft, eventually losing 55-40, Jonny "Blood" Diamond (Literary Hub's editor in chief) was a standout shooter, arguably the game's Steph Curry, with a second quarter lay-up so smooth that only Fitzgerald could realize it into words. Another shout out to Jess Walter (author of Beautiful Ruins) — though a good rebound is, as announcer Lincoln Michel (co-editor of Gigantic magazine) said, hard to find, Mr. Walter made a few noble efforts.
Though the game's present fans seemed to favor the losing Publishers, but there were great prizes to wipe away their Drake tears. Tickets to the 2015 NBA draft, VIP Nets game passes, and official The Other NBA jerseys were up for grabs. "I'm going to, like, become an athlete now," murmured one winner, adjusting her translucent spectacles. "Forget my MFA!"
Mitchell S. Jackson (author of The Residue Years) would have been the game's real MVP if that title didn't already go to the game's cause: raising money for the National Book Foundation's reading program for middle school students in Detroit, a city with a 47% adult illiteracy rate. According to National Book Foundation program manager Benjamin Samuel, one of the events coordinators, the event's gross was roughly the cost of operating the BookUp reading program.
"The Publishers might have been at a size disadvantage," said Mr. Sheehan, one of the refs. "Publishers have bigger offices on Madison Avenue so it's not really surprising that they're a bit slower. Writers have to be nimble and quick and they're playing a faster game."
In case anyone from the other other NBA (aka the real one) wants a well-read addition to their team, here's the lineup:
Writers:
Arthur Bradford (Turtleface and Beyond)
Alex Gilvarry (From the Memoirs of a Non-Enemy Combatant)
Mitchell S. Jackson (The Residue Years)
Valeria Luiselli (The Story of My Teeth)
Jeffrey McDaniel (Chapel of Inadvertent Joy)
Julia Pierpont (Among the Ten Thousand Things)
Kristen Radtke (forthcoming graphic memoir, to be published by Pantheon Books in 2016)
Jess Walter (Beautiful Ruins)
Coaches: Tea Obreht (The Tiger's Wife) and Dan Sheehan (Non-Fiction editor, Guernica)

Publishers:
Stephanie Anderson (Head of Reader Services, Darien Library in CT)
Rodrigo Corral (Creative Director, Farrar, Straus & Giroux)
Jonny Diamond (Editor in Chief, Literary Hub)
John Freeman (Editor, Freeman's)
Katie Freeman (Publicist, Riverhead Books)
Steph Opitz (Literary Director, Texas Book Festival)
Calvin Reid (Senior news editor, Publisher's Weekly)
Jon Schulman (Commissioner, WORD Bookstore Basketball League)
Coach: Harold Augenbraum (Executive Director, National Book Foundation)
An earlier version of this story misattributed a joke to announcer Kevin Nguyen. Lincoln Michel was actually the announcer to point out that a good rebound is hard to find.