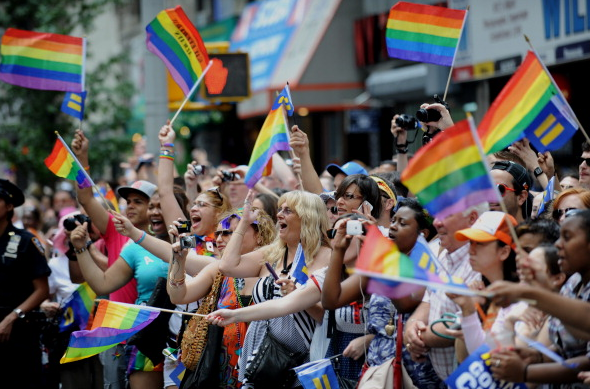 The Museum of Modern Art has acquired the Rainbow Flag, a international symbol of Gay pride. Created in 1978 by artist Gilbert Baker in San Francisco, the flag joins recognizable icons like the @ and recycling symbols in MoMA's collections.
"We're proud the MoMA collection now includes this powerful design milestone, and there's no more perfect time to share this news than during global celebrations for Gay Pride Month," wrote MoMA senior curator of architecture and design Paola Antonelli on the museum's blog earlier today.
In an interview for the museum's archives with Ms. Antonelli and curatorial assistant Michelle Millar Fisher, Mr. Baker cited the American flag as his main source of inspiration. "[I saw] the American flag everywhere—from Jasper Johns paintings to trashy jeans in the Gap and tchotchkes," he said. MoMA's collection includes flag works by Jasper Johns, David Hammons, Mel Chin, and George Brecht, among others.
"A flag is different than any other form of art. It's not a painting, it's not just cloth, it is not a just logo—it functions in so many different ways," he explained. "[The Rainbow Flag] doesn't say the word 'Gay,' and it doesn't say 'the United States' on the American flag but everyone knows visually what they mean."
Mr. Baker notes that the flag was not the first symbol associated with the Gay community. During World War II the Nazis used a pink triangle to mark gay prisoners and sex offenders. While the pink triangle has since been reclaimed by the community, Mr. Baker said, "We needed something beautiful, something from us. The rainbow is so perfect because it really fits our diversity in terms of race, gender, ages, all of those things. Plus, it's a natural flag—it's from the sky!" The flag is now the most prominent symbol for the LGBTQ worldwide, especially during Gay Pride Month, celebrated each June.
The Rainbow Flag was first flown on June 35, 1978 at the United Nations Plaza in downtown San Francisco. The artist told Ms. Antonelli and Ms. Fisher that he sewed the first one—which included eight colored stripes instead of the six most commonly used today—with friends at the Gay Community Center at 330 Grove Street. (Early versions of the flag also included tie-dyed circles of stars.) The plaza was chosen strategically as a place to showcase the flag as symbol of global human rights.