By now, everyone knows that Sean "Diddy" Combs is free on bail after being arrested on three counts of assault with a deadly weapon, including a count of making terrorist threats and a count of battery. While Mr. Combs has had a number of high-profile brushes with the law, he's never been convicted of a felony.
This attack—according to TMZ, which first reported the arrest, the victim was UCLA strength and conditioning coach Sal Alosi, who was screaming at Diddy's son Justin Combs, who plays defensive back for the Bruins, as Mr. Combs watched from the sidelines; the alleged assault occurred when the mogul confronted the coach in an office and attacked him with a kettlebell—could prove uncommonly costly even by the standards of hip-hop artists in trouble.
While Diddy faces serious criminal charges, his larger concern surrounds his most profitable business venture—a joint partnership with Diageo, the world's largest producer of spirits. If Diddy is convicted, as owner of an alcohol company, he may be forced to divest his holdings in this very successful company.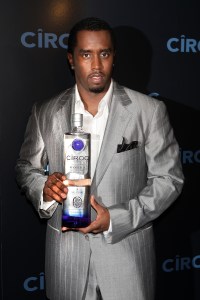 Obtaining an alcohol license is serious business, with all principals in the manufacture or sale of alcohol required to hold licenses in good standing. And then there's the question of whether Diageo, the eighth largest company on the London Stock Exchange, will have concerns about a felon as a partner.
In 2007, in partnership with Diageo, Mr. Combs agreed to help develop the Ciroc vodka brand for a 50 percent share of the profits. Reuters recently reported that since 2007, the company had seen a "40-fold rise in annual sales volumes for the brand's products." (That translates to nearly 2 Million cases a year.)
Additional Diddy deals came in January 2014, when Diageo and Mr. Combs partnered to acquire what Forbes magazine described as "prestige tequila brand DeLeón." As Forbes said at the time, "Both sides invested cash to make the purchase, and Diddy, via his newly-formed Combs Wine & Spirits, will be an equal partner with Diageo in equity terms."
Mr. Combs was worth $700 million at last count, thanks to a succession of hit records by his own various acts, as well as those he discovered and signed to various labels he controls or assists, including The Notorious B.I.G. But it's business ventures beyond the music world that have set Mr. Combs apart from a parade of pretenders. Mr. Combs' clothing lines Sean John and "Sean by Sean Combs" earned him not just a pile of dough, but an award from the Council of Fashion Designers of America. He heads a movie production company and has interests in at least two restaurants—he even owns a chunk of Daddys House Recording Studio right here in the same building on 44th Street the Observer calls home. But none of those businesses face the same legal and regulatory scrutiny that makers of spirits must endure and many questions pertain to whether Mr. Combs will be able to maintain a liquor license if he's convicted of a felony.
The Alcohol and Tobacco Tax and Trade Bureau, a bureau of the United States Department of the Treasury, requires manufacturers and producers of alcohol to apply for a permit. According to section §1.24 of the federal code, "such person (or in case of a corporation, any of its officers, directors, or principal stockholders) has not, within five years prior to the date of application, been convicted of a felony under Federal or State law, and has not, within three years prior to date of application, been convicted of a misdemeanor under any federal law relating to liquor, including the taxation thereof."
State law gets even murkier—and is very clear that major issues exist if Mr. Combs doesn't emerge scot free from the felony charges he may face.
In California, for example, Business and Professions Code Section 23952 — Felony and law violation, anyone involved in the "manufacture, sale, or distribution of alcoholic beverages [must show that] …the applicant has not been convicted of a felony…" In Michigan, felons cannot own a Michigan liquor license, and in Oklahoma, "To be eligible for a liquor license, you must be pardoned on all felonies…" In New York, according to the State Liquor Authority, "A convicted felon cannot be employed by a licensed manufacturer or wholesaler."
If he gets convicted on even one charge, Mr. Combs may be facing a Diageo divorce.
According to the Louisiana State website, "Any person who, as a business, manufactures, blends, rectifies, distills, processes, imports, stores, uses, handles, holds, sells, offers for sale, solicits orders for the sale of, distributes, delivers, serves, or transports any alcoholic beverages in the state or engages in any business transaction relating to any such alcoholic beverages must first obtain the appropriate alcoholic beverage permit." The Cajun site then explains that "Owners or backers of an alcohol company must submit for a permit—and the site then goes on to explain that includes anyone who owns more than 5 percent of an alcohol company."
Hence, in addition to federal issues, each of these individual states would likely have concerns surrounding Sean Combs owning an alcohol company.
He's not alone. Fellow superstar Mark Wahlberg, also a hip-hop artist who branched into producing and business, is attempting to clear a 1988 felony assault conviction from his record for blinding a man—he wants to be able to obtain a concessionaire's license for Wahlburgers, the restaurant business he owns with his brothers, according to the application.
If a 25-year-old felony—even an awful one like the racially motivated attack Mr. Wahlberg was convicted of—has proven a hurdle to hamburgers, then a brand-new accusation lobbed at an alcohol merchant could be expected to pose very tough hurdles for the music impresario.
Meanwhile, Mr. Alosi isn't necessarily the most sympathetic victim. Here in New York, Jets fans will remember when he was Gang Green's strength coach and tripped Miami Dolphin Nolan Carroll as Carroll ran down the sideline.
Perhaps Mr. Combs will successfully convince a jury—if it comes to this—that he was simply a concerned father defending a son from an overbearing coach living vicariously through the young men he should be leading. That tactic didn't play out great for Craig James, the former ESPN announcer and NFL great whose son Adam James developed a concussion and then was locked in an equipment closet by head coach Mike Leach, who inexplicably became the victim when he was fired by Texas Tech. At UCLA, the younger Combs is a redshirt defensive back who has seen action in just a handful of games during three seasons. He is a teammate of wide receiver Cordell Broadus, who is the son of Snoop Dogg.
In a recent interview, Mr. Combs described his deal with Diageo thusly: "With Ciroc, we dated. Now with DeLeon, we're married. This deal is way better. This makes me a true owner."
If he gets convicted on even one charge, Mr. Combs may be facing a Diageo divorce.