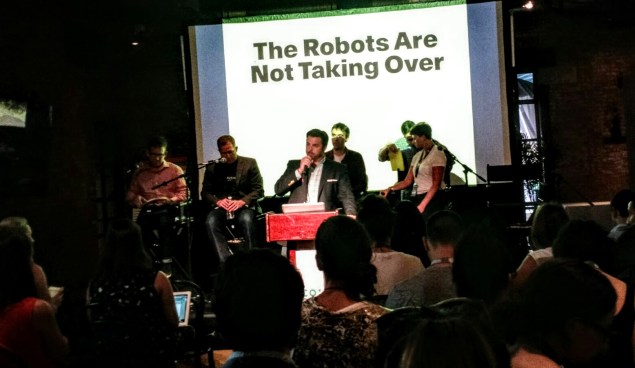 The robots aren't going to take over from humans. That was the conclusion of a panel on Thursday at Brooklyn's Northside Innovation Festival, which included a venture capitalist, a researcher and an entrepreneur.
Before worrying that conscious robots would want to take over, the first question to ask is: how would robots want to take over?
Not why, but how? How would robots desire? How would they even want to continue to exist? Humans have a hard time imagining that something that's conscious wouldn't want to live, but, if machines achieved consciousness, we would have no way to know that they'd have a mechanism to want anything. In other words, if a machine woke up one day and said to itself "I am," the very next thought it might have is "So what?"
If you would have told a farmer in 1880 that in the future people would make a nice living as yoga instructors, they would have said, "What's yoga?"
"I think the future is going to be a much more human-plus-software world,"  Robbie Allen, the CEO on the panel, said. He founded a company called Automated Insights. which takes sets of data, such as stats from sports games, stock market data and trade reports, and turns it into readable English writing.. He sees technology as extending human capacity and lowering the price of mundane work.
Using the company's technology, he said, allowed the Associated Press to go from filing approximately 300 earnings reports-based stories per quarter to filing more than 3,000. NPR's Planet Money pitted the fastest writer at NPR against the machine on a recent episode of the podcast—the machine was faster, the human was more clever.
Mr. Allen said that he was much more concerned about humans directing intelligent machines to do malevolent things. "The issues are going to be much more people-based than software-based," he said.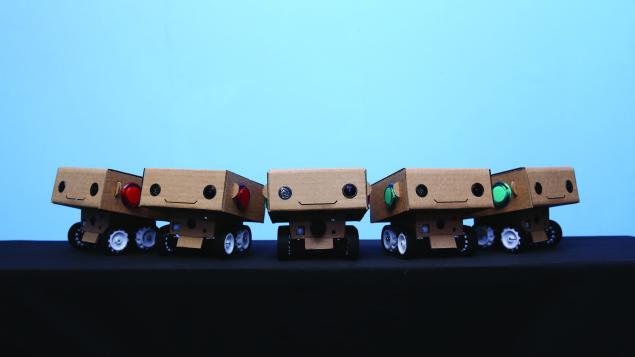 David Rose, a researcher at the MIT Media Lab, agreed. Mr. Rose said he likes to think of increasingly intelligent machines as tools, not as beings that can do a human's job. "I wish the unit of measure weren't jobs," he said. If artificial intelligence were thought of more as a tool, its benefits could be measured in lives saved, hours saved, efficiencies gained and health and safety improvements.
Mr. Rose didn't shy away from pointing out that technology has already done a spectacular job of destroying work and creating better jobs in its wake. Two hundred years ago, at least 70% of Americans worked on farms. Today, less than 2% of Americans do. If you would have told a farmer in 1880 that in the future people would make a nice living as yoga instructors, they would have said, "What's yoga?"
But today, lots of people make comfortable livings showing others how to bend and stretch. That's what productivity gains do—they create new sectors that are impossible to imagine.
The first people whose jobs would be under threat from robots are those who drive for a living- truckers and cabbies. What might professional drivers do when there is no more work for them? It's really hard to say, but the productivity gains from intelligent machines might turn out to be so great that we finally manage to get off of Earth. The former drivers could be busily employed going to live and work in colonies throughout the solar system. If that sounds crazy: just imagine explaining yoga to a pre-Industrial Revolution farmer.
That said, it's one thing to ask whether ever more dexterous machines could take everyone's jobs away and another to ask whether dexterous machines with super intelligence might want us out of the way and the Earth for their own. This once again projects human experience onto machines, assuming that intelligent machines would have any desires at all. They probably won't, as the Oxford philosopher Nick Bostrom argued in Slate.
Let's assume robots did want to preserve themselves and grow smarter, though.
Michael Solana works at Founders Fund, a VC firm that, Mr. Solana says, invests heavily in exactly the big technologies that generate fear, such as AI and nuclear power. He takes the most optimistic view. "Intelligence is actually pretty good for the world. We don't see a lot of actual mad scientists running around, anywhere but inside comic books," he said. "The smarter a society is, the better a place it is to live." By extension, he posited, even if robots do become self-aware, he said, they might turn out to behave very patiently toward their thick-skulled creator humans.
"Maybe what we're the most scared of is that they just won't care about us," Solana said.