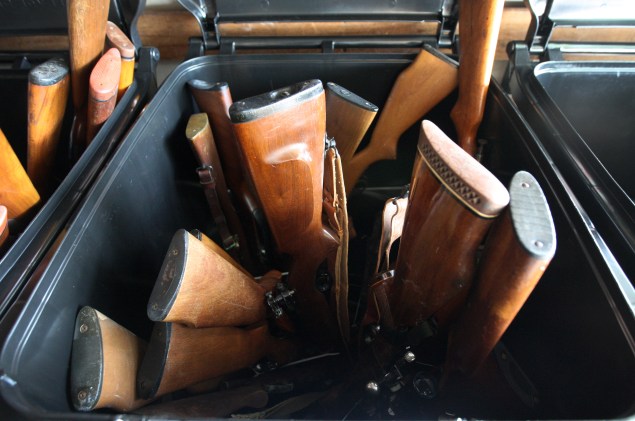 The levels of hate and insanity that drove a man to kill nine people in a church in South Carolina are beyond easy comprehension. We are not talking about the legal definition of insanity, but the human norms that most of us share. Our heartfelt condolences to the families, friends and community are sincere yet inadequate.
Perhaps we are in the minority, but we believe the shooter's name should not be repeated. If he deserves anything, it is certainly not 15 minutes of fame. Moreover, any public recognition might only feed the sickness of others who harbor such delusions. That family members and friends could say to the shooter that they forgive him shows a level of faith that is inspiring. We do not share that forgiveness.
What this event says about racism in America will be parsed over the next weeks in thoughtful—and sadly, probably unhelpful—ways as well. If we can add to a productive discussion we will.
One study found that in some 60 incidents where at least four people were killed, the shooters had obtained their weapons legally.
For now, we think it worth asking several overlapping questions. The first is both obvious and elusive: How did this man get a handgun? It appears that it was given to him by a relative—apparently his father. But what eludes us is how could anyone think that was appropriate? This man had a criminal record; and his animosity toward African-Americans was well known to his friends. Is the person who provided the gun legally culpable? Should he be?
Second, we still seem to have a national reticence to talk about mental health issues. The news media have been quick to wonder how this angry young man could have been so outspoken—on social media and directly with his friends—about his racism, and not triggered some responsible adult intervention. Just as we need a better national dialogue on race, we need one on mental health.
Finally there is gun control. After every mass killing—Columbine, Aurora, Sandy Hook and now Charleston—there were calls for more effective gun control. Sadly, one study found that in some 60 incidents where at least four people were killed, the shooters had obtained their weapons legally.
That reminded us of Mike Bloomberg's efforts to promote gun control—and the distribution of guns from states where they are easily and legally purchased, to states and cities that have stricter controls. His efforts, compelling logic and sane initiatives were met with derision and heavy political contributions by the NRA. We are not so naïve to believe that stricter gun control laws would have thwarted the shooter's ambitions. But we do believe that a rational discussion about guns, gun availability and mental health is very much needed.