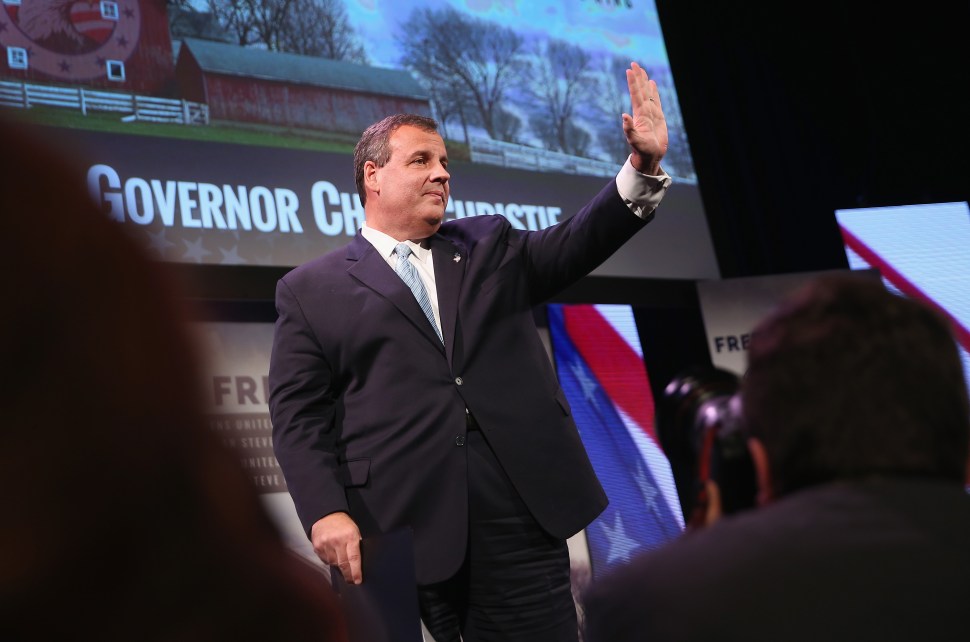 Gov. Chris Christie launched his 2016 presidential campaign website this weekend, in advance of a full-fledged rollout in Livingston on Tuesday.
Besides getting a chance to hear him double back on pigs and pig crates and Confederate flags and watching him don a NASCAR helmet and try to break the world record for the number of times he can use the word "folks" on the campaign trail, it's important to note the main reasons why we relish the prospect of Christie running for president.
10. He will continue not to be here, at least for a few months. It's been hugely comforting to have New Hampshire deal with the ego and temper tantrums and now we finally get confirmation that indeed he'll be mostly gone as we head into 2016  Plus his absence from NJ underscores the fact that he's got a real national-sized story to tell: an inveterate Jersey Guy lecturing middle America on how the country needs to be less like New Jersey, where Democrats and Republicans have irreconcilable positions on the budget he just vetoed.
9. It continues to send the message of Kim Guadagno's readiness for the governorship. She's already spent over a year serving in an acting governor capacity, why not give her a few more months to hone her guv chops? Just one friendly tip to her communications staff: stop releasing her public schedule. Reporters aren't going to go anyway and no one needs to see that her version of governing means attendance at every Pinewood Derby championship in all of New Jersey's 21 counties.
8. Christie's ongoing absence will empower and embolden Democrats, and of course, we need to hear more from them in this state. There's nothing like a governor abandoning his post to upset the balance of power and convince Dems that they really, after all, do need and deserve all of the branches of government in New Jersey.
7. In theory, no governor around means less governing, which means less government, which means there will be less of a chance for someone in a government position to contribute more chaos, right? It's a fairly sound movement conservative idea, one that dovetails nicely for Christie's purposes in a Republican Primary where everyone will be trying to out right-wing everyone else. Christie can argue, "By me not being in my home state, I'm minimizing the size of government, which is a good thing."
6. It's another chance for Mary Pat Christie to stand by and grin broadly while Christie – with full entourage – takes apart some working stiff with the audacity to exercise his 1st Amendment right.
5. He gets to stare down those uncomprehending dolts in the national press corps, who for all their efforts to expose the pock-marked skeletons in Christie's closet, do not understand that this is a former Bush-appointed U.S. prosecutor!
4. He can once and for all set the record straight, turning to former Florida Governor Jeb Bush in the debates and declaring solemnly, "Jeb, I knew W. W. was my friend. Jeb, you're no W." For that matter, Christie can also note to Bush the asinine insistence of Democrats in New Jersey to saddle the upper income echelons with increased property taxes, a situation unlike, say, er, Florida.
3. If he's not in New Jersey, he's out there among real power players, which means somewhere along the way he can get right in the high-five department with Dallas Cowboys owner Jerry Jones.
2. Whenever Donald Trump has a meltdown at the podium in the debates, Christie can project his most sedate, pitying "adult in the room face" by contrast, while MSNBC split screens to an interview with that guy on the boardwalk who nearly got clothes-lined by Christie's ice cream cone.
1. There simply are not enough Republican candidates in that 2016 presidential contest. Only when there are 100 bodies lining up to run will it begin to assume the dimensions of a real national primary.