"Where is it you live again?" My friends and relatives often ask.
"Upstate New York," I reply.
"Oh, so over by Buffalo," they say.
"No," I answer, "straight up.  'Take the Northway – I-87- and go straight north."
North as in follow-a-compass north. North up the Hudson River, and then along the Vermont border. North as in towards the North Pole.
"There is a really big lake up here," I say, "like a lesser Great Lake. On one side is New York and the other, Vermont. It is called Lake Champlain."
"Really, a lake? A big lake up there?" They reply. "Who knew?" They are incredulous. For them New York is about Broadway, Park Avenue, Soho and Williamsburg, Brooklyn. But all this has changed now.
On June 6th, my town, Plattsburgh, New York, became famous. Two vicious murderers, David Sweat and Richard Matt, seemlessly escaped from the Clinton Correctional Facility, a maximum security prison in neighboring Dannemora. And my little town has gained some notoriety by proxy. It has become A town. Reporters from CNN and CBS and Irish and Pakistani television, stand on our street corners, talking into their network cameras. "I am standing here in Plattsburgh, New York," they say.
Quite abruptly, we have become an official place, and not in the Revolutionary War reenactment sense.
Zephaniah Platt –formerly our most famous guy, originator of the Eerie Canal, has been supplanted by a batch of new anti-celebrities: Matt and Sweat–brutal and apparently very resourceful–as well as Joyce Mitchell, a prison worker who allegedly smuggled in power tools and aided these guys. In nearby Dannemora, we now even have a famous manhole. After the movie comes out, I imagine there will be tours: See the house of Joyce Mitchell. See the famous manhole escape hatch!
Previous to this event, I had to work very hard to locate my region for the curious. I could say. "Near the Adirondacks," or: "By Lake Placid, where they had the Olympics."
"Oh, yes," they replied.  They've heard of the Olympics. They had heard of the Adirondacks. Sometimes, I tried to explain it with a visual: "Think of New York State as a huge triangle, we are up the hypotenuse."
Or, I could use this phrase, if I wanted to appear worldly: "Almost to Montreal!"
"Ooooooh, lucky you, near Montreal."
When I was hired by the State University of New York at Plattsburgh as a professor, the reaction of Manhattanites I know made it feel like I was moving off the map of the known world. Now we have cache' and even a tad of notoriety. My relatives check in on FaceBook, "You okay there, kid?" Old friends: "I have wondered where it is you live. Now I see it right there. By the prison."
But this is a sorry kind of fame indeed. Two wildly dangerous men are on the loose here; one of them dismembered a victim with a hacksaw. These are really sick, mean guys, and they might be in our neighborhood. Schools have been shut down in parts of our region. At my college, state trooper cars clot the parking lot. "They are staying in the dorms," a colleague informed me.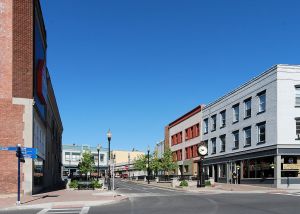 The town itself is kind of flummoxed, and a little sad. "Did you hear what they said about Plattsburgh yesterday?" I heard a woman say in the grocery store. "They called us Siberia" Indeed, on one network show our area was described as a "place with two seasons–Siberia and July. It is good to finally be a known locale but I can see it in my neighbor's eyes, the disappointment when they hear us described as a "one strip town." (For the record, we have several strips.)
Night settles in with a hint of danger as helicopters whir overhead. My daughter checks the locks. We keep the windows closed. While we don't walk around much after dark, we are not all that worried somehow. By now, as we North Country folk see it, these two men are on a beach in Mexico somewhere, Shawshank Redemption style. The kids have taken up skateboarding at dusk again.
Downside of having ruthless murderers escape from a maximum security prison near your town? There are possibly dangerous criminals somewhere near your town.
Upside of having ruthless murderers escape from a maximum security prison near your town?
You feel a little tough, and even validated. Finally, finally, everyone you know–your college roomies, your cousins, your old friends and ex-husband–will get it. They now know exactly where it is you are.
Elizabeth Cohen is a professor of English at SUNY Plattsburgh. She is the author of The Hypothetical Girl, a short story collection, and the memoir The House on Beartown Road, among other works.