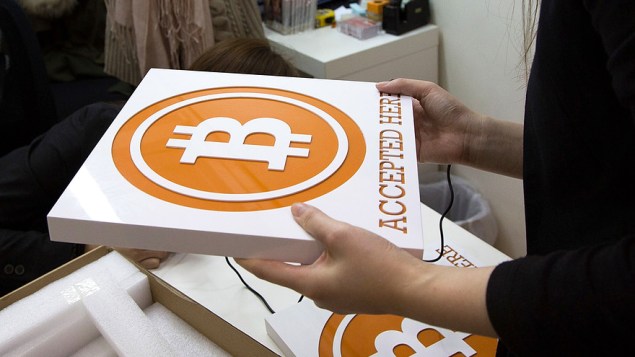 Bitcoin has inspired a lot of emotions recently—relief at the conviction of Silk Road founder Ross Ulbricht, doubt about the so-called "Grexit" and worry about whether it can be a legitimate currency at all.
But one small group of creative types wants the digital currency to make people get up and dance.
The fledgling bitcoin music industry is getting creative about cryptocurrency. Whether remaking existing songs to give them a bitcoin twist or writing their own compositions, these singers and rappers (yes, bitcoin rap is a thing) are making the currency wars a lot more entertaining.
The most viewed bitcoin cover is "Bitcoin Girl," in which Naomi Brockwell updates Billy Joel's classic "Uptown Girl." She plays a data-mining, Economist-reading modern woman lusted after by a man who's stuck with paper money and coins. It's eminently clear why any man would want to follow this millennial Christie Brinkley—she "kissed the Federal Reserve goodbye, for digital dimes" and "all her currency is peer-to-peer." Let's just hope nobody writes a bitcoin version of "Captain Jack."
https://www.youtube.com/watch?v=XEthXBHsEac
Borrowing from a more modern tune, YouTuber Kryptina reworks Selena Gomez's "Love You Like A Love Song" to create "Love You Like A Bitcoin." The tune celebrates "mankind set free from the bonds of debt-based currency," and it actually has a pretty clever chorus: "I, I love to earn my digital gravy/I, I love to spend my bitcoins, baby/I, I love Satoshi's bitcoin, baby."
[youtube https://www.youtube.com/watch?v=WdrSP0V-KLg&w=560&h=315]
Bitcoin creator Satoshi Nakamoto is also celebrated in country singer John Barrett's "Ode to Satoshi (The Official Bitcoin Song)." According to Mr. Barrett, Mr. Nakamoto is a savior, and his currency is "gonna reign until everybody knows your name." Mr. Barrett laments "the death of old Mt. Gox" and "miners mining blocks," and also gets religious (a seeming prerequisite of every country song), crooning "O Lord, pass me some more, before I have to go."
[youtube https://www.youtube.com/watch?v=zEQ2nPSL5-0&w=560&h=315]
The final, most incongruous member of the bitcoin music family is an elderly rapper named Bitcoin. In the very NSFW "Internet Bucks," he warns that bitcoin is going to replace fiat currency and urges listeners to take a lesson from him: "I ain't fuckin' with that paper, I got Internet bucks." He also brags about his immense digital wealth: "Bitcoin, bitch, I'm forever rich. If you don't like bitcoin, suck a dick." At the end of his jam, Bitcoin tells every American bank to go fuck itself. The song is ridiculous, and you won't learn much, but it's certainly entertaining.
[youtube https://www.youtube.com/watch?v=C8os8W3htpE&w=560&h=315]
Maybe Tony Bennett will update "Rags to Riches" and make this a trend.